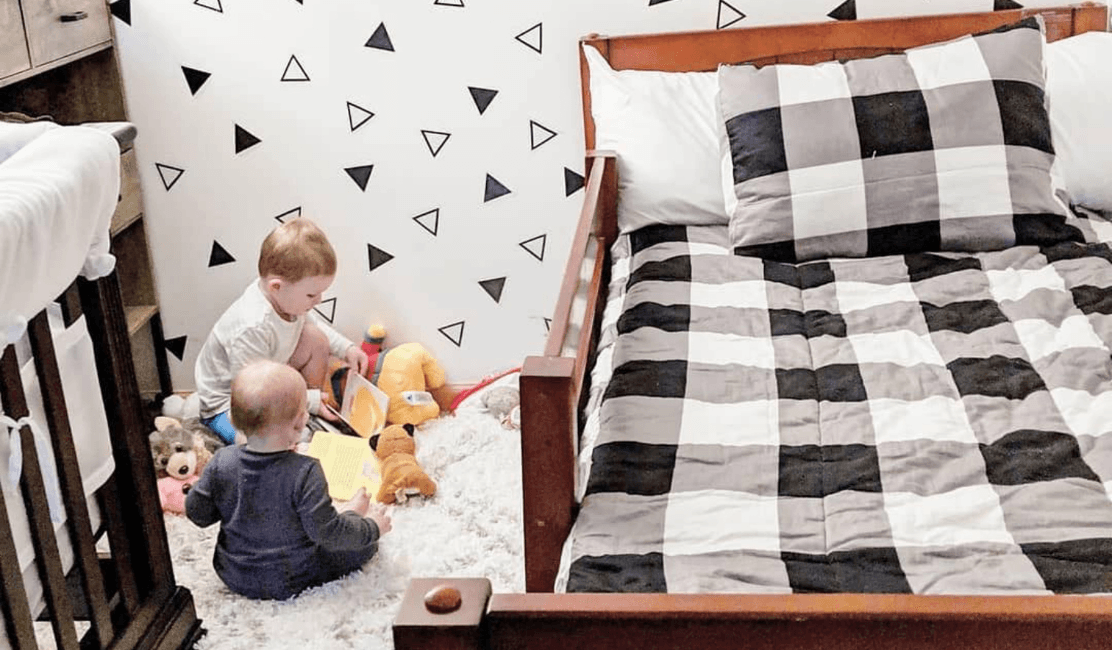 When it's time to transition your child out of the crib to a "real"
toddler bed
there are many things to consider, including timing and approach. Help make this change easier for your child and everyone involved with these simple tips and ideas. Discover bed selection options, benefits of twin sized toddler beds for boys and girls, along with setup tips to maximize room safety and space.
Make Safety a TOP Priority with Twin Preschool Beds
Safety begins with the composition of the bed. Therefore, look for natural materials - we love solid wood - and finishes with low VOC water-based stains or lacquers. Eliminate protrusions (that means things sticking out) and select rounded corners, which helps children to avoid injuries or getting stuck (i.e. a hoodie entangled on a bed-post). Consider companies that make safety a priority; read about Maxtrix Safety Standards.

There is some debate about beds raised off the floor vs. ground level. While it's easy to imagine your child navigating a mattress on the floor, many experts recommend a "real bed" with legs raised off the floor to define the space, establish the ritual of going INTO bed and keep the sleeping surface for your child only. So, dogs, siblings, even parents don't claim the sleeping spot before your child. Therefore, a raised bed is also a much more hygienic solution, allowing air to flow under the mattress and vent from below.
Safety rails are critical during the transition phase and useful well beyond toddler years. While rails fit in front of a regular twin toddler bed or full toddler bed, we also recommend back rails to avoid children getting stuck between the bed and the wall. The Maxtrix best-selling Yeah is a great example of a twin sized toddler bed with safety rails and two entrances at the front.
The height of safety rails is a critical feature to consider when shopping for the best bed. Any Maxtrix bed will feature 16" tall safety rails, which when used with a 5" low profile mattress (recommended), leaves a whopping 11" rail height for extra safe sleeping. 
Maximize Space in Your Toddler Room
Generally, toddlers and young children have smaller rooms, which is another reason why we love raised beds. Adding storage drawers or a trundle right underneath the bed is a great way to make extra space. Kids love trundle beds for quick sleepover accommodations and parents have a comfy place to relax while junior is getting ready to fall asleep. With Maxtrix, choose from many different under bed options, including the following best sellers:
Convert Your Twin Sized Toddler Bed Easily
Remember how much attention was paid to his or her first beautiful crib? Many max out nursery budgets just to replace it within the first couple of years. If this is you, don't worry. Kids grow and needs change dramatically the first 10 years of life. That's why many parents shopping for their first "big kid" bed look for something that changes over time. And, that's exactly why Maxtrix twin beds for kids and twin sized toddler beds work!
As conversion beds, you have the ability to transition into even bigger kids bed – from toddler to teen (even college)! Here's how it works...start with just a basic bed on the floor.
Add fun top tents or decorative finials to make it a playful, unique design. Choose the variation (3 headboard styles in 3 timeless colors) that feels timeless and creates the perfect look. 
When the time is right, remove the safety rails – either at once or over time (first front then back perhaps), creating a classic twin bed for kids.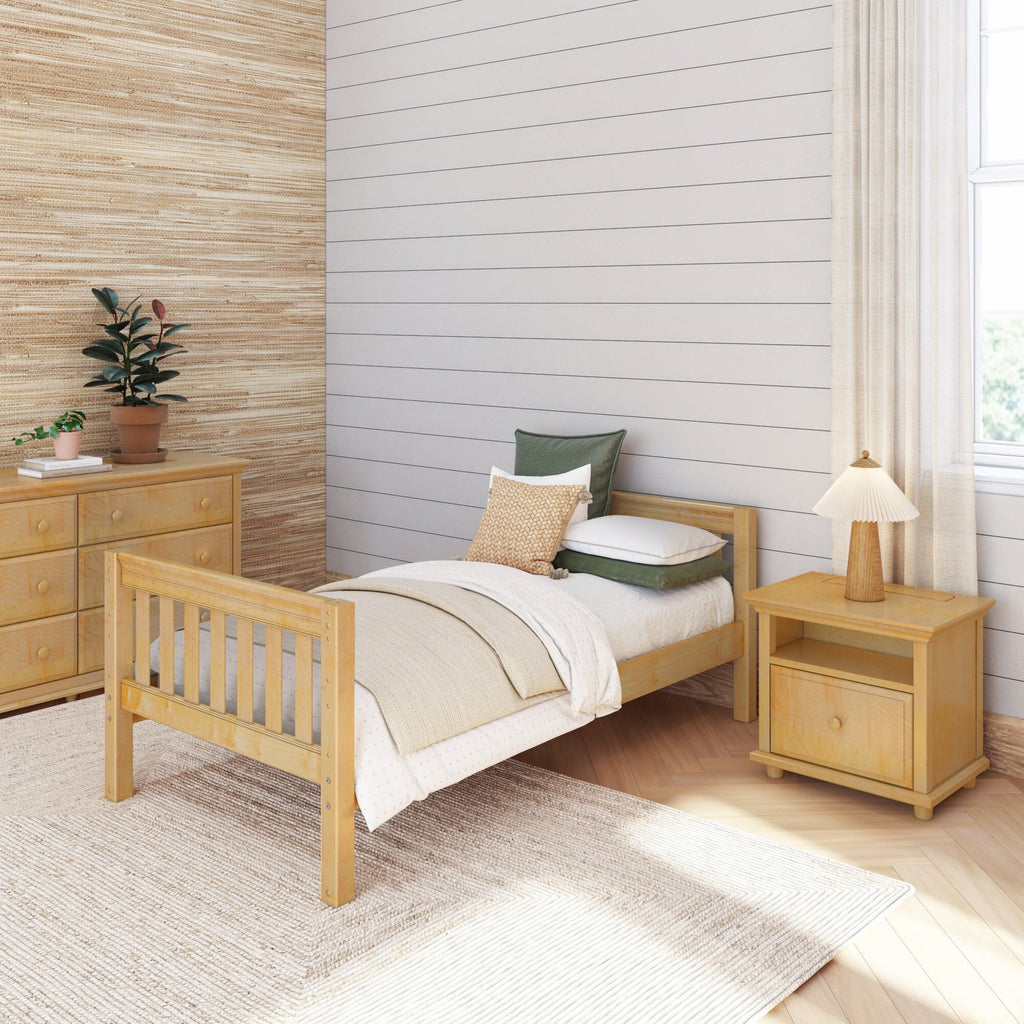 Hence, add on to it, and change it over time! This base bed might one day serve as the top of a bunk bed with a second bed underneath. Or, perhaps it's later elevated to a loft bed with study, storage or fun play curtains with slide. Simply add the right leg extension height, ladders or stairs and accessories.
Finally, the bottom line is that when you choose Maxtrix, your kids bed is the core building block to any of our awesome bed combinations – triple bunk beds, corner loft beds, twin over full bunk beds, or anything you see in the Maxtrix assortment - this bed converts to over time with the Maxtrix System.
Twin Size Toddler Bed Design Team
Ready to create the perfect first "Big Girl" or "Big Boy" bed for your kid's room? Our design team is ready and standing by to take your room dimensions, child's age and bed preferences. Also, we're here to help you invest in the perfect solid wood, safe bed that will last for years to come. Please note that Maxtrix twin sized toddler beds and all others contain components that carry small parts. Thus, they are recommended for children 3 years and older.