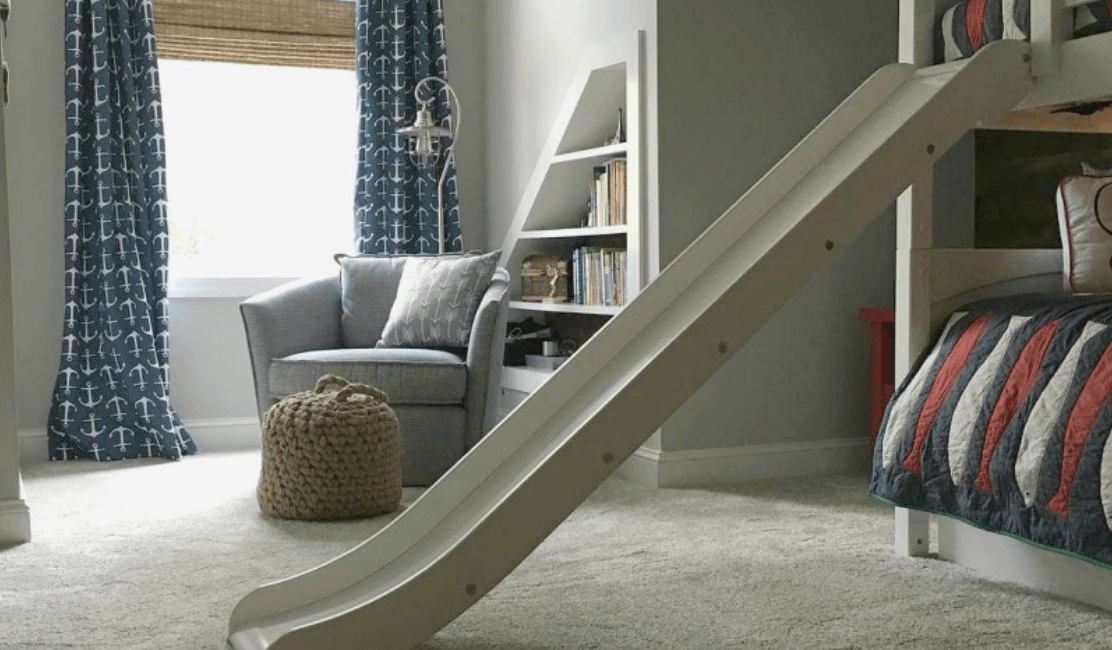 We often talk about the Maxtrix Story, but it's super exciting to see our customers live out that vision. Gunnar has already experienced three different Maxtrix configurations for his young toddler room. Let's hear from his mother, Renee, about their adventure of watching Gunnar's bed grow up with him.
Renee: I'm an interior designer by trade, and I'm always looking for fantastic, quality furnishings for my clients. I discovered Maxtrix while I was working on styling a photoshoot. My son, Gunnar, was in need of a big boy bed (vs. his then setup, which was a mattress on the floor from climbing out of the crib). So, I was interested to see how Maxtrix would be different from other competitors and vendors out there.
I was blown away by the different options and the overall quality of Maxtrix (real wood, dovetail drawers, bolts, pegs, etc). How ingenious was it to be able to buy one bed and to have it grow with your child. I knew this was the type of product I needed to try out first before using them in upcoming design projects. Maxtrix exceeded my expectations.
Room 1: Toddler Bed with Top Tent
His Maxtrix bed was the perfect transition from the crib to his first big boy bed. The guardrails helped keep him safe, and the top tent made going to bed fun. One unexpected benefit of the top tent was how it helped cut out light and made Gunnar sleep better and longer than in his crib. Of course, all his friends had to check out his cool bed and it got many hours of hide and seek play-time.
Room 2: Low Loft with Top Tent and Slide
Gunnar was soon ready to convert the toddler bed to an elevated low loft, and reconfiguring it was really easy. Gunnar loved his big boy bed! Even as an adventurous young boy, we rarely had any issues keeping him in his play fort (I mean, toddler bed) with canopy. :)


Gunnar's bed got an upgrade with taller bed legs, which converted it to an elevated low loft bed, ladder, slide and under-bed curtains and top tent. It was SUPER easy to convert the bed; It took us 30 minutes maybe with the three of us (of course Gunnar was supervising). The front of the top tent flips open easily, so you can access the Loft bed, and we a bedside tray so drinks and his alarm clark are in easy reach.

The magazine rack under the tent is a great addition to keep his books in easy reach.
Room 3: Low Bunk Bed with Slide
Once he turned 3.5, we felt he was big enough to convert the play loft into a low bunk bed since he had thoroughly acclimated himself with his toddler bed. We set up his bed (which he had seen at client installations and at the store), and he was SO excited.
Room 4: The Toddler Room that Keeps Changing
Now as an active young boy, he plays on his bed daily and LOVES to show people his cool fort bed with a slide. We plan to reconfigure the bed even again, although we're not quite sure on the next design. We'll likely either keep the bottom bunk for his little brother (the Smile is the perfect setup for a first shared bedroom) or add dressers or a desk when he gets into elementary school. The options are endless, and I love that about the product.
Maxtrix Real Customer Advice
If you're a customer or interior design thinking about investing in Maxtrix, I say why wait? I just love that you can buy one bed part and add or change it rather than having to sell and start all over. It's the best buy for your money. No one likes wasting money on a bunk bed their kid grows out of... now you don't have to :)