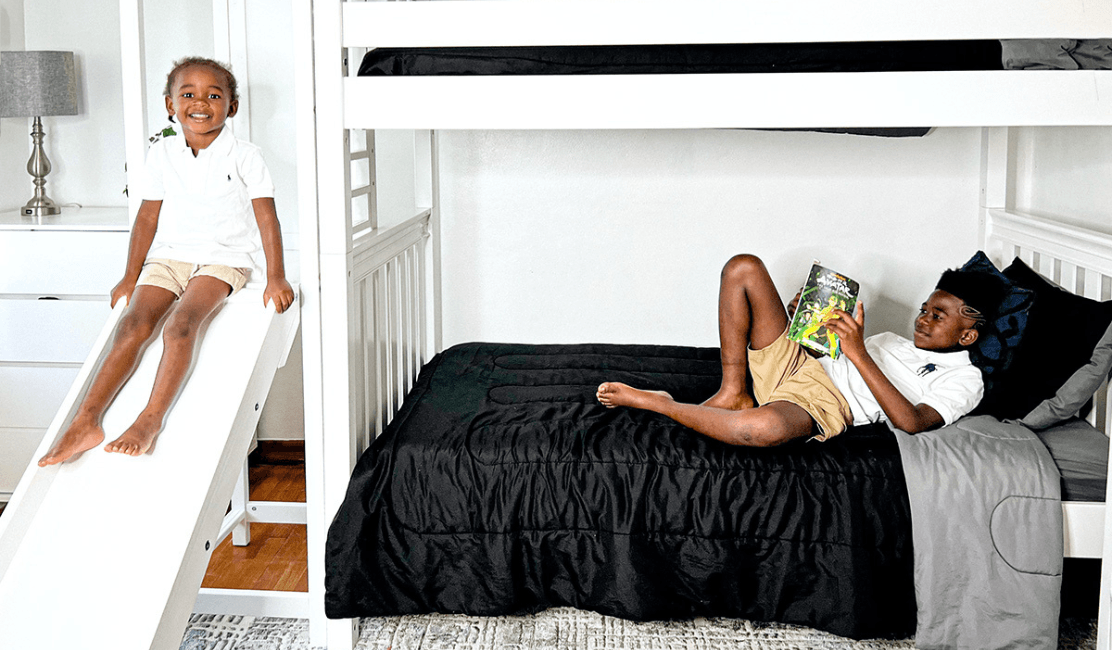 When it's time to upgrade a shared kids room, a sure way to save floor space is with a stacked bunk bed. With so many design options available, the key is to determine your "must have" bunk bed features. Samvia Henry is a mom of six, so she is familiar with the steps involved in designing a kids room for two. As a successful lifestyle influencer and blogger, she researched her options and shared them with her boys, Antwan Jr. and Austin, now 10 and 3 years old. Without question, the family unanimously decided a bunk bed with slide was a must! Take a look at the boys' room before they redecorated and see how she styled our Poof, high twin bunk beds with slide. Or, go ahead and shop her full room collection.
Before the Room Update...After the Bunk Bed Upgrade...About the Poof: High Twin Bunk Beds with Slide
The Poof stands as a twin high bunk bed with slide platform, standing at 98.5" L x 72" W x 70.75" H. The extra space between the beds means even taller, older kids like Antwan Jr. won't bump their heads. Samvia and the boys sit up comfortably and securely with the Maxtrix Patented Rock Lock system, which eliminates bed wiggles and keeps both bunk beds extra sturdy. 
The slide platform is attached to the end of the bed and doubles as entry way to the top, making it easy to climb. This is ideal for younger kids like Austin. Also, with this design, the slide starts further back, taking up less floor space and freeing up area at the front. This is important for everyday function in a shared boys room. But, when the boys get older, because the Poof - like all Maxtrix beds - is made up of components, Samvia and her family can convert the design as the boys' needs change. They can easily remove the slide, separate the beds into individual twin beds, or turn them into loft beds. Learn more about the Maxtrix System and how you can keep changing the bed setup. We'll see what design they think of next! Hear more from Samvia below and shop her room.
Samvia's #MyMaxtrix Story
As a mom of 6, life is filled with excitement and joy. So when it came to upgrading my two busy boys' room, I wanted to go with a brand that had quality yet sturdy furniture. That's when we came across Maxtrix Kids Furniture. We especially love the high quality of the furniture the brand has. 
When it comes to adventure, my boys are all for it! That's why it was a no-brainer for us to go with the high bunk bed with a slide platform! The slide was definitely the selling factor when it came to making the decision on what type of bunkbed my boys wanted. I mean who doesn't love a slide? The 4-drawer dresser is also our favorite as it provides a great amount of storage space. 
The product definitely exceeds our expectations when it comes to quality, layout, and timeframe. It took approximately four weeks to arrive. I love how I was able to schedule FedEx delivery according to my schedule and they delivered it right to our door. We've received several emails that gave us updates on the timeframe of delivery. I also like the layout of our bunk bed set because without a lot of space we were able to maximize the bedroom. 
It seriously was pretty easy to put together. My husband was able to assemble the entire bedroom including the bunk bed and dresser in less than two hours from start to finish! Trust me, he's put together tons of beds and this by far was one of the easiest to assemble. 
Our boys absolutely love their new bunk bed! However, Austin probably loves it the most. Each morning we find him going up and down the slide. It's almost like having a playground right in their room. How convenient? It's like having a two for one!
I see my boys growing into their new bedroom space and loving their new bed. I think that eventually my boys will grow out of the slide and will need to upgrade to the Triple Corner Bunk Bed. I love how this bunk bed will grow with them. Example:
I would suggest any other mom who is on the fence or just considering doing their children's bedroom makeover to choose Maxtrix Kids Furniture flatout! I love the versatility when it comes to their bedroom solutions. It's truly convenient and reliable with the quality of furniture that you'll be getting.
Shop Samvia's Boys Room Collection
If you love Samvia's selections as much as we do, shop the full room in her collection. Want to know if the Poof would work in your space? Contact our design team for assistance or consult our fit and measurement guide about all of our products.