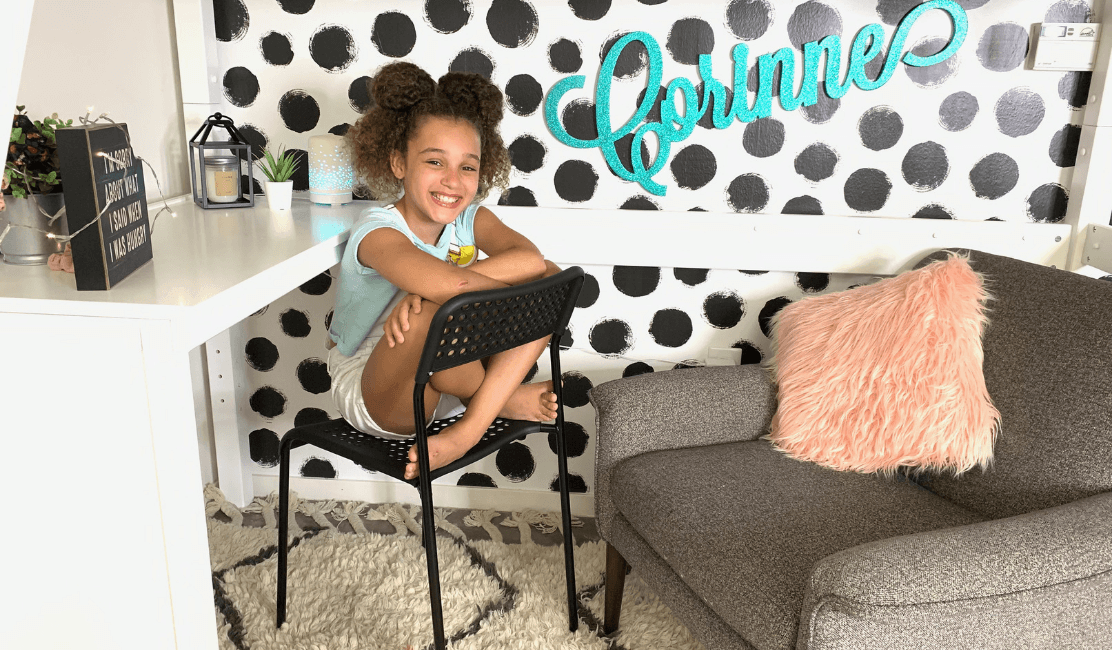 We can't get enough of
Corinne Joy
. As a 12-year-old, she's full of energy and life with passions for dance, modeling and fashion. Corinne recently moved into a new studio with mom, Steevy, and she was ready to create a space that reflected her personality, while also providing privacy, storage and study. Ultimately, she chose a Maxtrix
Knockout high loft bed with desk
and
top tent
, and this particular desk setup is brand new. See Corinne's Room Reveal, hear from her Mom and
shop Corinne's Product Collection
.
Corinne's Original Room & Design Decisions
As an open loft, the two would share the main living quarters with a cube divider set up to create two individual bedrooms. Even though floor space was limited, the ceilings were tall at 10' high, leaving plenty of head space, which provided the opportunity to opt for a higher bed with living space underneath. 
Maxtrix design team immediately studied the layout of the room, mom's rough sketches, and room dimensions. They also assessed needs and wants and ultimately recommended a high loft with desk and top tent on the smaller wall, which would fill up the space - both width and height with the top tent.
They quickly reviewed all top tent color combinations and landed on pink/white, which would pair nicely with her black/white bedding and wallpaper. 
Thinking ahead to further reconfigurations, the Maxtrix design team worked closely with them to ensure Corinne's loft bed could easily convert later into a High Rise corner loft bed with two elevated beds. This will still free up floor space while giving Corinne the extra bed she'll want for a friend to sleepover. The design team also confirmed the desk placement wouldn't impact a reconfiguration.
The final design was a unique look staring a brand new desk that fit the length of the bed's footboard. It sits nicely against the side bedroom wall right behind an angled ladder with handrail for safe climbing. 
Corinne's new setup now includes a practical design for privacy, study and hanging out.... just what an approaching tween needs! Three are so many Beds with Desks - we've gathered inspirational designs in our Back to School collection with many ways to combine sleep with study. Now it's time to hear more from Corinne and Steevy!
Loft Bed with Desk Review
We just moved to Los Angeles and needed new furniture. We saw Maxtrix on Instagram, and the furniture looked so fun. We loved the clean design and functionality. Plus the price was much better than many other furniture stores we had looked at.
With a studio apartment we needed to maximize our space, and she needed an area to her self. It's perfect for her school work and just chilling out.
The top tent gives her the privacy she wants.
The Maxtrix staff was a dream to work with. They helped me with measurements, placement and look. Plus, the quality is amazing with such sturdy pieces. I feel really safe with Corinne in the elevated bed.
Once the bed arrived, the directions were very clear and came in each box. It was super easy to put together - we even made it a fun family event with everyone working together.
This bed is perfect choice. We may want to add the stairs for storage or add another bed for friends later, but she's in love with it right now. For anyone looking at Maxtrix, they will help you design and plan your room. It's delivered to your door so no worries about trying to get it home from a store. They confirm delivery so you know exactly when it will be there. We loved our entire experience! 
Giveaway with Corinne & Maxtrix
Corinne and Steevy have teamed up with a few brands included in Corinne's room makeover with a $750 giveaway. Head over to her Instagram account to enter!
Create Your Own Unique Kids Bed
Corinne's loft bed with desk and top tent is one of our many unique beds for kids. Here are several more to get your brainstorming started for your space:
Want design help? Build your bed with the perfect setup for your space with the help of our design team. This service is complimentary to all Maxtrix shoppers!