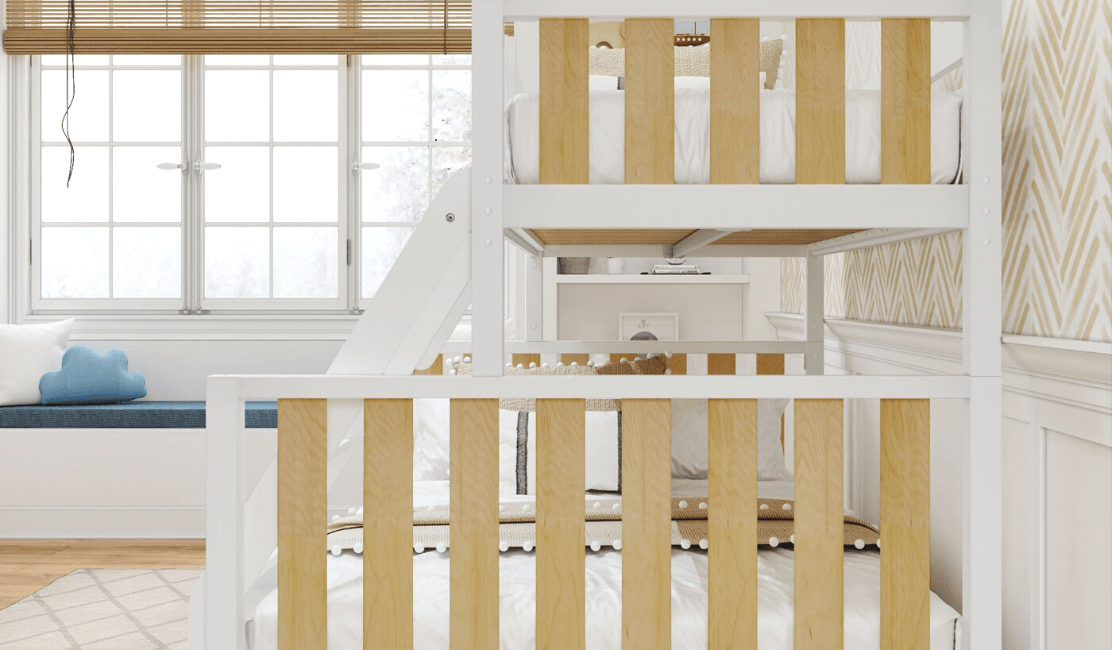 Looking at modern wood beds but want a design that suits both kids and adults alike? This new, two tone wood furniture collection by Maxtrix applies modern updates to classic styles. Two best selling colors - white and natural - are harmoniously blended to create a refined, minimalistic yet modern collection. With the ability to change over time, these new styles can grow from toddler to teen and then into adulthood. The new Modern Collection by Maxtrix is full of modern loft beds, bunks, kids beds and two tone bedroom furniture. Here are 10 of the cool modern bunk beds available now, plus a few additional must-see designs. 
1 - Modern Twin Bunk Bed
The most contemporary bunk beds feature straight ladders and take up minimal space. Modern twin bunks work perfectly in small rooms or kids rooms. As the most popular two tone furniture we carry, this design will work in almost any space.
2 - Modern Bunk Beds for Adults
Need to size up? Modern Queen size bunks are ideal for longer arms and legs, making this design the best modern bunk bed for adults - see our full collection of Adult Bunk Beds. Built to withstand up to 2,000 lbs of weight, this bunk is both sturdy and cool.
 3 - M
odern Twin Over Full Bunk Bed
The very popular staggered design seen in a modern twin over full bunk bed suits kids rooms and adult guest accommodations. The top bunk is slightly smaller as a twin or twin xl and the bottom bunk is larger as a full or queen. Add a slide to the design for a fun way to escape slumber. 
4- Modern Quadruple Bunk Bed 
Sleeping many in one space can be a task in itself, but not when you have a modern quadruple bunk bed for four or more. Try two bunk beds beside each other with a staircase in between for safe climbing. These contemporary bunk beds are made to last and ideal for vacation homes, mountain homes, airbnb bunk beds and beach homes. Make the ultimate bunk room!
5- Modern Corner Loft Bunk Bed
Small spaces benefit from the lift of a modern corner loft bed. The space underneath these elevated beds are maximized with extra living quarters for hanging out, studying, storing, or video gaming. Use the l-shaped designed to fit perfectly in the corner of the room. 
6 - Modern Loft Beds Twin Size in Three Heights
Need a simple design for one? These cool modern loft beds are customizable - add any white or natural dresser, bookcase or desk underneath for the ultimate two tone bedroom furniture design. Available in low, medium and high heights with straight ladders or angled ladders!
7 - Modern Queen High Loft  
Elevate an XL or Queen size bed, and you've got modern loft beds for adults. Growing in popularity for their durability, weight capacity and two tone wood aesthetic, the queen high loft is the right choice for a sophisticated teenager, tween or adult!
8 - Modern Twin Basic 
While the final three are technically not bunk beds, any of these designs convert into bunk beds by simply adding another bed. As a configurable system, you can always scale up with more beds, or take apart bunk beds and make them separate single beds. Either way, you've got a bed that will last from toddler to teen. Start with the most basic modern wood beds like twin and full sizes!
9 - Modern Daybed
Toddlers benefit from beds with extra guardrails for safety while sleeping. If you're looking for modern wood beds that work for toddlers and preschoolers, start with this modern daybed; it's a twin size and perfect for converting later into a bunk bed or loft! 
10 - Modern Queen Bed for Adults 
Keep it simple with a queen size modern bed for gust accommodations. Start your two tone bedroom furniture design with a modern wood bed for adults and teens. Pair it with coordinating white or natural wood and you've got a contemporary bedroom design that suits any space.
The entire Modern Collection is designed to mix and match with any Maxtrix white or natural furniture to easily create a custom bedroom. Shop the modern line and any of our matching nightstands, dressers, desks and bookcases.