bunk beds
What Makes Maxtrix Kids Quality Bunk Beds Different?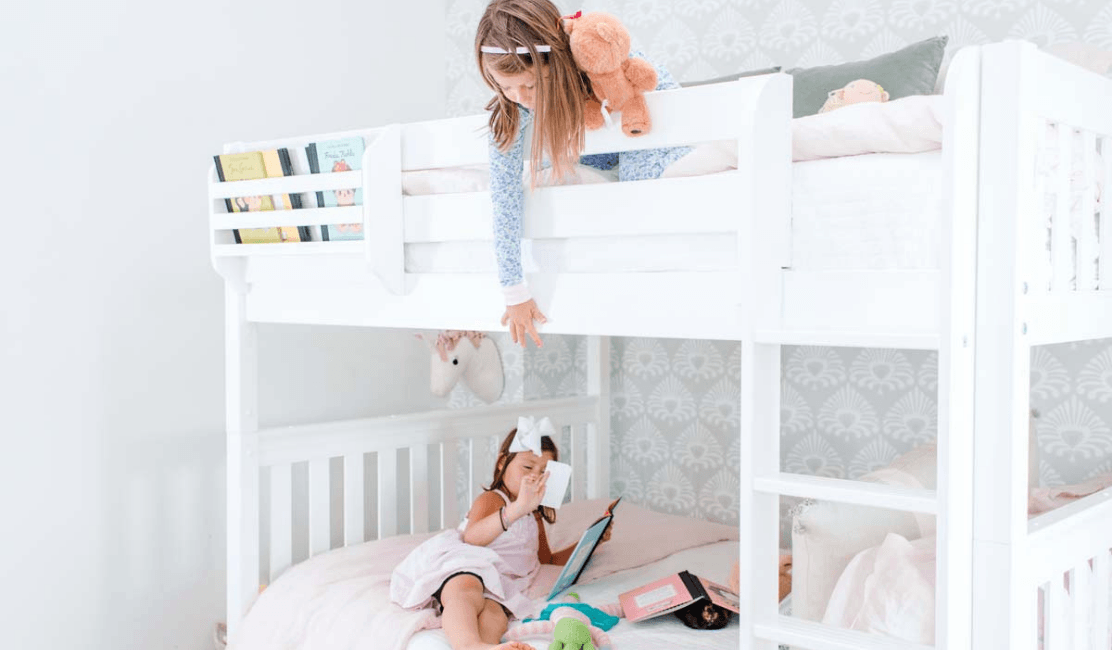 If you are looking for great quality bunk beds that will last for years to come, a
Maxtrix Bunk
could be a great choice for you. Here are some of the key features that set Maxtrix Bunks apart from other bunk beds on the market.
Incredible Versatility
Many good quality bunk beds can be separated into two beds. With Maxtrix®, you can separate your bunk bed, AND do so much more! Maxtrix Bunks are part of our incredibly
versatile kid's furniture system
that allows you to convert your Maxtrix beds over time into lots of different configurations. Examples: change your ladder to a staircase entry; separate your bunks into 2 twin beds; remove fabrics and slides easily.
Solid Hardwood Construction with Extra Thick Leg Posts
All connections are rock solid thanks to our patented
Rock Lock ™ system
. The Rock Lock ™ connects the 2 beds and creates an extra tight lock that makes the bed-post stronger than a solid grown piece of wood. A Maxtrix® Bunk stands solid – unlike other bunks there is no wiggling or wobbling! Once you decide to disassemble the beds, you can loosen the rock lock and the beds come apart easily.
Three Different Bed Heights
Maxtrix Bunks are available in three different heights:
- Low Bunk: H: 61.5" (156cm), Under bed: 32.25" (82cm), great for rooms with low ceilings!
- Medium Bunk : H: 66.25" (168cm), Under bed: 37" (94cm), our most popular height
- High Bunk: H: 71" (180cm), Under bed: 41.75" (106cm). Tall kids? No problem! This option gives lots of headroom for the bottom bunk!
Twin, Full, XL & Queen Size Quality Bunk Beds
Traditional twin/twin or full/full are available, but if you want something different, try combining a
twin over full bunk bed
 or go bigger with
queen size bunk beds
! These options are very popular with parents who like reading bedtime stories and want a comfortable spot to do it. :)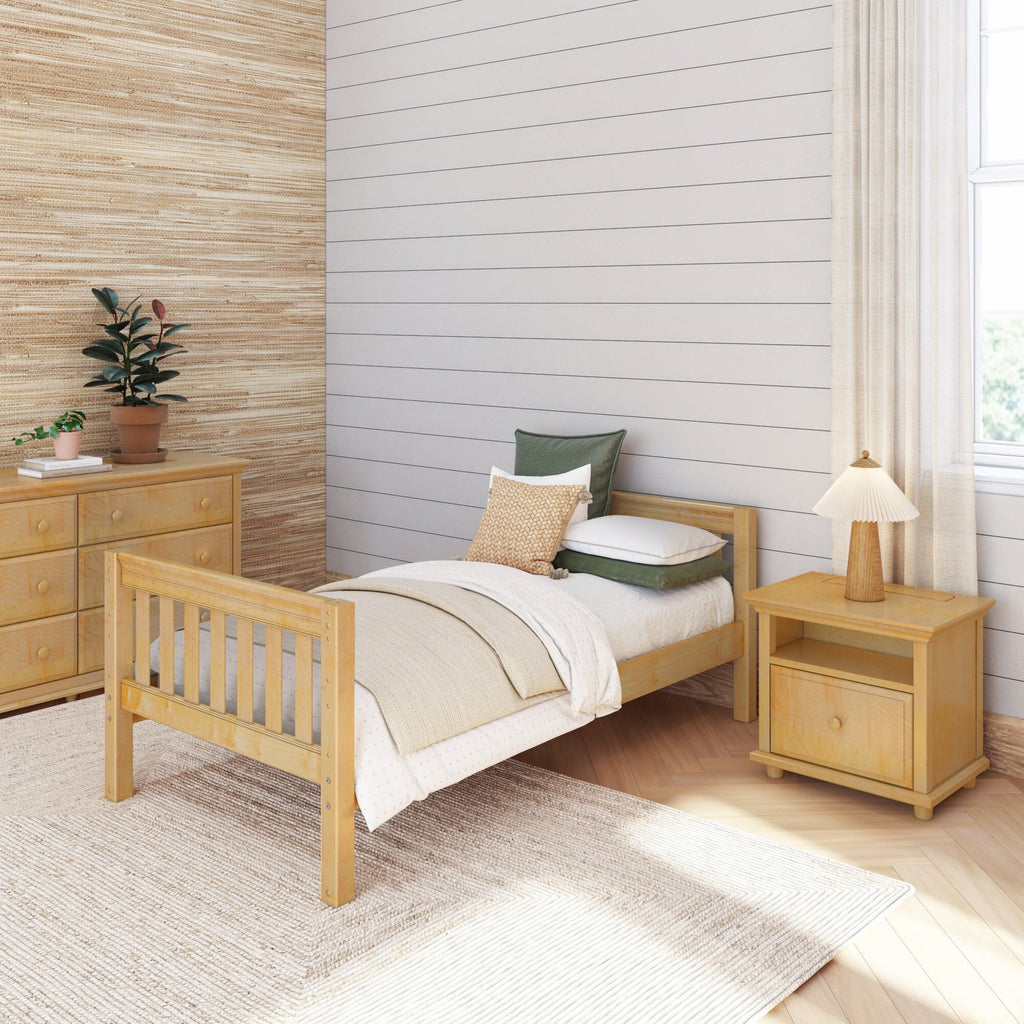 Three Different Entryways Available
Entry options include a straight ladder, angled ladder or staircase – or combine them if you wish! The staircase is our most popular entry option; it's super safe and parents love the convenience of accessing the top bunk comfortably by climbing up the wide steps of the staircase. Plus, each step is a fully functioning drawer! Shop bunk beds with stairs.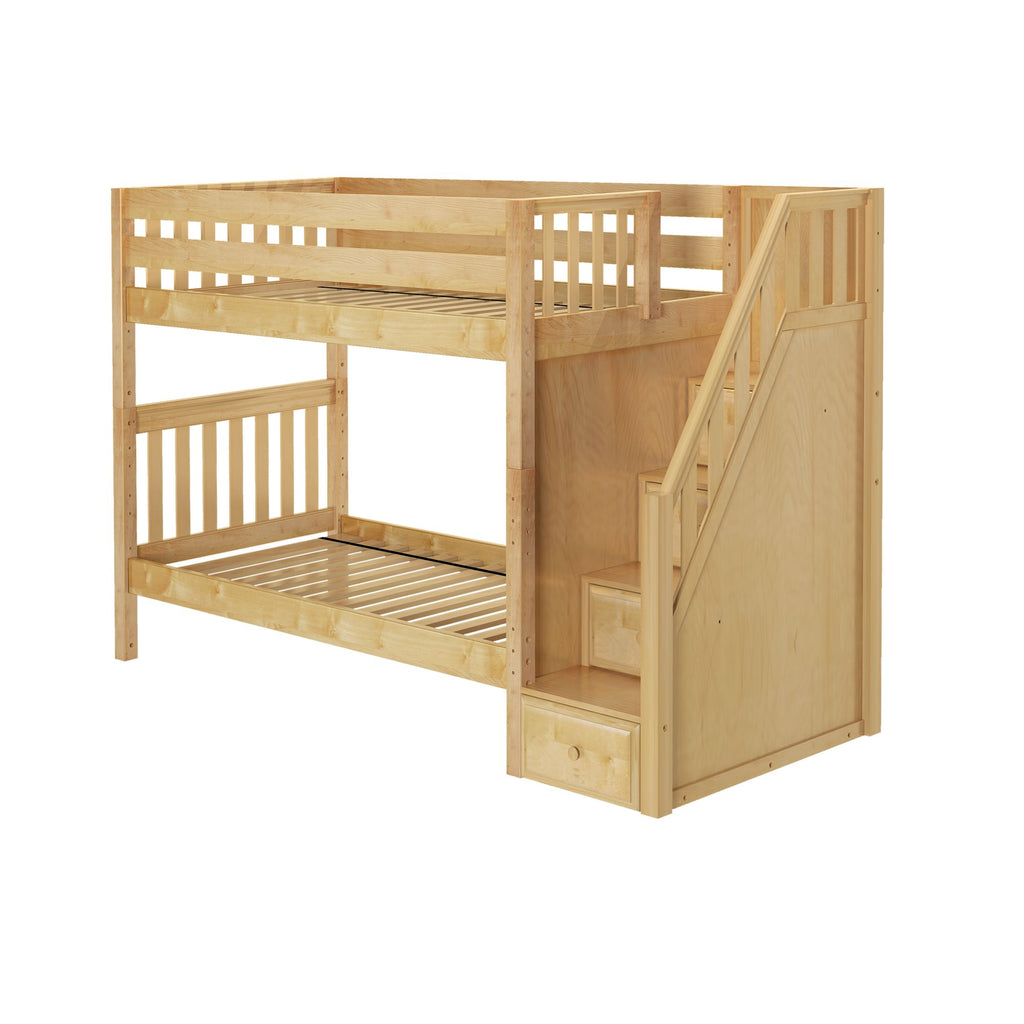 Dress up Your Maxtrix Quality Bunk Beds
Add under-bed curtains, a slide or a top tent to any of our bunk beds and create a fun indoor
playhouse bunk bed
! Talk about fun all-year-long!
Accessorize Your Maxtrix Bunk
Need access to papers, drinks or books when sleeping up high? No problem! We have a wide variety of drinks trays, bedside trays and Fabric pouches available that have been designed specifically for sleeping up high!
Shop bedside storage
.
Sleep MORE than Two
Check out our
triple and quad bunk beds
,
corner bunks
 or add a
trundle bed
under any Maxtrix® bunk for added sleeping quarters. And remember, you can always add more beds to your Maxtrix® configuration over time as your needs change!
Think Safety with Top Quality Bunk Beds
We regularly safety test our bunk beds to make sure they meet all U.S. and European safety standards. Maxtrix bunks have extra tall guardrails for the top bunk (they are 16" tall – among the tallest in the industry!), plus you can add an extra safety rail to the bottom bunk if you want to.
Low profile mattresses from Maxtrix
are the best addition to this setup as they optimize safety rail height.
Rolls of Slats Included
You do not need anything but a mattress to get it set up. Our slat rolls have 14 slats, making the weight bearing capacity of our bunk beds up to 800lb's!



Need more reasons to shop Maxtrix Bunks? Probably not. ;) Let's get you started; visit our Bunk Bed page for more inspiration and shopping. Need design guidance? Our friendly customer service team is available to help you select the best configuration for your space. Trust our Quality Bunk Bed Experts!