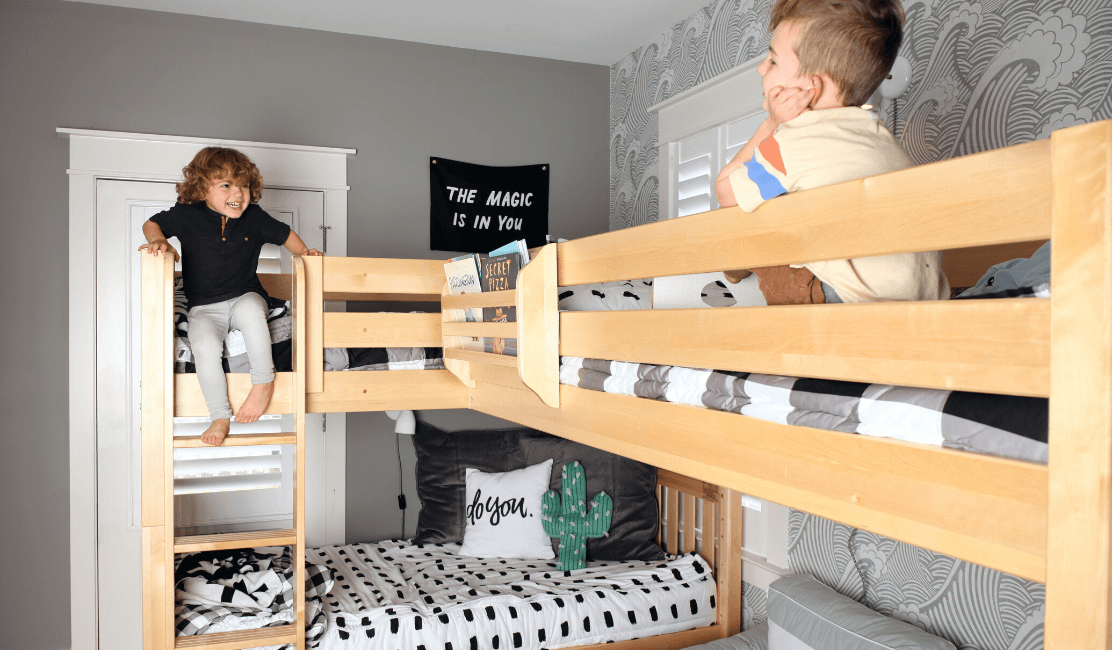 During these unusual times many of us are spending more time at home with our kids than ever before. Figuring out how to keep everyone occupied and ramping up e-learning is a challenge, and trying to work from home at the same time can feel like an almost impossible task. Our family's health and safety are of utmost importance and there are many official sources of excellent information about good hygiene routines and other ways to prevent the spread of disease.
As furniture makers, we are by no means experts in virus prevention, so we will leave these guidelines to the relevant authorities out there. However, as many families ramp up their cleaning routines, and kids spend more time indoors in their rooms, here are some simple tips for keeping your kids' rooms clean, healthy and safe for your children and family members.
Cleaning/Maintenance Tips for Kids Rooms and Play Rooms
Keep clutter off the floor and surfaces to allow deep cleaning to take place.
Wipe down surfaces including wooden furniture with a damp cloth dipped in a simple soap and water mixture. Never use cleaners that contain ammonia, abrasives, silicones or acetone. These chemicals will damage the lacquer finishes.
Pay special attention to high traffic/high touch areas like handrails, drawer knobs, staircases etc., especially if friends have been over.
For wooden furniture, clean up spills immediately – all liquids will damage lacquer finishes.
Avoid placing rubber or plastic on wood furniture, as their ingredients can react with lacquer finishes. Rubber feet found on the bottoms of clocks, lamps, etc. should be changed to felt.
Kids Room Safety Tips
Now that more time will be spent at home, making sure you create a safe environment in your child's room is more important than ever. Many accidents can happen in your own home, and safety for kids in particular is paramount. Here are some tips on how to keep kids' rooms safe:
Anchor all your dressers, bookshelves or any other free-standing heavy furniture pieces or TV's against the wall to prevent tip-over accidents. Learn more about this critical precaution at https://www.anchorit.gov .If you need free tip over kit please feel free to contact us at customercare@maxwoodfurniture.com.
Sharp edges and entrapment: Check the room for any area's kids could get hurt or stuck. There are many inexpensive solutions available to put over sharp corners on furniture or prevent little fingers getting trapped in doors or hinges.
Tall structures: If younger children are present in the home, consider removing access to tall structures, which includes the top of a bunk bed. Consider removing ladders leading to the top bunk during waking hours.
Check hardware and connections periodically: Daily use can loosen connections over time. Manual tightening every 6 months is sufficient in most cases.
We hope you find this information useful and we wish you and your family a safe and healthy start to Spring.
Maxtrix Kids Note Concerning COVID-19 Coronavirus
As a family owned and run business we are doing our best in these difficult times to respond to and service our customers. Please bear with us as we try and cope in these uncertain times. As of today both our Head Office and Our Distribution Center are up and running and fully operational. We are taking all the necessary measures to keep our employees safe, so response times may get impacted. Stay updated with the latest research regarding the virus and surfaces here. We appreciate your support!