buying guides
Make Your Kids Bed Longer with Twin XL Loft Beds and Bunk Beds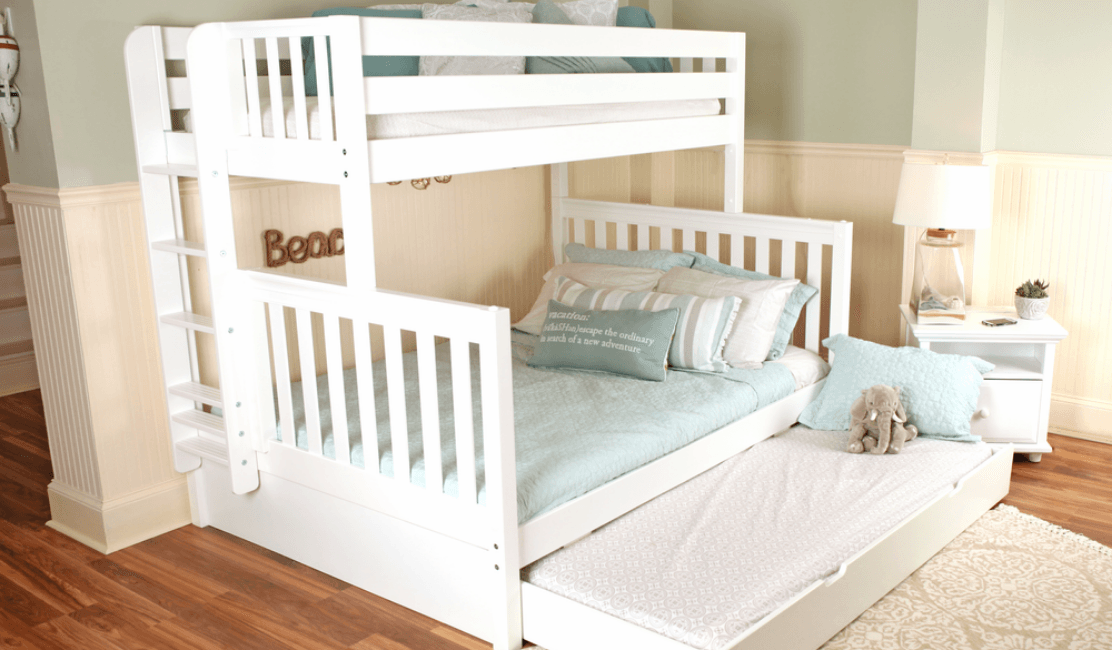 Need extra sleeping space for growing kids, tweens and teens? Then the idea of an extra-large "XL" bed probably sounds great! But, what does it really mean, and in which cases would a twin XL loft bed, twin XL over Queen bunk bed, or twin XL bunk bed work well? We've got your answers with our expert XL bed tips from the kids furniture experts. :) Shop the XL Collection 
Twin and Full Basic Bed Sizes
Usually, bed sizes are defined by the width of the bed, effectively showing you how much "elbow room" you have sleeping in each of these sizes.
A standard Twin Size bed is 42.5 inches wide, 80 inches long and is most often used to sleep 1 person. This is a popular size for children under 10 years old. Most kids beds sold in the U.S. today are twin sized.
A standard Full Size bed is 57.5 inches wide and 80 inches long. It's a popular choice for kids, guest rooms or smaller spaces where you need to balance available floor space with sleeping surface.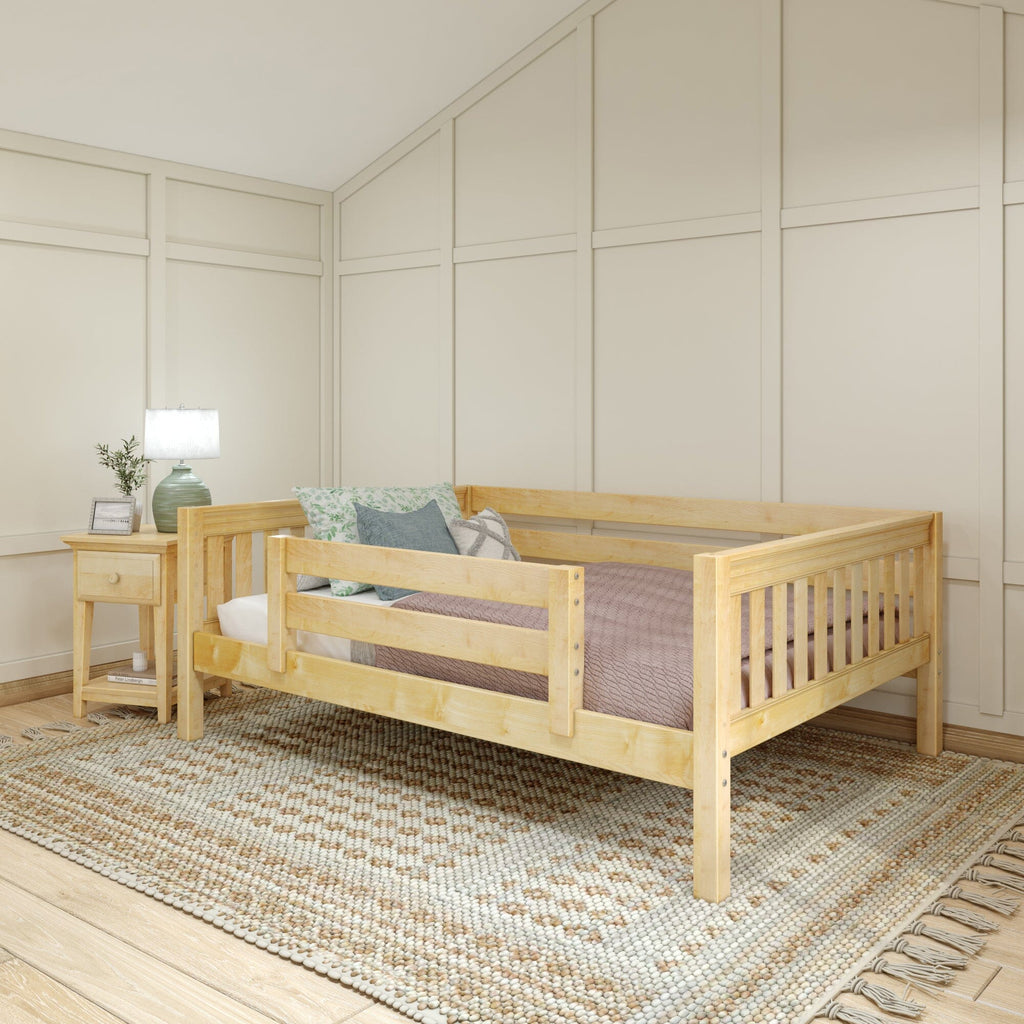 Full sized beds also form the bottom of the very popular twin over full bunk beds style, where a twin sized bed gets stacked on top of a wider full sized bed at the bottom. Two people can sleep in a full sized bed – but a Queen sized bed is a more popular choice to sleep 2 adults, if room size permits.
Twin & Full XL Bed Sizes
Having established basic bed dimensions, let's get into the specifics of XL bed sizes. In North America, "XL"  means Extra Large or Extra Long, where the beds are 4 inches longer than traditional beds. So, if you compare a twin bed to a twin XL bed, the only difference is – you guessed it – 4 inches more in length!
| | | | | | |
| --- | --- | --- | --- | --- | --- |
| Dimensions | Twin | Twin XL | Full | Full XL | Queen |
| Basic Bed | 80" x 42.5" | 84" x 42.5" | 80" x 57.5" | 84" x 57.5" | 84" x 64" |
A Twin XL Sized Bed is 42.5 inches wide and 84 inches long (instead of 80 like the traditional Twin. It's a very popular choice for Kids rooms. Many parents love the idea of "future-proofing" their purchase, knowing that their child is likely going to be too tall to sleep in a regular twin through their teenage years and into college.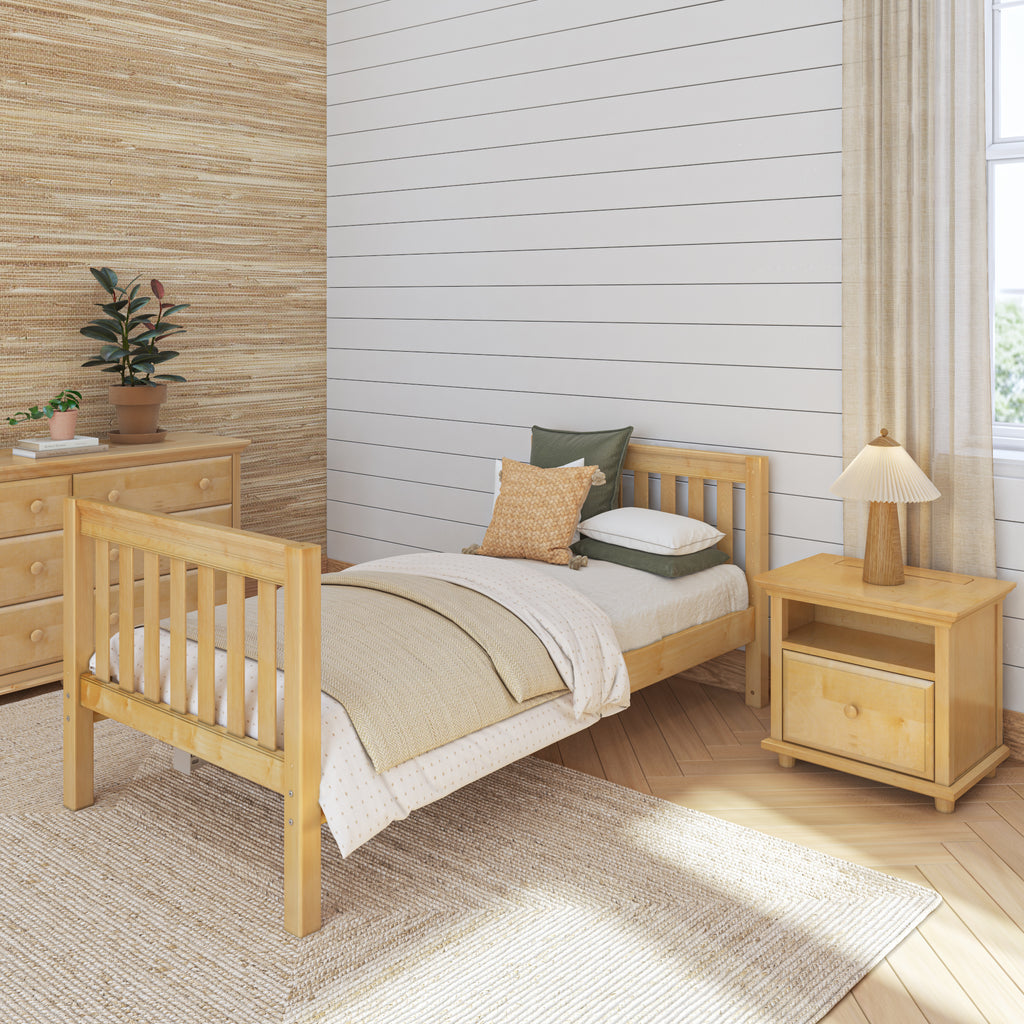 The Twin XL bed above once elevated becomes a Twin XL loft bed for college!
Maxtrix® Twin XL Loft Beds are offered in 4 different heights (low, medium, High and Extra High), Twin XL Bunk beds in 3 heights (low, medium and high). So the Twin XL "starter bed" can become any of the thousands of Maxtrix® combinations in the future.
A Twin XL Low Loft for instance is a great option for a tall 6 year old. Over time, the exact same bed can for example "grow" into A Twin XL Ultra High Loft with desk for the college years. It's the same bed – raised higher with some accessories added.
Full XL loft beds are 57.5 inches wide and 84 inches long - 15 inches wider than the Twin XL. It is a great choice – if the room allows – to add some additional space on the sleeping surface. It can turn into any of the options mentioned for the Twin XL Bed, and lots more!
Remember you can mix and match the XL sizes (as they are all the same length of 84 inches) to create a XL Bunk Bed or XL Loft Bed combinations. Popular options include Twin XL over Full XL Bunk Beds, Twin XL over Queen Bunk Beds, Stacked Triple Queen Bunk beds and XL Corner Lofts and Bunks.
Conversion Options with Twin XL Bunk Beds
A question we often get asked – so can you convert a regular sized bed to an XL size within the Maxtrix® System? Yes, you can! All you need to do is to replace the bedside rails, slat roll and possibly under bed support bar to accommodate the longer length – and you are done. (Start your update here.)
Almost anything you can create in the Maxtrix® system can be created in XL size. Just let our design team know your room measurements and requirements, and they can advise on the best solution.
In summary, XL Beds are popular for a reason! With lots of leg room and plenty of options to create the perfect fit for your space constraints. XL beds are fast becoming #1 customer favorites. Start shopping our XL collection!
Showing 6 of 122 products. See all the products in Queen & XL Beds collection.