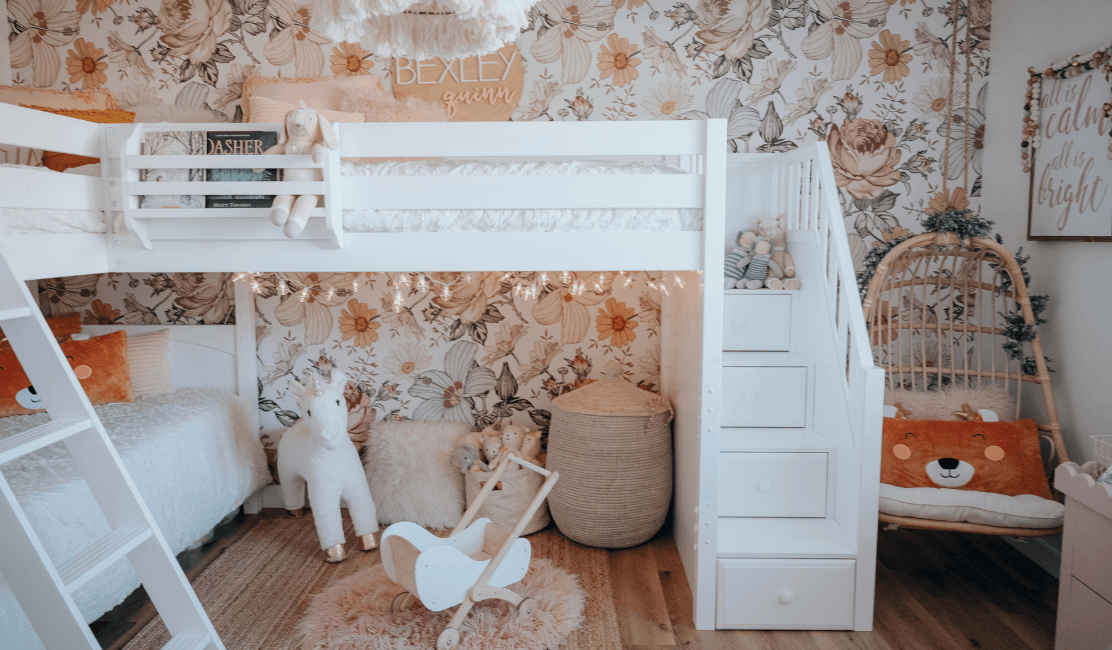 Kids can't wait to sleep up on the top bunk; it's like a right of passage similar to riding in the front seat of the car. However, parents worry about the safety of narrow ladders... especially for nighttime potty breaks! ;) We're sure that's a consideration for many parents as they start their search for elevated beds. Now as parents ourselves, we take those concerns seriously and carefully design and manufacture beds with three different entrance options - angled ladders, straight ladders and staircases. (
Find out which is right for your child
.) Many parents
and
kids end up choosing a
loft bed with stairs
or
bunk beds with stairs
 for several reasons.
Why Should You Choose a Kids Bed with Stairs?
For starters, it is the safest way to enter an elevated bed like a loft bed or the top bunk or a bunk bed because stairs have sturdy handrails and the extra wide steps. For parents and grownups, there's another huge plus - it's so much easier to reach the top bunk or loft bed to change sheets or give goodnight kisses! Consider yourselves - as well as the kiddos - when selecting the entrance. Having an easy way to access the bed as a parent is actually pretty important.
Why Maxtrix Loft & Bunk Beds with Stairs?
So, you want a staircase entry. Bravo! You won't be disappointed with Maxtrix. We have the only staircase that "grows up" with your child. Meaning, you can start with a low to the ground staircase loft bed or bunk bed and grow to a mid height or high loft by simply adding a 4th step and taller banister. You can make it a three-step process as your son or daughter grows, or simply go from low to high or mid to high depending on where you start in the process. 
Our staircases are part of the Maxtrix System, so you can decide whether to install them on the left or right hand side of the bed. If you are moving, or decide to re-arrange the room, you can change which side to put the staircase on at any time in the future; they are easily reconfigured. This is a win-win for those looking for a long term investment!
Maxtrix has the widest steps in the industry – they measure a full 20.25" wide...just compare this to other stairs out there when shopping staircase loft beds!
Our staircase steps have a grooved, anti-slip surface, ensuring your child (and you:) can safely climb up and down. We also considered the handrail and chose a thick, easy to grip banister. You'll find that other staircase loft beds on the market don't offer anything to hold on to. With Maxtrix, your child will have a solid banister.
All of our stairs are super solid and sturdy. Maxtrix staircases are attached to the loft bed or bunk beds with heavy duty hardware; the staircase is a building block of the actual bed, not just standing beside the actual bed.
Each step is fully functioning drawer with a solid wood drawer front and dovetail joinery. So, not only are you buying a safe bed, but you now have extra storage for clothes, toys, books, anything!
We really pay attention to details. Maxtrix adds a dust panel at the back of stairs – making sure it keeps contents of drawers dust free, like in a dresser! The wooden knobs on each step are removable. 
We know this is an investment, parents, and we don't want you to have to purchase another bed as styles and trends change. Maxtrix features a clean, timeless design. The bottom stair is flush with twin sized beds, creating a beautiful unit. Purchase a bed that lasts and style it differently each year with fun accessories!
You can choose between a twin or full size loft bed or bunk beds with stairs. Our twin over full bunk beds with stairs is super popular! Order the size you want!
Have you found a bed that you like on our site but it was featured with an angled or straight ladder? No worries! Stairs can be added to any of our bunks or lofts – there are lots of unique bed combinations possible, like triple or quadruple bunks, corner lofts or bunks.
Lastly, all of our beds with stairs are available in three popular Maxtrix finishes: clean natural, chestnut and popular white. They color coordinate with a wide range of dressers, desks, bookcases, under-bed storage and accessories! Add a slide for even more fun!
There's no reason why both kids and parents can't love the thrill of owning a bunk bed or loft bed. Start shopping Maxtrix loft beds with stairs or bunk beds with stairs now. And, if you need any assistance along the way, our friendly customer support team is ready to help you create the best bed with staircase!