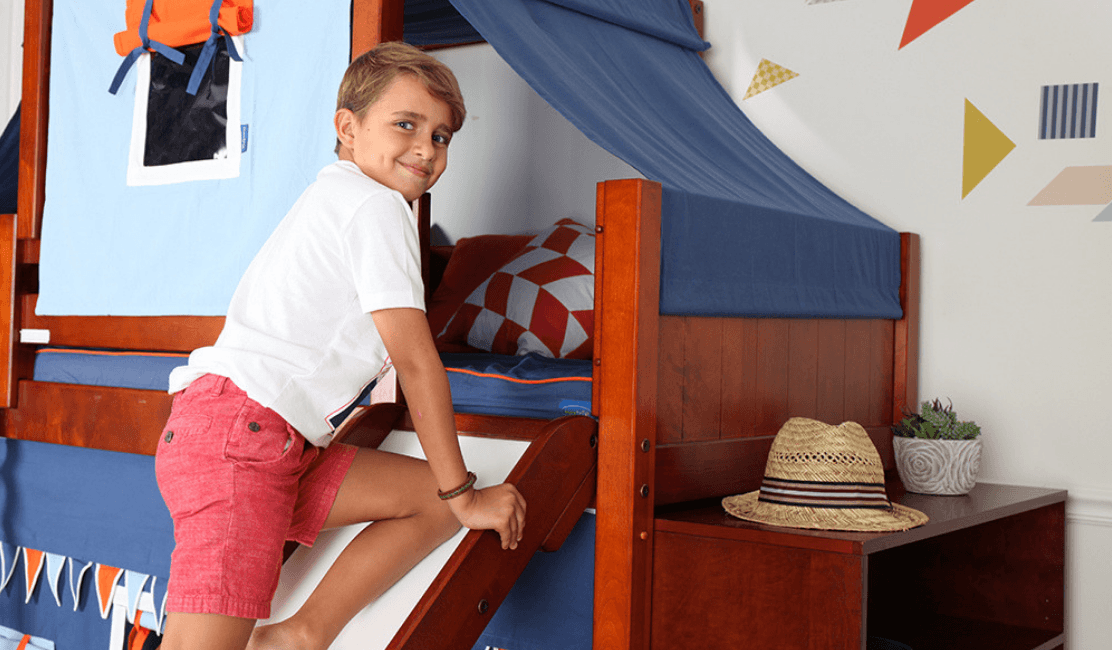 As kids get older and outgrow toddler room designs, their needs often change, but their playful spirits and imaginations still shine. This is exactly the reason why fun play loft beds are still perfect for elementary age children (8-11). There are so many ways to enjoy a room during the Summer and Winter with a bed equipped with a slide, curtains and top tent. Talk about an immediate indoor fort for at-home adventures, sibling banter and year-round fun. 
Mid Loft Height Dimensions
The Sweet as a twin mid loft bed with slide is just the right height for older kids, providing additional headroom underneath the bed and more steps and height to climb and slide. 
About a foot taller than its "sister" low loft bed with slide the Marvelous, the Sweet is a great example of how those extra inches make indoor playtime more practical and fun. Here are the dimensions of a medium loft bed - see our fit and measurement guide for more specs:
Play Features on Medium Lofts
We've jazzed up the Sweet by adding a few popular play features - underbed curtains and a top tent. Choose among many color combinations to create the perfect look, and easily take off the curtains and top tent if/when your child is ready for a more sophisticated design. We often see the change to desks and storage once kids hit middle school age.
Inside the curtains, the space is used as "private" play quarters for kids who begin to want independence and separation from younger siblings. The beauty of the amount of space is that furniture still fits comfortably for storing graphic novels and and their first full book series. Let your child style the space so it feels like them!
Curtains easily attach to the bottom of the bed, creating a very polished design while the Top tent equally provide another private space for sleeping. The sides of the top tent attach to the frame when your child wants a more open look and the little window is great for a quick look during hide and seek. 
Just like the curtains, the top tent easily removes without leaving wood blemishes. Keep the wooden frame of the mid loft in tack, leaving what will feel like a different bed design for your growing child!
Perhaps the best feature of this medium loft bed is, of course, the slide! There simply couldn't be a "cooler" way to get out of bed in the mornings than to slide out of bed just in time for breakfast. (Ok maybe flying is cooler but we don't have have super hero powers...) 
Convert the Sweet to a Study Mid Loft Bed
Maxtrix is unique in that all of our components are reconfigurable. So, when your child outgrows the playhouse design and slide, simple remove them and consider adding some of our coordinating desks and storage furniture. The Sweet can become another best-selling medium height loft bed design - the Bling. It's equipped with your choice of a student desk with dressers or bookcases. If adding separately, opt for a 4-drawer dresser or bookcase to fit the height of the mid loft bed.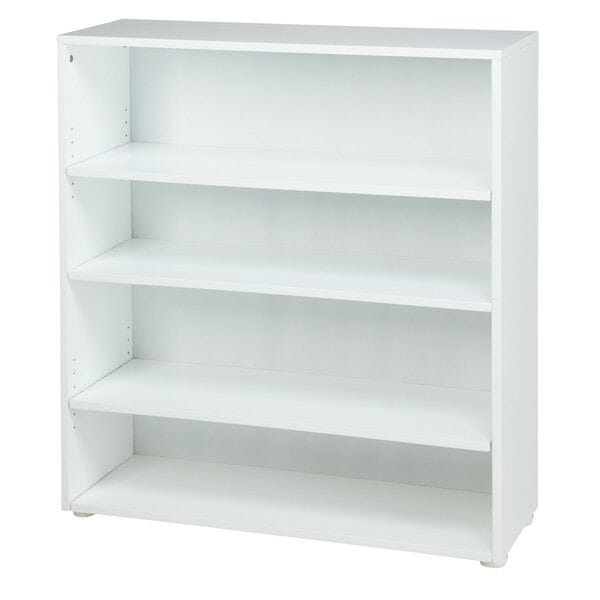 Convert your Low Loft or Toddler Bed
If you already own a base twin bed or a twin size low loft, then simple leg extenders convert it into a mid loft height. That's the beauty of owning furniture that grows with your child! So, a low loft bed with curtain like Harrison's today, can convert easily into the Sweet tomorrow!
Then, the Sweet will continue to grow into high school and even college with longer leg extenders, turning it into a high loft. At that stage kids are ready to get rid of the slide, which is replaced with a longer guard rail. It's that simple. Here's an example in our white finish on the Knockout high loft bed with angled ladder.
Create your Custom Medium Loft with Slide
The Sweet is a model that has already been configured with a ladder and slide. However, all of our beds are customizable. Simply start with a base bed like a twin bed and make it your own with different bed finishes (white, natural or chestnut), entrance types (stairs or ladders), study/storage (desks and dressers), or play features like you've seen here! Our design team can help you create the perfect look by building your Maxtrix bed!