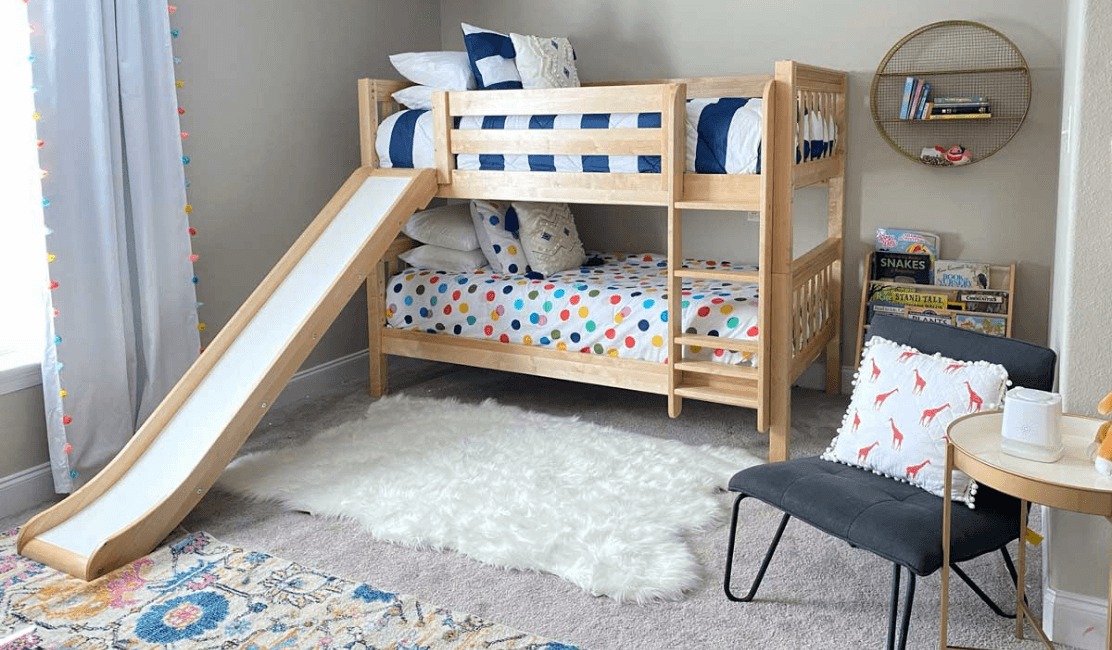 You need a bed that combines the best in safety and style. But your 5-year-old also has an idea of what they want their space to look like. Luckily, Maxtrix has the innovative modular designs that make turning your kids' room into one the whole family can enjoy. We'll explore some of our favorite beds for 5-year-olds that are sure to bring the best out of every space.
Who says you can't have a bed that grows with your child? With our incredibly functional kids beds, it's easy to add or remove components as their needs change. With Maxtrix beds, you can create the perfect design for your little girl or boy today and have the versatility to change it tomorrow.
Not sure where to begin? Try one of our Core Beds in Twin or Full sizes that provide a stable and durable foundation for your unique design. When you're ready to modify your core bed and make it a bunk, simply add another Maxtrix bed over top to create the ultimate shared space for siblings or sleepovers. Or, with available guard rails, ladder kits, and bed leg extensions, that twin or full bed easily converts to an elevated, space-saving loft bed. Your options are endless.
From bunks to lofts to everything in between, there are so many ways to design your unique Maxtrix Kids bed. We've broken down some of our favorites that are perfect for 5-year-olds and every growing kid as their lifestyle changes.
Twin Bed with Tent
Want to make your kids' space feel extra cozy with a dose of fun? Our Toddler Bed with Tent is the ideal choice for their first "big kid bed" with versatile sleep and play space. Tall, 16" guardrails provide enhanced safety and sleep security, while two openings on the front side make crawling into bed incredibly easy.
Tent curtains inspire imagination and play for younger kids while the sturdy and stable hardwood bed frame makes it easy to remove the tent when your child gets older. You're left with with the twin or full bed that can sit alone or continue to grow with your child.  
Low Loft with Slide
When it comes down to fun, look no further than our Low Loft with Slide. Its strong and durable raised design comes with a sturdy slide that makes after-school playtimes even more fun. This functional setup also allows for plenty of storage space underneath for all their toys and bedding. Or, use it as an additional play area or reading nook. It's the best way to maximize space. 
Need an entry method that fits your unique space? Choose from a straight ladder or angled ladder with handrail, or opt for a comfortable climbing option found in a staircase. Depending on your space, one might work better than another, so contact our design team with spacial questions. 
Twin Low Loft Bed with Curtain, Top Tent, Tower + Slide
We've taken our best-selling low loft bed and added a super fun top tent, tower, slide and curtains to create the sleep and play space kids love - a playhouse low loft. Set up their space underneath for play one day, then use it as the ideal storage space the next.
The lofted design is also equipped with industry leading, 16-inch guard rails for extra safe bedtimes. If opting for the staircase, it also doubles as a functional storage with pull-out drawers in each step. What a great way for a young child to keep his or her favorites toys, books and blankets all within the bed itself. 
Twin Medium Bunk Bed with Slide
Perfect for 5-year-olds and their older siblings, our medium-size bunk bed with slide makes sleeping two in the same room effortless. And with an included slide that attaches to the top bunk, getting out of bed is easy (and fun) too.
This classic, stacked design saves plenty of precious floor space - opening up more room for play and storage. The medium height allows for more headroom on the bottom bunk while still being the ideal size for lower ceilings. Made with premium solid hardwood and strong metal-on-metal connections, your kids' favorite bed is as beautiful and stylish as it is safe and durable. So, go ahead and sleep two kids in the same room! 
Sleepover Fun Beds for 5-Year-Olds
Need some extra room for sleepover guests? With Maxtrix beds, it's easy to add a trundle underneath to expand your sleeping space in a snap. With 14 strong and sturdy slats, these twin-size trundles offer the perfect combination of comfort and support in the style that matches your favorite Maxtrix bed.
Made to fit your Maxtrix standard Twin- or Full-size beds, these beautifully crafted pieces slide easily underneath when not in use to maximize the space in your kids' room.
Maxtrix Design Team - Customize Your Young Kids Bed 
At Maxtrix, we've helped design a wide range of unique bed configurations that are perfect for little and big kids alike. Found a style you love but don't know where to start? Use our live chat tool or contact our Design Team.