back to school
Study, Store & Sleep Two with this Stylish Corner Study Loft Bed Design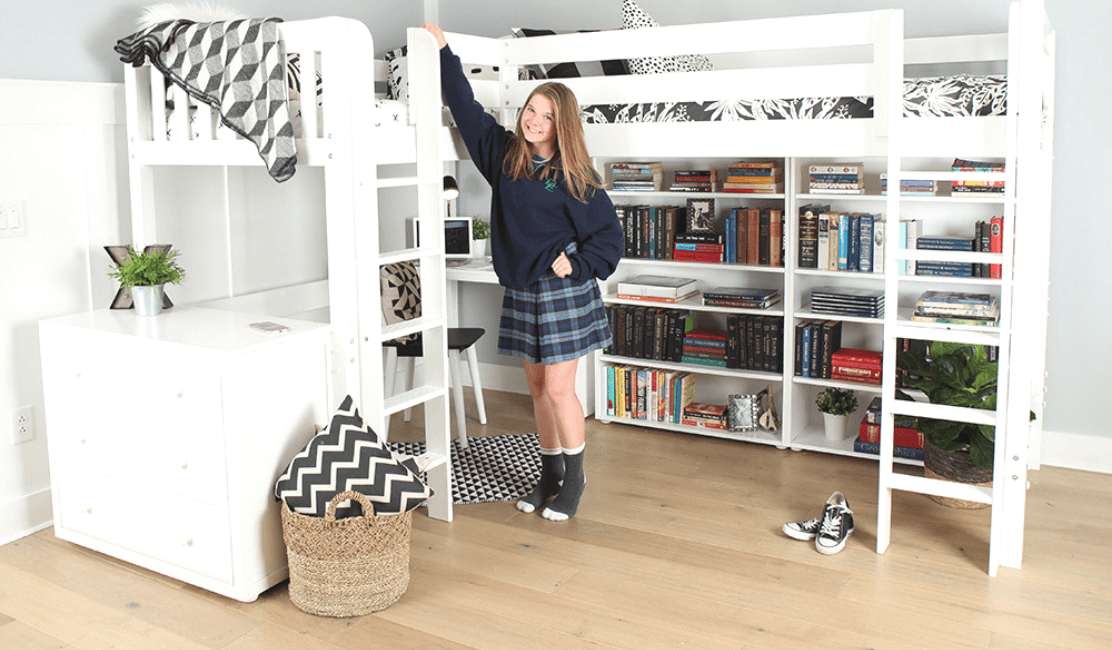 It's time to take advantage of every single inch of space in shared kids rooms. We know how hard it can be to keep older kids, tweens and teenagers' rooms clean. Meanwhile they're begging for individual spaces, work stations to help them focus and storage to keep all of their 'things'. It's almost an impossible task. Luckily, there are bed designs that can help. Maximize floor space with a stylish look that accomplishes all three - sleep, store & study. Move on up to the High Rise! 
The great news about the High Rise is that it will fit in bedrooms with only 8' ceilings. So, even though the bed is elevated to maximize standing height underneath, there is still enough room to sit comfortably on the top beds.
Here's a breakdown of the dimensions of the HighRise:
With more than four feet of underbed clearance, this space is ideal for a desk, storage, play space, or a combination thereof! In this specific setup, two five shelf bookcases sit perfectly underneath and fill the floor to underbed space. This is a great option for an avid reader or teenagers with a lot of study textbooks. 
The brand new corner study desk by Maxtrix fits perfectly next to the bookcases. It's slick and simple, designed with the minimalist in mind. This modern look is more cost affordable and fits the short end of many Maxtrix style lofts and bunks or arrange it along the backside of the bed as shown here. 
Use the space at the end of the "L" shaped corner loft for even more storage pieces like dressers (or even a second desk for a sibling!) All Maxtrix case goods are the same width so you can mix and match the perfect amount of study and storage for your kids room. We love how a three drawer dresser rounds off the look (option to go with four or five). 
Looking for a different design but love the HighRise? Our best selling corner loft bed can be transformed into so many different looks. Here's a customer favorite in this younger girl's beautiful room staring the HighRise with different desk and storage components (shown a few different ways). 
Notice that angled ladders are also available with this configuration. Depending on your room space and age of your child/tween/teen, opt for straight or angled ladders (customize to either side of the bed).
We've ensured even older kids and teens climb safely up to the top beds with safety grooves on each ladder step. Tall guardrails - which are most effective with low profile mattresses - maximize headroom height and provide an extra safety barrier.
Shop the Look
Get Inspired for Back to School
Whether you're about to return to school or just getting started in College, the High Rise is a great example of how you can maximize room or dorm space with a unique bed configuration. The great news is that there are SO many more options. Get inspired now with our Back to School Collection and shop by age or bed type.
If you need a specific design, tap our team for assistance. We're always here to help maximize your room space and find the perfect unique solution. Build your custom kids bed with us!