boys room
Sterling's Room Makeover with a Triple Corner Bunk Bed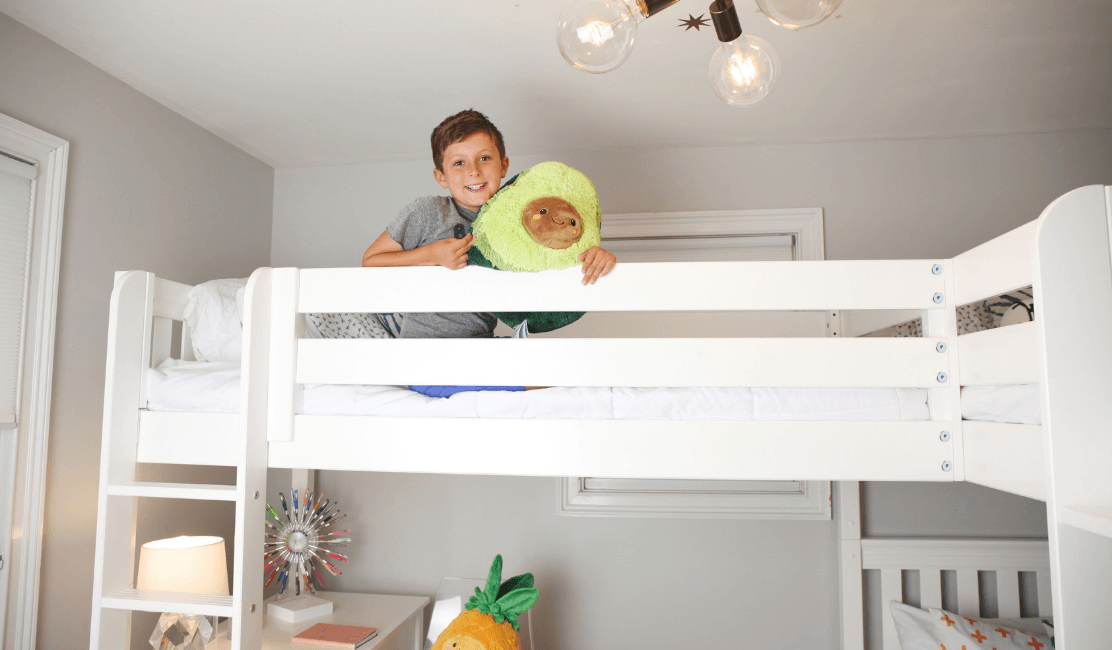 Meet Sterling! He's a sweet, confident, always smiling 8-years-old who was ready for a room upgrade! Sterling loves art and stays up at night with his flashlight to read and draw. As a tidy, well-groomed Southern boy, he wanted a room design that would provide sleep and study quarters, accommodate his friends and family for sleepovers and free up space for walking and playing.

Sterling is the son of Instagrammer SnoopNattyNat and Lifestyle Blogger Natalie Mason from Designer Bags and Dirty Diapers... and, boy, does he love his Mama! His sweet younger sister, Frances Moon, loves to tag along with big brother, and he is quick to play with her. She shared in his room reveal featuring a triple bunk bed with storage.
But, first, let's take a look at Sterling's former room with a Queen bed, and hear from his Mom, Natalie, directly.
Sterling's Original Room
We live in an old ranch home, so our bedrooms are not that large. Maxtrix really appealed to me because all of their beds seemed like a great way to utilize space. I also liked that they were sleek and modern; beds that Sterling could grow up with from eight to eighteen!

Maxtrix Design & Installation with Natalie
We choose a triple corner bunk bed called the Trio mainly because Sterling really wanted three beds for sleepovers! My nephews visit quite a bit so we knew it would be perfect for friend and cousin sleepovers! It also was a great way to utilize space in Sterling's smaller room because the floor could be totally opened up with the two elevated beds!
I cannot say enough great things about the Maxtrix team and our new bunk beds - starting with the design process. They made everything so easy! The hardest thing I had to do was measure the room, and the Maxtrix team took over from there and did everything else. They began by showing me exactly how our bed selection would fit in our space.
They made recommendations on small changes we should make to the Trio so that it fit better in Sterling's small room width with eight foot ceilings. We opted for two straight ladders instead of one angled, and then placed his desk under one of the elevated beds. This created the perfect configuration and fit for his room space.
Our bed was ordered and delivered in no time, and their installers set up this large bed quickly! Not to mention everyone was so nice and helpful; it was such an easy process. I also want to mention the quality of the beds is superb as well.
The Big Reveal
If you are shopping Maxtrix, I would say go for it! You will not regret it at all. I have been beyond impressed with not only the quality of the product but the Matrix staff as well. I can't say enough about how easy the process is from design to installation. We are in love with our new room! Here's Sterling's reaction:
Trio Triple Corner Bunk Bed Details
Take a closer look at Sterling's triple corner bunk bed (
shop the entire room collection here
!) Accommodate three easily with three twin beds:
Natalie and Sterling love the bed's safety features, which include tall guard rails, solid wooden slats and ladder step grooves.
The twin size beds are spacious, but note that Maxtrix triple corner bunks and
l shaped loft beds
are also available in full or Queen. In fact, Natalie and Sterling will consider updating the bottom bunk bed to a full size in the future when he needs more space. The change will be easy with the
Maxtrix furniture system
. Sterling or Frances Moon don't have to worry about bumping their heads with plenty or room height under the top beds and between the top bunk and the ceiling.
 The desk is the perfect spot for Sterling to tap into his creative side with drawing space. During the school year, he's set up well for studying and homework. (
Shop all Back to School looks
)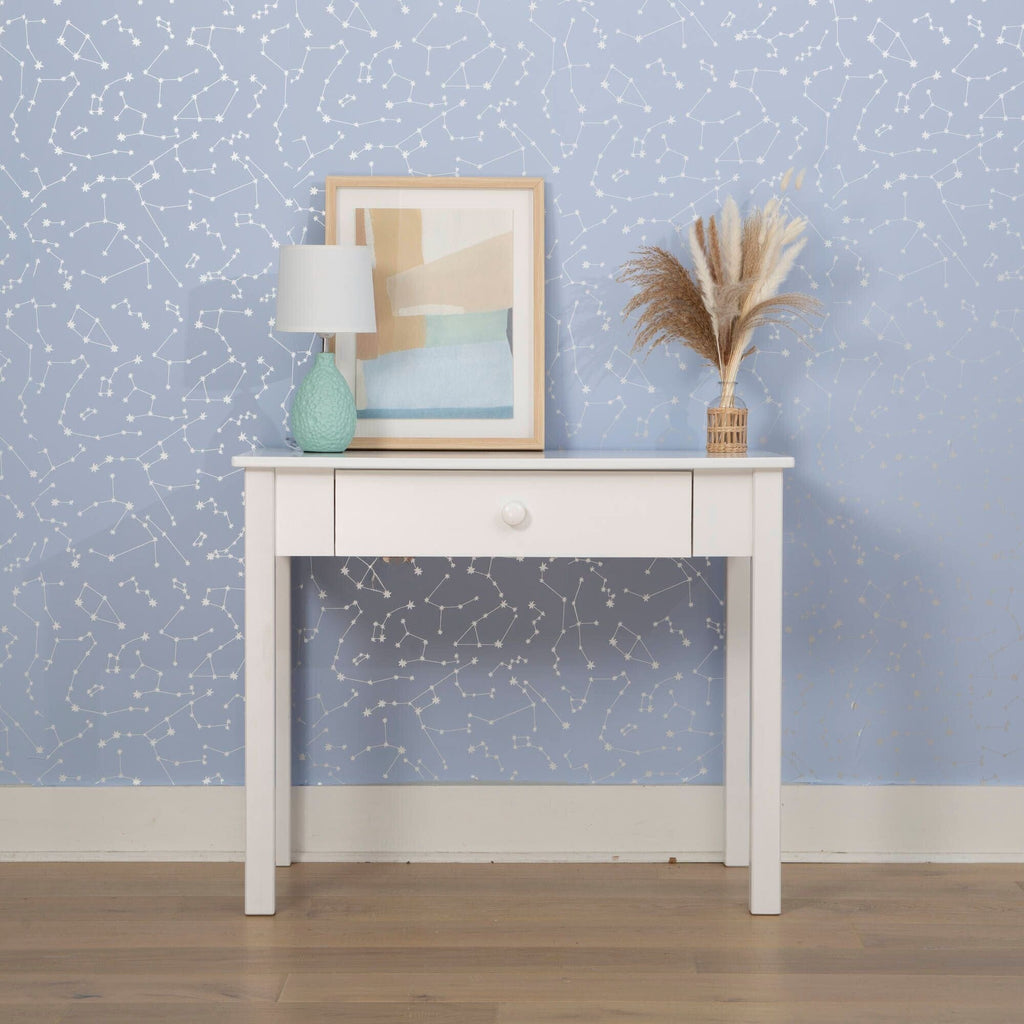 Natalie completed the room look with a Maxtrix five-shelf bookcase to help keep his room tidy. We also love all of her decor selections!
We were proud to partner with Wonder Works Toys of Charleston in Sterling's room design, which showcases several of their plush stuffed animals and toys. Locally owned and award-winning for over 28 years, Wonder Works is always the first to feature the hottest toys, like Squishables and Barbie! Even Frances Moon benefited with a new Maxtrix toy storage box filled with some goodies from Wonder Works! :)
Shop this Look
Love Sterling's room? Shop this look in Sterling's Room Collection.
Sterling's corner loft bunk bed with storage is one of our many unique beds for kids. Here are several more to get your thought process started:
Want design help? Build your bed with the perfect setup for your space with the help of our design team. This service is complimentary to all Maxtrix shoppers!