back to school
Multi-Functional Mid Loft Bed for Low Ceiling & Small Kids Room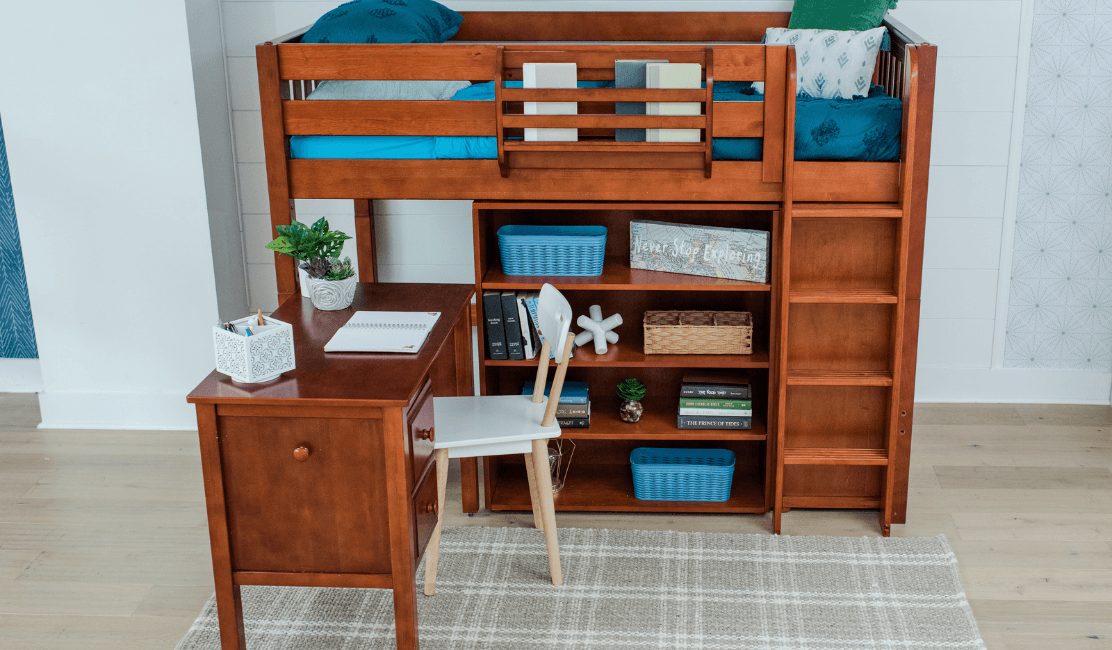 What's the perfect solution for a kid that wants to sleep up high but may not be ready - or have enough space - for a tall loft bed? Look at the mid loft bed height that fits almost any low ceiling or small kids room. As an elevated bed, you can still add dressers and desks underneath. But, the mid height allows for more storage drawers with an additional almost 11" of space. See why the "Bling" mid loft with storage and desk is a best seller. Add your favorite furniture based on your needs and customize your design, either as a twin or full size mid loft bed. Your options are endless with Maxtrix. 
This Bling configuration includes a student desk with storage drawers, four-shelf bookcase, four-drawer dresser and a bedside magazine rack. This design is packed full of functionality with sleeping, storing and studying spaces. The straight ladder also leaves extra walking space that an angled ladder or staircase would not provide.
The simplified modular design can also easily be changed. Each piece of furniture underneath the mid loft bed can pull as a stand alone piece of furniture. This means dressers and bookcases can move to a different area of the space, or a completely different room. Rest assured each piece is high quality, sturdy and strong. This furniture was built to stand the test of time and reconfiguring stages.
The desk featured here is a small 2-drawer desk that is built on castor wheels so the desk slides in and out of the mid loft easily. Even kids can move the desk out for homework and studies, or store it away to free up square footage when they want to play. There's a small knob for easy gripping when moving. 
Full Size Mid Loft Options & More Designs
Want a slightly different design? There are many twin and full size mid loft bed options to choose from. Try a traditional mid loft bed with front ladder or ladder on end and add on items underneath as you see fit - or leave the space open! Or, opt for a larger full size mid loft bed, which provides a little extra space to spread out.
For extra storage or fun, go for a staircase entry as each step is a pullout drawer or a slide for a fun way to exit the top bed. Jazz it up even more with a top tent and play curtain for the ultimate castle design.  
Mid Loft Bed Mattress Now Available 
Top off this mid loft bed or any others with a brand new Premium Memory Foam mattress. The cool, comfortable - and supportive - low profile 5" mattress is the perfect addition to your Maxtrix twin size mid loft bed. As a mattress specifically made for kids, this maximum support design is safe and eco-friendly, provides maximum support and cooling comfort and is covered with a washable cotton cover. Talk about checking off all of the important boxes for kids mattresses!
Not sure how to shop for the right mattress or want to learn more about why low profile mattresses are the best options for bunk beds and loft beds? Read our five expert tips which are sure to help with your mattress decision for the Bling or any other elevated bed. (Hint: Safety is the most important reason!)