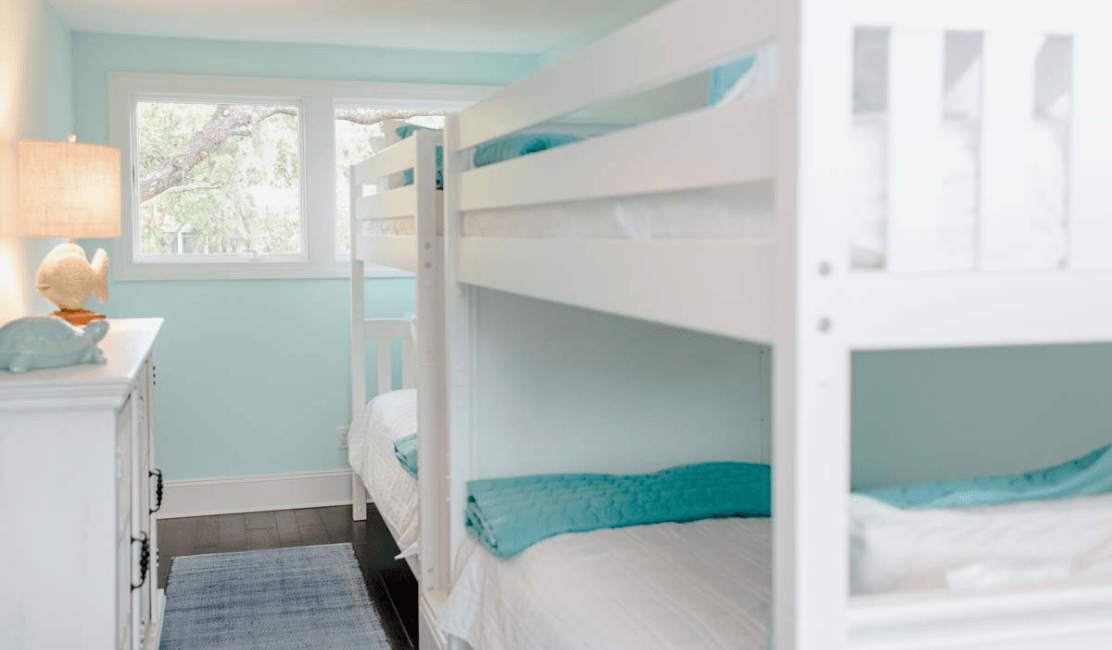 Small, narrow spaces present accommodation design challenges, but one Kiawah Island homeowner found the perfect solution for sleeping four to a room with her long Maxtrix quadruple bunk bed. With two beds stacked on top of each other and connected with a staircase entry in the middle, this vacation beach home is now well outfitted for an entire family to enjoy! The Twin XL length provides extra inches for teens and adults to stretch out. Here's the Room Reveal!
Before deciding to go with built-in bunk beds for your narrow space or vacation home, contact the Maxtrix design team to learn about your options with our configurable parts. Save money and time, and reuse your beds for years to come. Your options are endless with Maxtrix, including different entries like ladders and stairs, finishes from white, natural and chestnut, to various bed heights and bed ends. Change the bed to a different design at a later time. 
Hear more from this homeowner below or go ahead and visit our Sturdy Quadruple Bunk Beds or Queen/XL Bunk Beds collection!
Kiawah Island Beach Home Bunk Room
After much research online and in person, I chose a Maxtrix bed because of the solid, sturdy and safe construction. The flexibility the Maxtrix Quadruple Twin XL offered was one of the deciding factors. If we committed to built-ins, we lost the flexibility of using the room for another purpose in later years. The Quadruple bunkbeds with stairs could be relocated to another bedroom if desired.
The dimensions of our bunk room made it perfect for the quad xl twins. It was a narrow room so we opted for two bunk beds connected by stairs. Working with the Maxtrix design team was a pleasure. Sarah saved me from a big design error with the design layout she provided.

We're glad we opted for the Twin XL size, which offers comfortable adult sleeping or sleeping for taller teens.


In addition, the safety of the stairs, rails and sturdy construction with a higher weight limit made the decision easy.
The bed frame is very attractive, nicely painted and assembled. The drawers in the stairs slide easily and provide great storage.
The timeframe with Maxtrix was as promised and the communication was excellent. When the bed arrived from the warehouse, we were contacted immediately, and they arranged to assemble it at my convenience.
The local Charleston assembler was very professional, competent, honest and easy to work with. From start to finish, Maxtrix honored all delivery, price, set up and time frame commitments. Currently, we do not have plans to reconfigure this bunk bed, but we love that flexibility.

The Maxtrix beds are superior in design, safety and sturdiness compared to every product I researched. We look forward to many years of enjoying our Maxtrix beds. It's an excellent product, customer service and design. It could not have been a better experience!
Sleeping Solutions for Vacation Homes
As bunk bed experts, we are asked to design custom beds for all types of room sizes and layouts. Typically with vacation homes, beach homes, mountain homes, second homes and rentals, those bunks need to accommodate three, four or more. Here are a few more custom bunk bed designs from our team. Contact us to create your own!