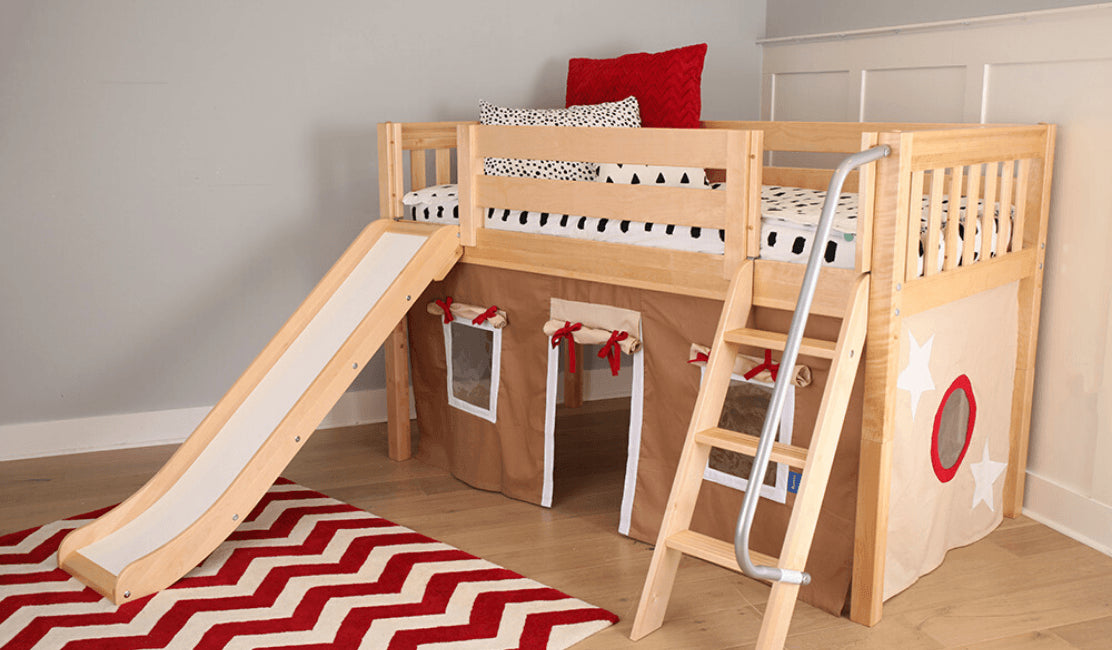 If you are searching for a kids bedroom solution that manages to provide adequate space for sleep, study and play all in one place, try a classic Low Loft! They don't take up a lot of room, which leaves valuable floor space for walking and playing. Just take a look at how much versatility and functionality is packed into one bed with our most popular, customizable design - the Easy Rider. If you have a small kids room, this might be the best place to look.
Low Lofts with Slides and Playhouse Curtains
While the Easy Rider is stands alone as an amazing first choice for your boys or girls small room with clean lines and simple design, there is always the opportunity to customize it with accessories. If younger, kids really enjoy the playful look of a low loft with slide and play curtains. You can add both slide and curtains - or just one! Keep in mind that play curtains are available in many color combinations to fit any room decor.
Quick Shopping Links: Shop Low Lofts with Slides | Shop Low Lofts with Curtains | Shop Low Lofts with Slides and Curtains
Want even more play? Deck your low loft all out with top tents and towers, too, for a complete playhouse loft design - shop all playhouse beds.
Low Lofts with Storage Keep Kids Room Tidy
Since the Easy Rider is an elevated kids bed (see product dimensions), you can fit desks, dressers, bookcases and even toy chests right under low lofts. Think about your child and his or her needs; how will they use their bedroom and how can you create an environment to help them thrive? It's possible to do it all - even with a smaller room! That's why the Easy Rider (called the "Wow" with the slide) is customizable.
Here are some suggested storage pieces that slide right underneath like building blocks to create your own unique look.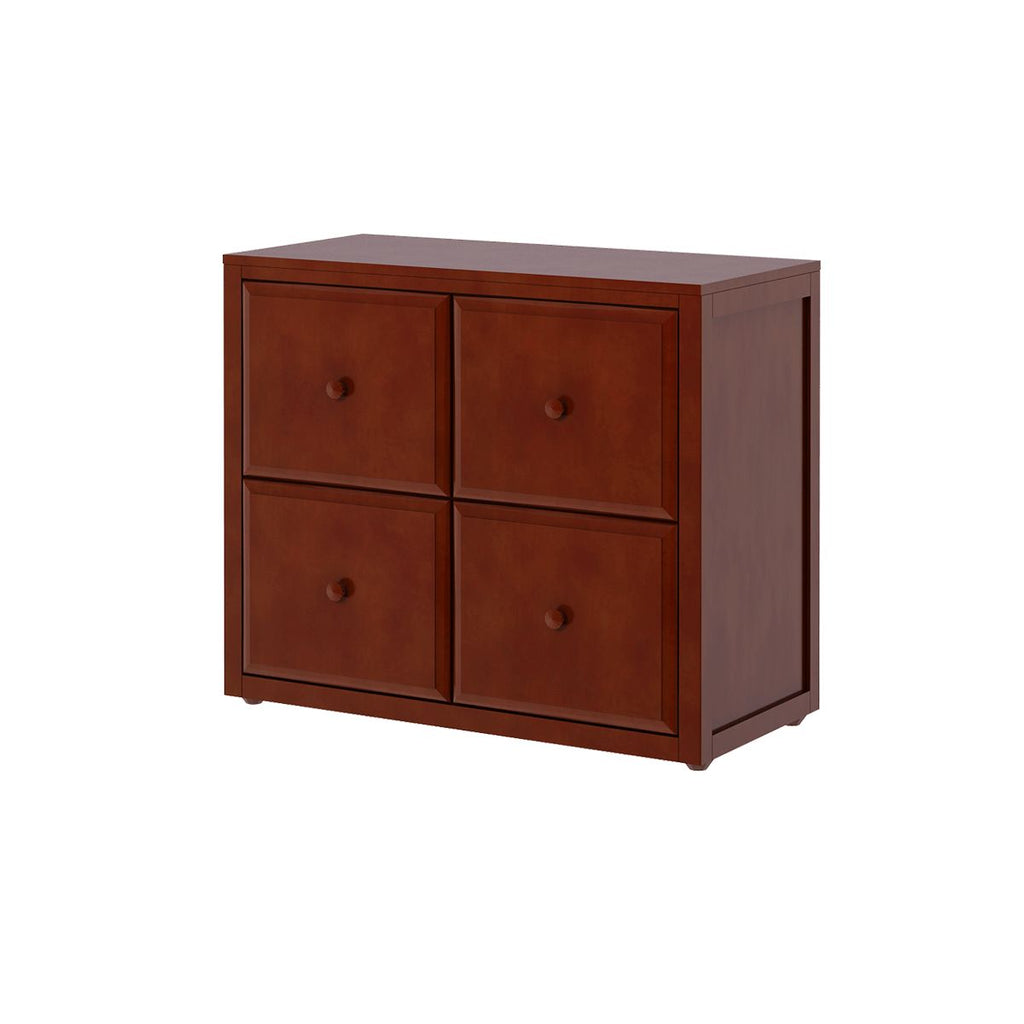 Here's another great look with multiple storage opportunities.

Reconfigure Low Lofts into New Customized Beds
Needs change as your kiddos get older, which means they might outgrow a design that you started with. Rest assured that you have made a great investment with Maxtrix. Curtains and slides easily remove without hurting the wood of the bed. Each piece of furniture easily slides out. So, while the desk is under the bed today, make it a stand alone tomorrow! 
Create a Customized Low Loft for a Small Kids Room
Like what you see? Mix and match all of the components that make this look a true winner, creating your own custom kids low loft bed. Need help from our design team? Consult our storage & desk fit & measurement guide, or work with our team to add the right pieces of furniture to meet your needs and style! Simply chat with us via our online chat tool during business hours or fill out our design team form to get started with your perfect custom kids bed.