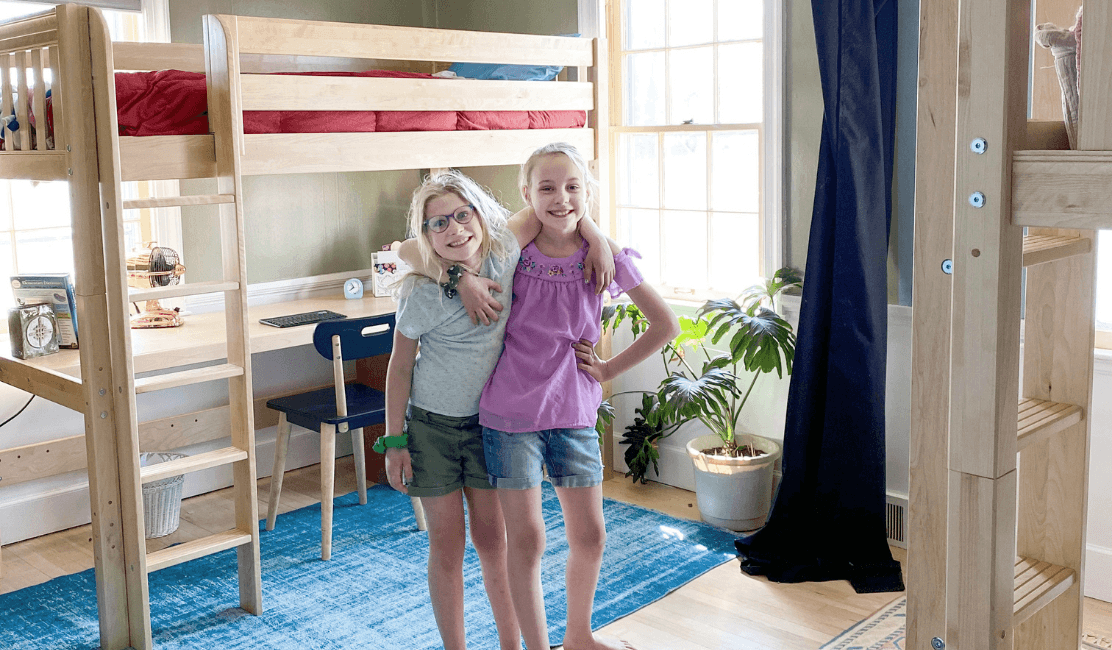 As kids get older, their personalities and needs change. Mom, Bethany Sy, knew her girls were ready for individual spaces in their shared tween room. She stepped back and let the girls style and decorate their spaces with different colors, decor and flair. Both girls, however, chose the Maxtrix Twin XL Loft Bed with Desk as the central focal point. Take a look at their fun tween shared room or shop their collection!
Prepping for Tween Room Makeover
Bethany was excited to give her girls, Paisley and Della, a room makeover. The girls accumulated a lot of things - as all tweens do - and they needed to figure out a way to design functional spaces while also giving them privacy - as all tweens want. 
Both girls were excited to play a big role in the decision-making process. Bethany decided to divide the room in half and let each tween girl design her side. They began by selecting the wall colors, which would serve as the primary backdrop for their spaces. The girls chose their favorite colors, and Bethany went to work!
Even though many individual decisions were made, instead of a standard Twin or Full Bed for 10 Year Old, all three settled in on the Maxtrix high twin XL loft bed for its height, length and functionality. Since the girls could raise their beds up with the lofts, the space underneath could be utilized for practical studies and storing all of their books and papers. Their room concepts were complete!
Twin XL Loft Beds Provide Extra Space
Since Twin XL beds are 4" longer than regular Twin beds, Bethany knew the length would afford them growing space as they got older. Tweens have longer legs and want space to stretch out. Maxtrix loft beds are extra sturdy and tested to hold 800 pounds, so the girls knew they had secure living quarters.
While the length satisfied growing needs, the height of the Twin XL loft gave them enough head room to comfortably enter their study spaces.
Straight ladder entries kept the design sleek and modern, without taking up any additional floor space.
The room overall showcases two individual sleep and study spaces on two separate walls - a great approach for shared rooms. Should they ever separate rooms at a later time, their beds can simply go with them.
However, these beds can continue to evolve and change with the Maxtrix System. The Twin XL loft bed today can become a Twin XL over Queen tomorrow as an example.
Bethany's bed is just one of many new Maxtrix XL and Queen loft bed and bunk bed options. Shop the full collection. Hear directly from Bethany about her experience below!
Bethany Shares Tween Room Reveal
We loved how big the selection was at Maxtrix, and that kids rooms is what they specialize in! Since our twins are getting older and wanting their own space, we knew that loft beds were the way to go... especially since they have to share a room!Both girls love to write and draw, so I knew that there would need to be a desk for each of them in the room somewhere. Having the desk below their bed allows more space elsewhere in the room, and gives them plenty of surface area to be creative!
Assembly is never the fun part, but it went fairly smoothly, and we're able to easily move the beds around the room now that they're assembled.
The design is perfect, and we were floored with how high quality these beds are! These days, it seems like furniture is made to be disposable, but we can tell that these beds will last a lifetime. Very sturdy, beautiful wood.
I would say that it's a great decision to invest in a Maxtrix bed! They're built to last... even if you have rowdy/squirrelly kids that love to climb. We can tell that these beds will be in the family for a good long time. And they're beautiful too. ;)
Shop Tween Room Loft Bed Collection
At Maxtrix we know kids at all stages and ages have different room setup needs. Check out our Tween Room Collection for our most popular tween room lofts and bunk bed designs. Don't see exactly what you need? Customize your tween bed with the Maxtrix design team.