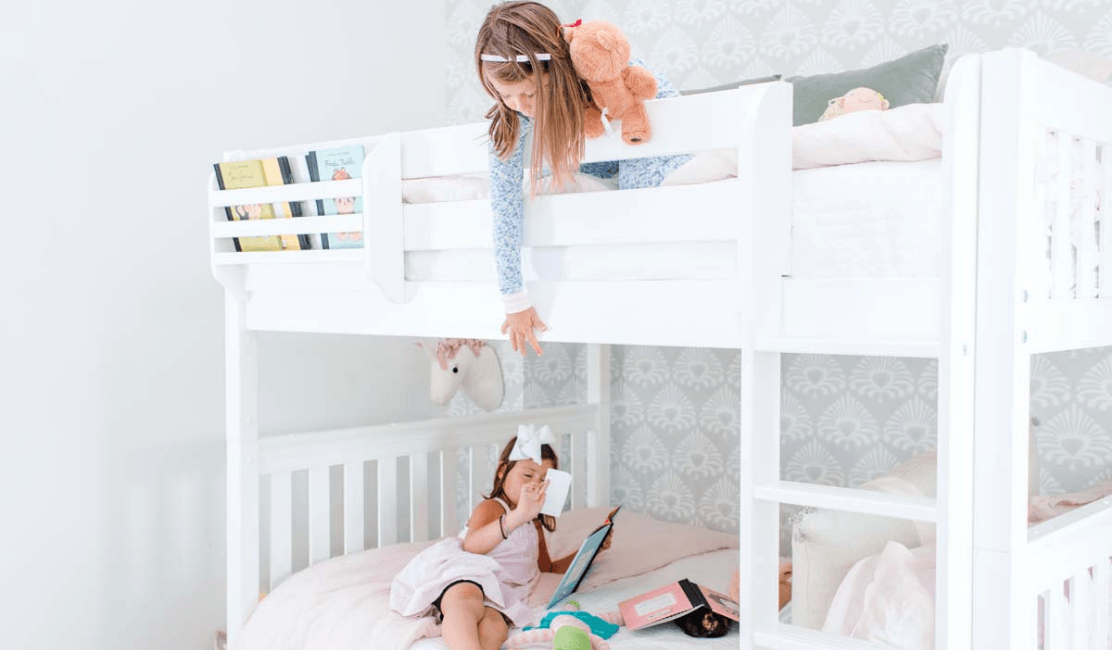 Ensuring our children's safety becomes our # 1 job as parents. And, it's not just our children but also visiting guests, friends and neighbors. For toddlers and kids, dangers can lurk everywhere. But, there are plenty of ways to prevent accidents. Beyond car seats, bike helmets and shin guards that no modern parent can go without, there are important furniture safety tips that get much less publicity. Kids tend to spend much more time inside homes than outdoors, so it's no wonder accidents happen in the home. Good news! It's not difficult or costly to create a safe environment for your kids. Here is a Kid's Furniture Safety checklist for your kids room - see Maxtrix safety standards. 
1. ALWAYS install anchoring devices on tall or heavy dressers and bookcases
Prevent TVs, dressers, bookcases or other furniture from tipping with anchoring devices. We supply FREE anti-tip kits for all dressers and bookcases 30" (76cm) and above. It's very easy to secure them to the wall.
Please be aware that these kits are not a perfect solution to prevent every accident, so it is critical that you also:
Avoid leaving items, such as remote controls and toys, in places where kids might be tempted to climb up to reach for them.
Store heavier items on lower shelves or in lower drawers.
Check that your dressers have a drawer locking mechanism – they exist to prevent drawers from accidentally being pulled out and cause injury. All Maxtrix® dressers come standard with this important feature.
Place TVs or screens on a sturdy, low base and push them as far back as possible.
Always anchor TV's or screens to the wall.
For more information about Tip-over facts & risks, please visit Anchor It. 
2. Check the safety of your child's bed
Check that any gaps on, in or around your child's elevated loft or bunk bed are less than 3.5" (9cm) or more than 9" (23cm). Remember to include ladders or added accessories in this check.
Make sure the bed you chose has sufficient weight bearing capabilities. While kids don't weigh much, sometimes friends or siblings add weight, so this feature is very important. Check that the bed has lots of good quality slats, and ask whether the bed has been tested to withstand at least 400lb's of weight (all Maxtrix® bunks do!).
For elevated beds and bunk beds, maximize safety rail height for the top bed. While Federal Minimum regulations require that safety rails are 5" (13cm) higher than the mattress surface, we strongly recommend you look for a bed and mattress combination that exceeds this limit. Maxtrix® Bunks and Lofts come with a 16" (41cm) rail height, one of the tallest in the industry. Remember, that the taller the mattress you use, the lower the safety rail becomes, so look for low profile mattresses, especially for the top bunk beds or loft beds.
A Maxtrix® bed can accommodate an up to 11" (28cm) thick mattress, however we recommend not exceeding 8" (20 cm) on the top bunk for added safety.
When adding rails or accessories, only use manufacturer approved products, to ensure the right fit and maximum safety.
Always ensure that there are full length guard rails along the back of the bed, and ensure that the bed is either less than 3.5" (9cm) from the wall or more than 9" (23cm) to help prevent possible entrapment between bed and wall.
Make sure bunk beds are assembled correctly, designed to be rock solid and don't "wobble". Check connects and screws monthly to ensure beds are solid. Otherwise – tighten!
For smaller children, ensure beds are equipped with front and back safety rails to avoid falls. Transition Toddlers into Toddler beds before they can climb out of their crib on their own (most cribs have very high rails, and a fall from that height can cause serious injury).
Make sure there are no sharp edges or corners anywhere. Use plastic corner covers to prevent injuries if you discover some.
3. Decorate with safety in mind
Avoid decorative finials or any accessories that can create an entrapment risk, especially on elevated beds. Never hang strings or wire from beds where kids could become entangled.
4. Teach and enforce safe behavior
Be careful never to encourage un-safe playing. Make sure you block access to unsafe areas and your children are aware of what's safe and what's not.
5. Ensure surfaces and materials are safe and toxin-free
Unwanted chemicals have no place in your child's room! That's why we test all our finishes and glues to comply with current US and even EU standards. We require our suppliers to test their finishes with accredited 3rd party testing laboratories and furnish certification documents to prove this. In addition we conduct our own yearly testing of the same finishes with our own 3rd party accredited laboratories for double verification. We hope these kids furniture safety tips improve the setup of your child's bedroom. Don't hesitate to contact our friendly customer service team at Maxwood Furniture with additional safety concerns or questions.