back to school
Our Favorite High Loft Bed with Ladder - Meet the JibJab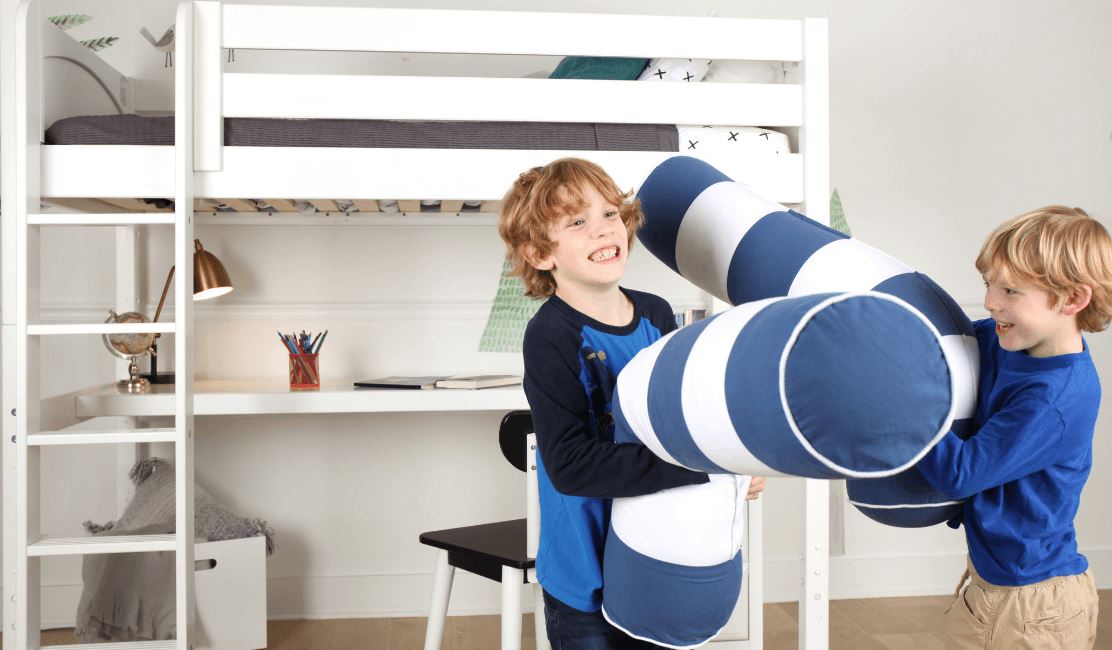 Drumroll, please, as we introduce our number one space-saving bed selection this year... the JibJab! As a basic twin high loft with ladder, this bed serves as the perfect base bed for growing kids, high school or college students (Shop our entire Back to School study bed collection). There's ample amount of space underneath to customize for studying, reading, playing or storing. The top elevated bed creates private sleeping quarters, and we all know how much boys and girls alike enjoy their spaces. Take a look at the JibJab... fun to say, but even more fun to sleep in. ;)
The JibJab is extremely functional without taking up a lot of square footage. With a straight ladder entrance, the design is sleek and modern. Grooves in the steps ensure feet climb safely.
If shopping for grade school students, consider the Knockout, which is the same bed but with an angled ladder entrance. You'll still find safety grooves, but you'll also note the handrail adds upper body support. Little hands easily grab onto the handrail for additional safety (consider coming down the bed as well). 
Our high twin size loft bed with ladder here is shown with full panels as bed ends. Again, we've noticed that our young shoppers like the idea of closing in their sleeping quarters. 
However, if you like an open look, we suggest the slat bed ends - shown in our Full XL and Twin XL size options:
Parents need not worry about the sturdiness of the JibJab. Like all Maxtrix beds, this high loft is tested to withstand up to 800 pounds and features industry-leading 11" safety guard height. Check out the sturdy slats supporting the bed:
Keep the space underneath open for lounging, or simply add a desk for study space. Our long desk fits perfectly under all high loft beds, creating a flat desk surface for drawing, homework, studies and reading. 
There is always the option to add extra storage to the desk for hiding supplies and materials. This helps to keep the workspace tidy as well.
Need to make it even bigger? The JibJab as a twin loft bed can be upgraded to an XL or Queen, providing even more sleeping and studying space. 
Need more storage or have a younger child? Change out the ladder for a staircase entry with the best selling high loft with stairs design - the Star:
Loft Bed Buying Guide
If you're new to shopping elevated beds like loft beds for kids and teens, we've broken down the process with a free buying guide. Learn how to select the right height, length and accessories to create the perfect configuration for your space. 
Keep in mind that our loft beds are easily reconfigurable so you can change the look over time. The JibJab transforms to a High Rise by just adding a second lofted bed, creating a corner loft bed with ladders. 
Design Services for Kids Beds
Need help shopping? We're here! Tap our design team and use our complimentary services to make sure you select the right look for your kid's room.