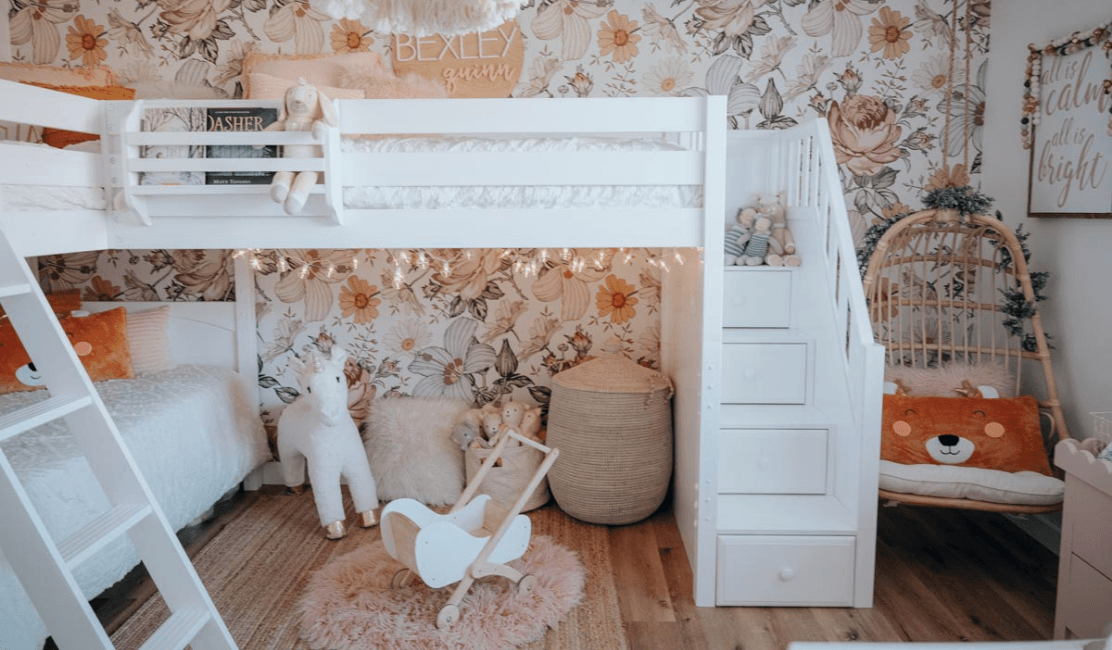 When you want to sleep two or more in the same room and you need unique storage solutions, bunk beds with stairs give your kids' space the perfect combination of safety and style in one functional setup. With each step as a pullout storage drawers, kids have access to their favorite things almost within arms reach. And, it's not just great for kids! A bunk bed with stairs makes it super easy for parents to reach the top bunk. So, climb safely, sleep comfortably and store practically with bunk beds with steps. 
Parents, we know your concerns about keeping the top bunk tidy. Making the bed is easier with wide, grooved steps to stand on. Compared to narrow ladder steps, a staircase provides a solid base for larger, adult feet. Also, climbing up is extra comfortable and with sturdy handrails - everyone feels super secure when reaching the top bunk on stairs. 
Wondering whether a staircase or ladder bunk bed is right for you? With a Maxtrix Kids staircase bunk bed, each modular design comes with drawers in each step to make storing your kids' clothes, books, toys and bedding super simple. Because when you're in a hurry and looking for your favorite items, having a bunk bed for kids with stairs keeps everything neat, organized, and within reach.
Each staircase is designed to be installed on either side of the bed – fitting your kids' space perfectly and maximizing their room for play or other furniture. Different than our jr loft bed with stairs, our bunk beds for kids with stairs are ideal for shared spaces with two, three or four beds instead of one. Its versatile underbed space also provides an excellent spot for a trundle bed or storage drawers – meaning you can sleep one more easily if needed (think sleepovers!) or organize even more of your everyday items with the extra under-bed storage space.
Because every room is different, we've designed our kids bunk beds with stairs with three unique heights. With Low, Mid, and High options to choose from, there's a style that's perfect for your ceiling height. Pick one of our popular designs in standard Twin, Twin XL, Full, Full XL, and Queen sizes, or build your very own modular setup with the bed sizes and features that fit your kids' needs and lifestyle. Custom options with corner beds, triple beds, and quad beds also give your kids' space ultimate versatility.
With this many options, there's so many ways you can customize your Maxtrix Kids bed. We've included some of our favorite designs below that are sure to be the perfect fit for your kids' room!
Jr Loft Bed with Stairs 
As a low bed, a junior loft is ideal for younger kids moving to their first "elevated" bed. With only three steps to climb, jr loft beds with stairs keep your little one close to the ground. Add a slide for a fun way to exit! Both the stairs and slide are sturdy and safe for kids rooms. 
Twin Bunk Bed with Stairs
It's one of our best-selling bunks for a reason. Our Twin Bunk Bed with Stairs is the perfect go-to bunk bed for spaces of all sizes. Its mid height makes it a great choice for both little and big kids alike, while a storage staircase offers easy to climb steps with drawers underneath to keep everything organized.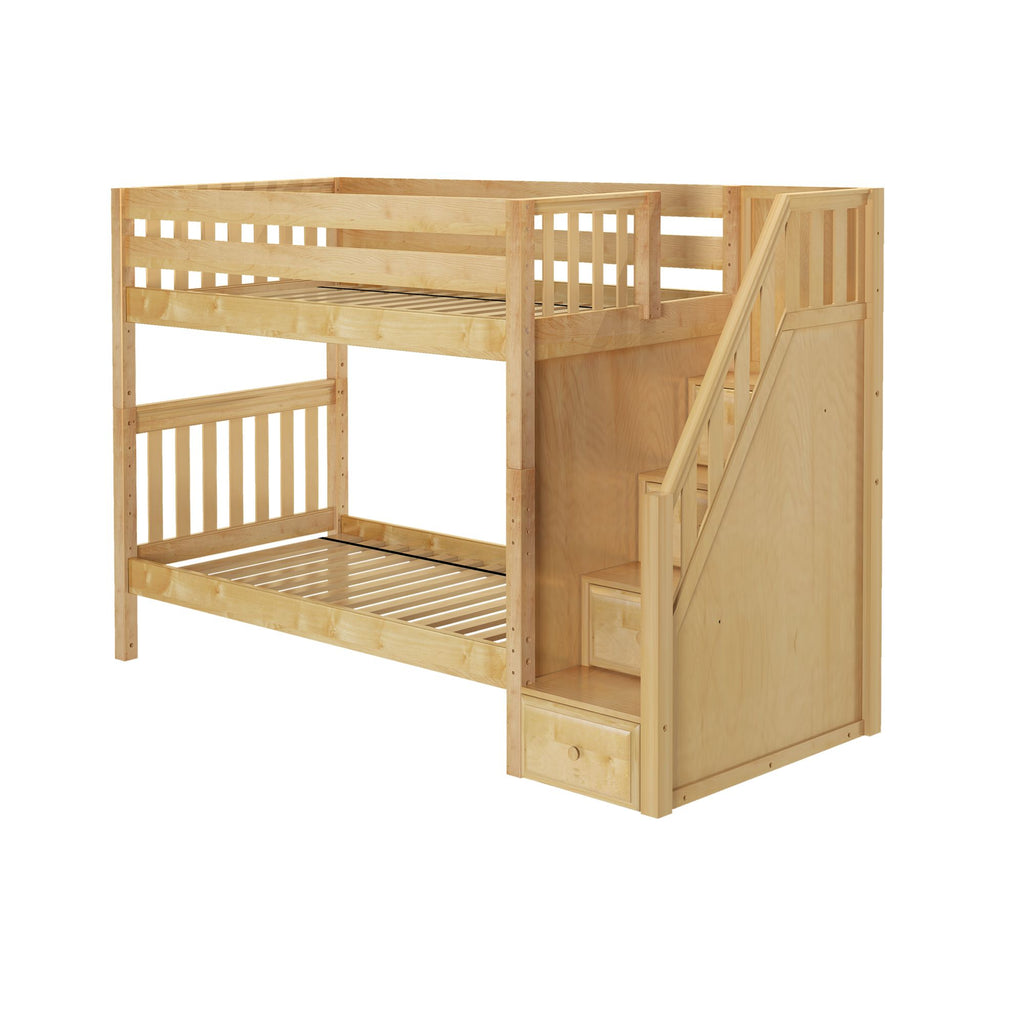 Twin over Full Bunk Bed with Stairs
Pairing a twin bed and a full bed in the same space-saving design, our Medium Twin over Full Bunk Bed with Stairs is perfect for little kids or your shared tween/teen space. The staggered design of a twin over full is very popular for youth of varying ages. With a larger bed on the bottom, the Full size gives extra sleeping space for longer arms and legs! Parents equally enjoy the space for nighttime snuggles and bedtime stories. 
Full over Full Bunk Bed with Stairs
Here's a favorite for maximizing space with two large bed sizes - our Full Medium Bunk Bed with Stairs offers a beautiful, stacked design that provides plenty of room to spread out and relax. With storage underneath every step of the staircase, this versatile design is ideal for organizing your kids' items when they start to collect more clothes and accessories. Safe for little ones yet big enough for older kids, this bunk bed with stairs is perfect children of every age. Plus, the Full size really grows well with your child. 
Twin Medium Corner Loft Bunk Bed with Ladder + Stairs
Easily sleep three while maximizing floorspace with our Twin Medium Corner Loft Bunk Bed with Ladder + Stairs. With this unique loft bed and bunk bed combination, there's no need to sacrifice room for play for more sleeping space. Double your storage space with the corner design layout of this bunk bed configuration. Use the space underneath the raised loft bed for larger items, desks and other bedroom furniture.
Twin Quadruple Bunk Bed with Stairs
Who says you can't sleep four and still have plenty of space for play? With our Twin Quadruple Bunk Bed with Stairs, creating a space for your shared bedroom or vacation rental is easier than ever thanks to four twin-size beds that sleep more kids or guests in your home. The storage staircase attaches neatly in between the two bunk beds - providing a safe entryway for kids and adults when heading to bed.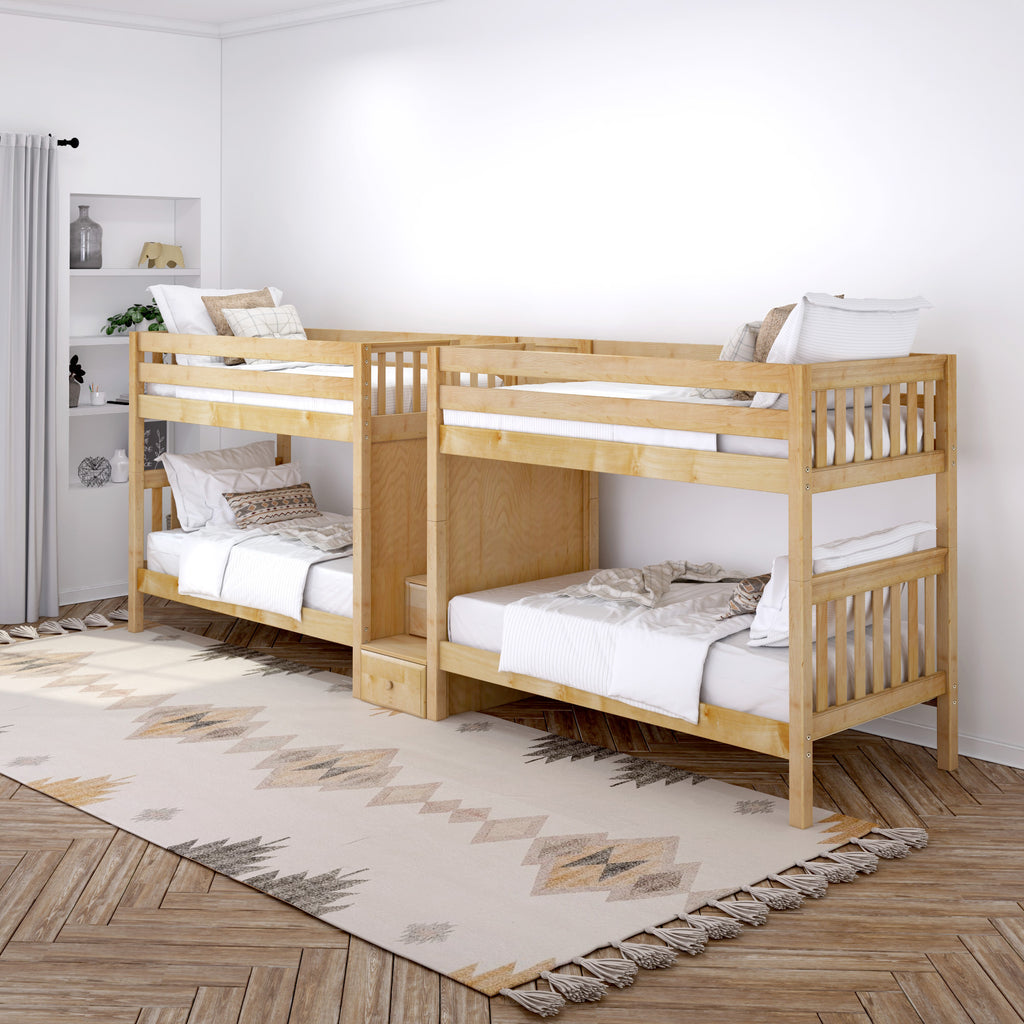 Or create other unique quadruple bunk bed layouts with corner shaped bunks or T-shaped designs. Go larger with Full, XL and Queen sizes for adults!
Create Your Custom Bunk Beds with Stairs 
At Maxtrix, we've helped design configurations for every type of kid's space. Looking to make your bunk bed dreams a reality? Use our live chat tool or contact our Design Team to create your unique Maxtrix Kids bed with stairs!