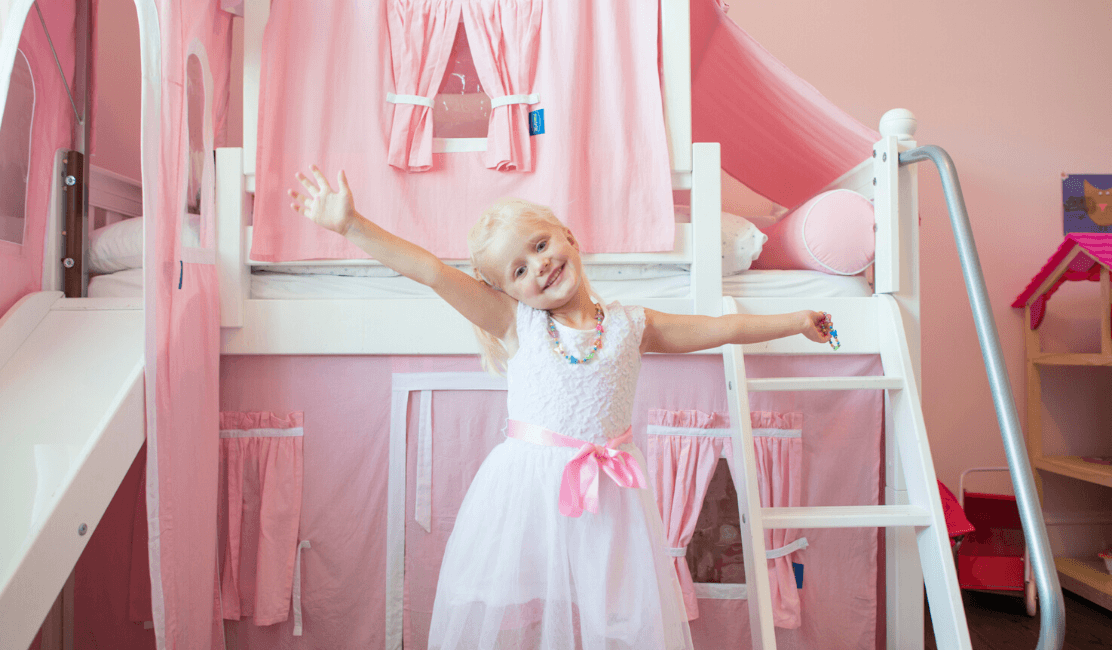 What do you call a kid's bed with under-bed curtains, tower, top tent and slide? How about the ultimate kid's play bed with slide? We're experts at maximizing kid's bedroom square footage and the Wow playhouse loft bed with slide all dressed up brings the best of sleep and play all within a small amount of square footage. Plus, it's currently on sale with free shipping in the Continental U.S. Take a look at this amazing kid's bed that WOWs everyone at first sight: 
The Wow is a Best Selling Playhouse Loft Bed with Slide
Sitting lower to the ground, the Wow is one of our smaller bed options that's the perfect introduction to sleeping up high. With only three steps, children are playing and sleeping lower to the ground but yet they get the satisfaction of feeling older with their elevated bed. The angled ladder is a great way to help kids climb safely. We've added extra grooves and a hand rail to this solid wood bed to ensure hands and feet have proper gripping.
Beyond the many safety features the Wow boasts, let's not forget the fun factor. Use your imagination and kid's personality to create a unique playhouse bed. Your options are almost endless with many fabric color combinations, a slide (which can sit on either side of the bed), top tents, bottom curtains and towers. You can choose what you want and customize the look. We designed each play component with your kid's in mind. That's why little windows and fabric pull-backs are included for the ultimate game of hide and seek.
And, when they're ready to sleep, the top tents add a nice calming environment and help your kiddos sleep at night. Of course, top tents double for fort fun or "secret" hangout spots during the day. And, as with any Maxtrix play bed, top tents, towers and so forth are all easily removable, leaving you with a completely different look as your kiddo gets older.
You can even fully change out the play furniture for study when the time is right. All Maxtrix furniture components are interchangeable so you can design and redesign your low loft as many times as needed. Try low lofts with desks, storage or both! See our loft bed with storage and study collection.
Don't forget to finish the room with valuable storage like dressers! Maxtrix furniture is available in three finishes - white, natural and chestnut - so you can create a full bedroom suit in the same finish. 
Fun Kids Beds are Cool Kids Gifts!
Ready to add some indoor fun to the mix during our extended time at home? While the season may be a tough one, having a fun environment to return to brings smiles to kids' faces. Get the WOW in many different colors while it's on sale with fast, free delivery to your door.  Contact our friendly design team for assistance creating the perfect castle bed or playhouse loft for your child! Or shop our entire collection of Fun Kids Beds.