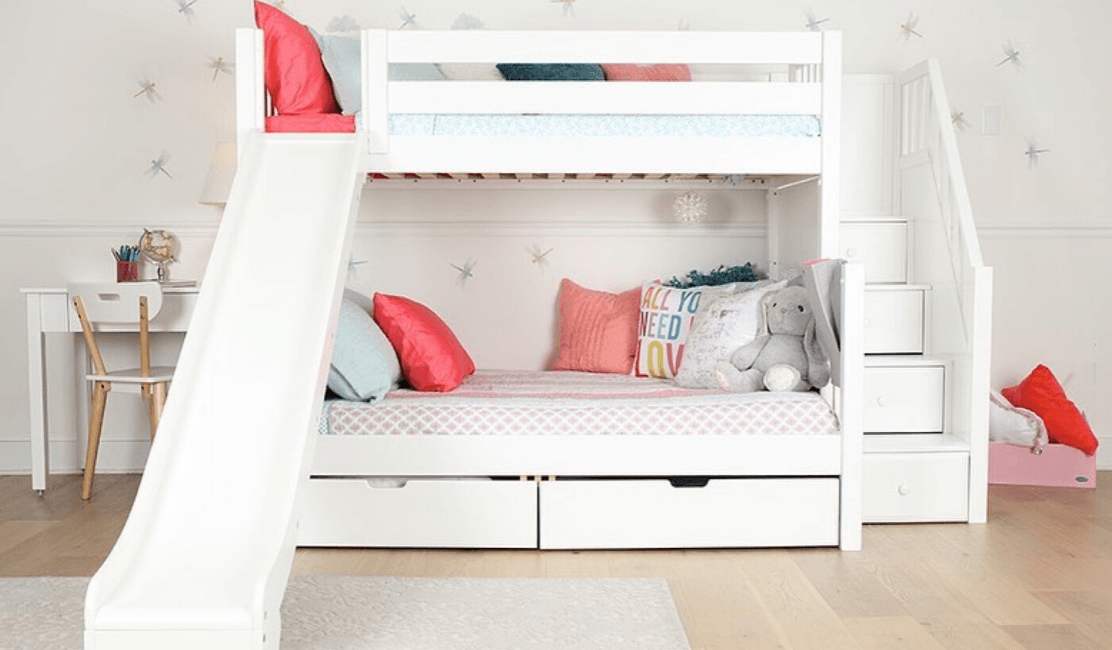 Searching for
white bunk beds
? We understand why! Bunk beds are always functional and the white finish is timeless. Add to it the fun that comes along with sleeping and playing on bunks - kids don't mind being "stuck" indoors during the hot summer and cold winter months. Get inspired with some of our favorite looks for boys and girls bedrooms featuring white bunk beds for kids and teens. See a bed in our chestnut or natural finish? If so, it's also available in white as all of our bunk beds and loft beds have three finish choices.   
Traditional White Twin Bunk Beds
Looking for a classic bunk? Twin size is the most popular bunk bed to start with for a child's first elevated bed. Go for low, mid or high heights depending on their age and ceiling height. Ladders can be placed on the front or the side, and you can go with a straight ladder or angled.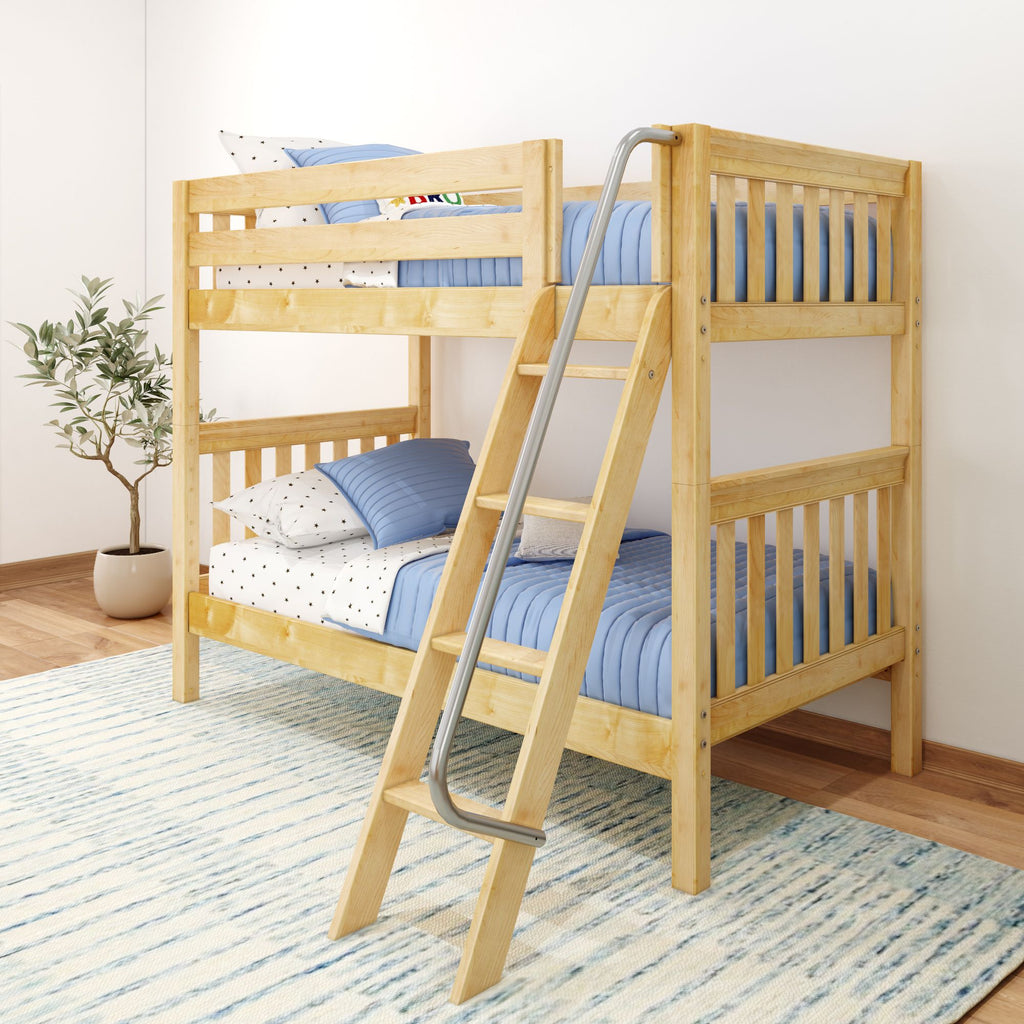 White Twin Over Full Bunk Beds
A very popular look is the twin over full bunk bed with a staggered design. The ladder can be placed up front as an angled design or on the bed end as a straight design. Regardless of your selection, these white twin-over-full bunk beds are hot, best sellers.
White Bunk Beds with Slides
Many of the designs above can turn into play bunk beds by adding a slide to them. Our white bunk beds with slides are available in many styles, sizes and heights - you can even change the traditional slide to a slide platform for high bunk beds. Slides are fun for kids, but keep in mind that you can remove it in the future and keep the classic bunk bed for tweens and teens. 
White Corner Bunk Bunks for Three or Four
Sleeping many can be challenging, but not when you use the corner of the room in your kids bed design. Having two bunk beds or a loft with bunk bed connected at the corner saves space and utilizes every inch of a shared room in a very practical way. White triple bunk beds and white quadruple bunk beds sleep three or four easily. Add trundles to add another for sleepovers. Here are a couple white corner bunk beds for kid, tween and teen rooms - but there are many more options and configurations available to customize. 
White Stacked Triple & Quad Bunks
Going for a tall or long design? Stack up your beds to make a white tall triple bunk bed or connect two bunks with a staircase in between for a white quad bunk with stairs. These big beds are large and in charge!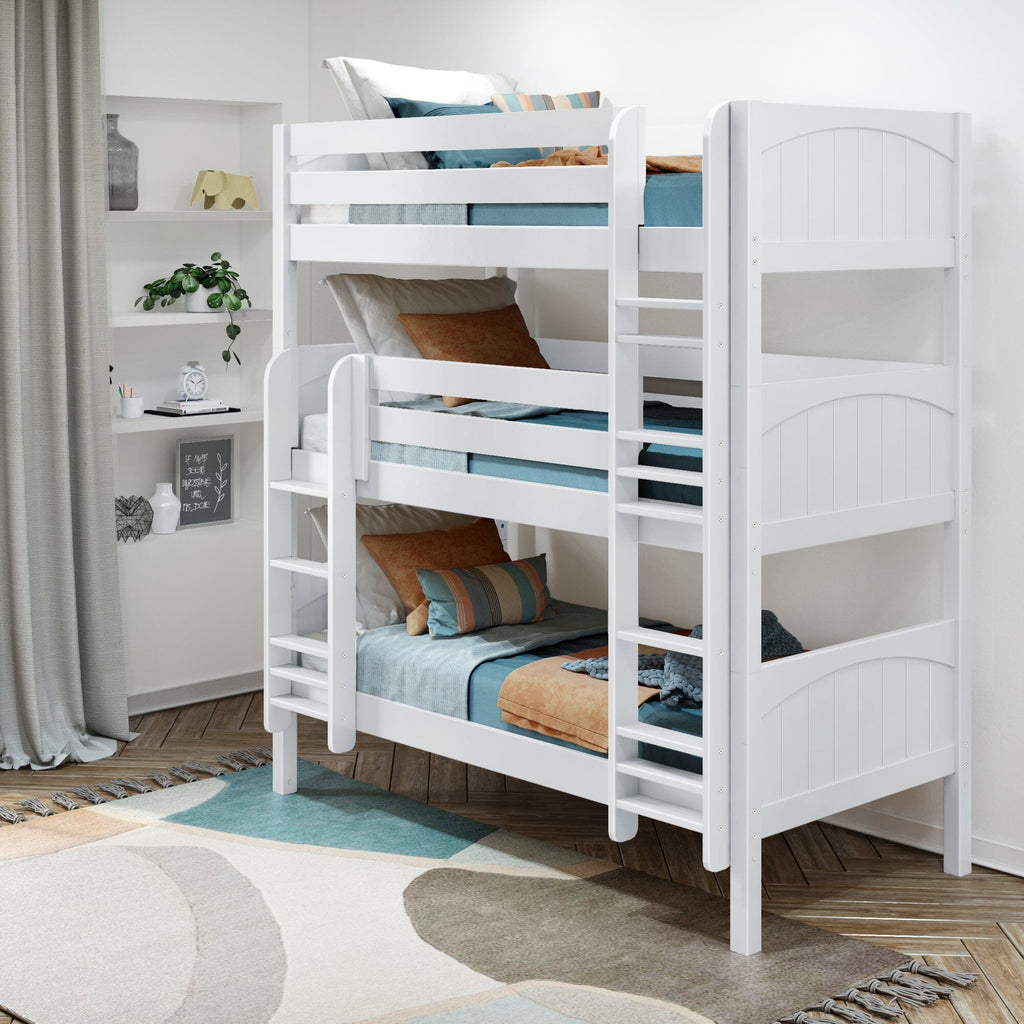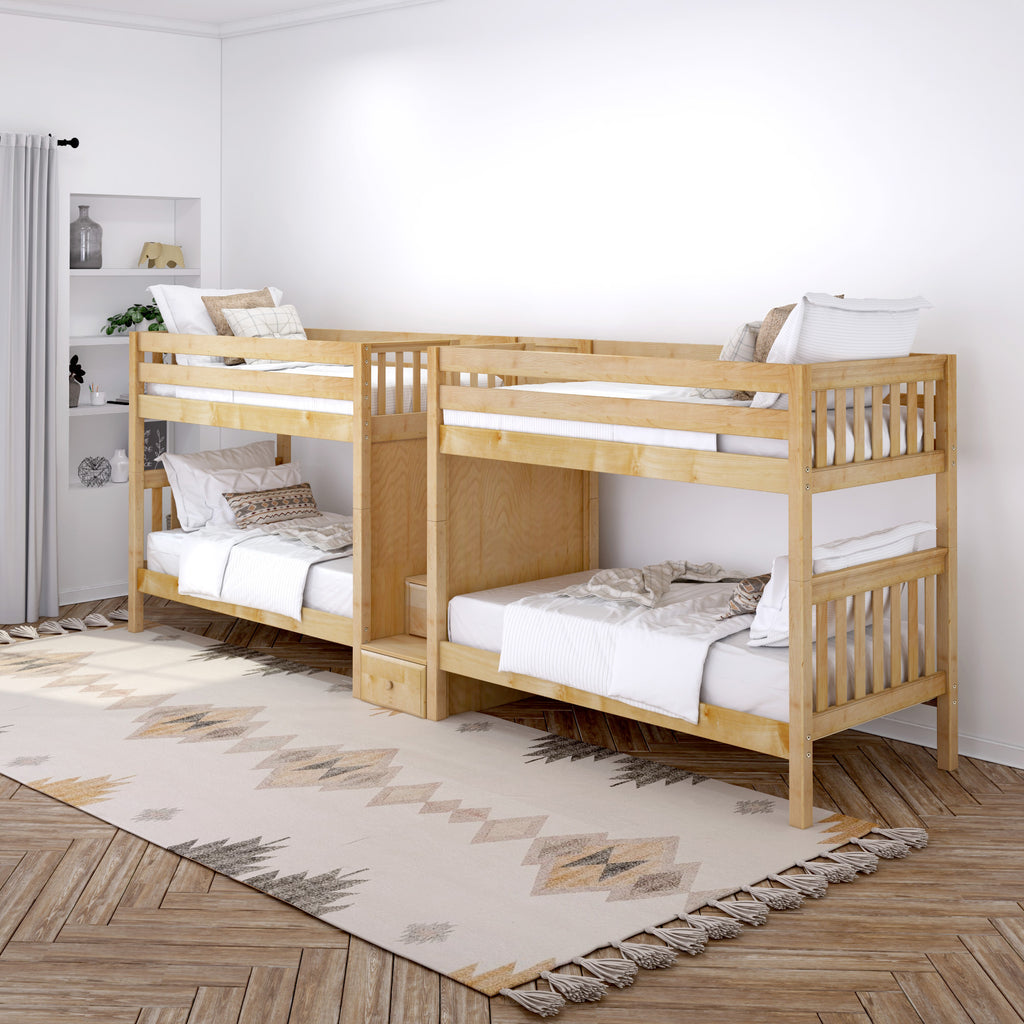 White XL & Queen Bunk Beds
Need to sleep the whole family? Opt for more leg room and arm space with larger bunk beds made to accommodate both kids and adults alike. Try XL and Queen Bunk Beds in our most popular white finish. Stack them as Twin XL or Full Xl with a Queen or go for a Queen over Queen. Go ahead and sleep the whole family! Shop white XL & Queen bunk beds.
Shop All White Bunk Beds for Kids
Like what you see here? Well, the good news is that we have dozens of configuration options. Choose from low, mid or high bunk beds and then make it your own with play curtains, tents, towers, slides or stick with the traditional, classic look without the accessories. Other options include entrance types (staircase, straight ladder or angled ladder) and bend end style (slat, curved or panel). Not sure which size bunk bed is right for your room size and functional needs? Our bunk bed experts are here to help! If you'd like help creating your perfect white bunk bed for your space, contact our friendly team!