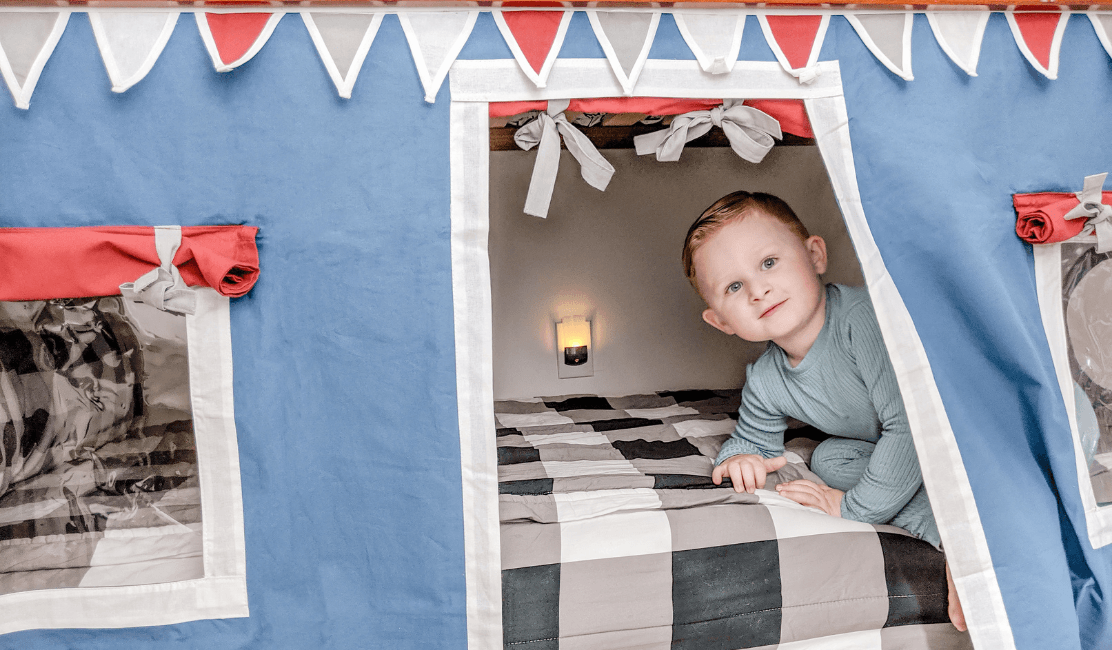 Did you know that we have
underbed curtains
for Maxtrix twin and full size bunk beds or loft beds - low, medium or tall bed heights? With more color combinations and styles to choose from, you're going to love shopping for under bed curtains. Bright fabric colors and designs create a touch of fun flair for any kid's room. Plus, you're set with durable, well-made curtains that create play rooms today but can easily be taken down without hurting the wood when your child is older.
We have several fabric color combinations that fit the design palette of any kid's room - boy or girl! Here are a few staff favorites!
Low Lofts with Curtains
These curtains have always added an element of indoor fun for any Maxtrix low loft. Preschoolers love tents and forts where they can play hide-and-seek. Topping the list are our very popular low lofts - with or without a slide:
Choose any fabric color combination that you love as your underbed curtains - or even add a top tent for more fabric color! See all of your playhouse loft bed options. 
Low Bunks with Curtains
A best seller of Maxtrix is the bunk bed with either a straight or angled ladder called the "HotShot" or the "HotHot". We love how cool it looks with curtains - particularly with our new grey color combinations - for your elementary aged children.
High Bunks with Curtains
Our curtain extensions allow you to take the look to our high bunks and mid lofts! Simply add our Mid Loft Strips to our regular curtains to get the height you need for a tall bunk! Take a look at how amazing these fabrics look on our brand new - and fast selling - Poof.
Quick Buying Guide for Maxtrix Under Bed Curtains
Since there are so many options, here's a quick shopping guide to direct you to the right size curtains:
Low Lofts, Low Bunks, Mid Bunks: Purchase regular under-bed curtains listed as "Low Loft" or "Under Bed Curtain"
Mid Lofts & High Bunks: Look at either our "Mid Loft Curtain Extension" or "Mid Loft Under Bed Curtain"
And, remember, just like our beds, our curtains can also grow up with your child. If you already have a Maxtrix low loft and are looking to convert it to a mid or high loft or bunk, simply get the appropriate leg extenders and add a mid loft curtain strip in the same color combination. This is how easy it is to let your bed grow with your child!


If you'd like help customizing your new or current Maxtrix bed, please don't hesitate to contact our friendly design team. We'll ensure you're getting exactly the right under-bed curtains for your bed.