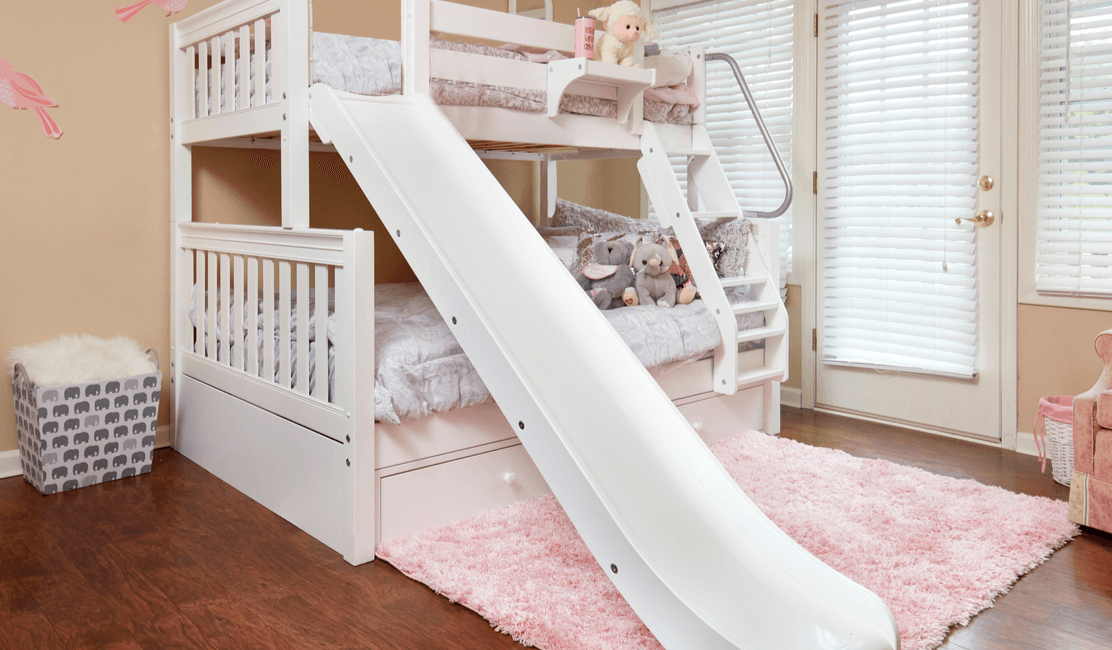 When it comes down to it, there's only one question you need to ask yourself when shopping twin over full bunk beds with slides .... do you want a ladder or staircase entry? :) The good news for you is that we have both styles already pre-configured for easy shopping. And, let's just say these two best sellers are the HOT designs for Winter 2019/2020. Take a look at the "Slick" twin over full bunk bed with slide and ladder and the "FoxTrot" twin over full bunk bed with slide and stairs. 
Twin over Full Bunk Beds
If you're here, it's because you've already decided you love the staggered design of Twin over Full Bunk Beds. There are so many reasons to consider the style. The bottom bed is larger for growing kids, sleepovers and even adults alike. It's the perfect solution for sleeping different sizes and ages comfortably in one room. 
Adding a slide turns this very classic bunk bed look into a fun and playful design. And the best part? The slide easily comes off Maxtrix beds when they outgrow it!
Twin over Full Bunk Beds with Slides and Stairs
Combine the best of both worlds - function and fun - with slides and stairs. We all know safety is a big concern for parents when they consider, first, an elevated bed for their kids, and second, the addition of a slide. Safety is equally a concern of ours at Maxtrix. That's why we've taken climbing carefully into consideration in our designs. Our staircase entries may give you better peace of mind with wide steps plus built-in handrails. 
The "FoxTrot" is our absolute number one seller. It's so popular because of the mix of both worlds. Young and old alike fall in love with its practicality and fun factor. 
Extra bonus with our stair entries... each step is a pullout, deep storage drawer. So, if your child has a lot of stuff and you want to help keep the room organized, consider the extra investment involved with the stair entry a value add. 
Twin over Full Bunk Beds with Slides and Ladders
If space is limited, you have older kids or tweens, or you simply like the sleek look over the front angled ladder, then we highly recommend the Slick twin over full bunk bed with slide. It's increasingly popular with both boys and girls rooms alike. Recently, Influencer and Mom Tracy Dimarco chose the Slick for her girls' shared room with an amazing Princess theme.
Looking at a natural finish instead of white? (BTW, all of our beds are available in white, natural and chestnut.) Babys on Broadway - one of our resellers - created a really cute Puppy themed room with the Slick. 
Shop Your Favorite Look!
Whether you are already loving the Slick or the FoxTrot - or you want to shop even more twin over full bunk beds with slides - this collection will get you started.
Questions about our quality, safety standards, or want to create a custom look? Contact our design team!