best bunk beds
Room Reveal: Triple Bunk Transforms to Twin over Full Bunk Bed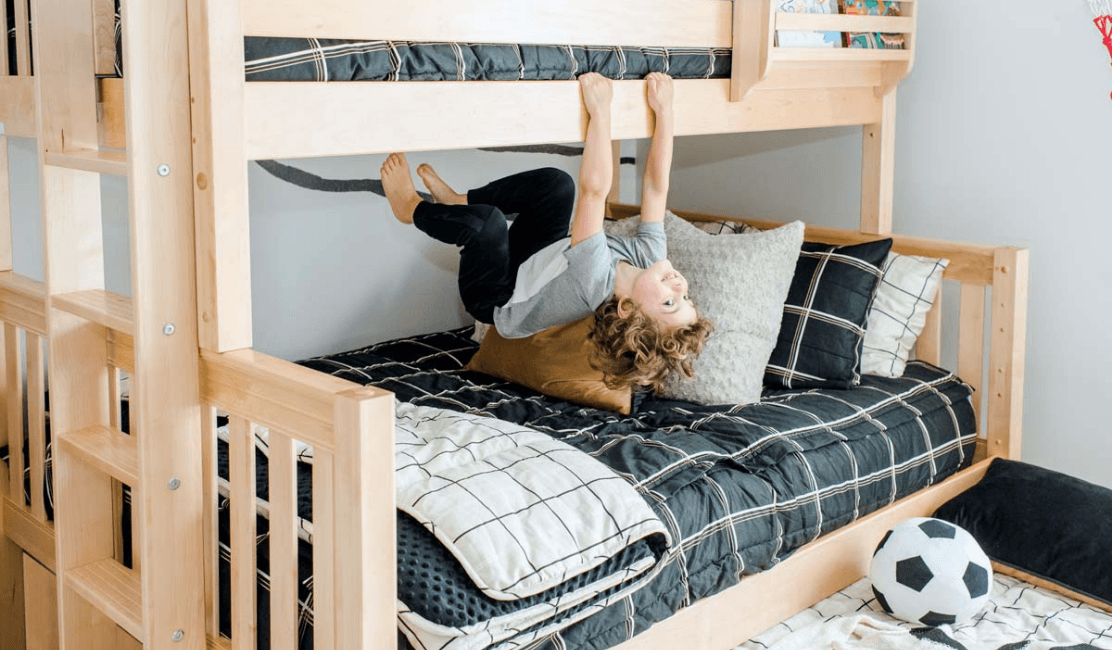 Moving into a new home is an exciting time, but it can also be a lot of work;  especially if you need new sleeping arrangements due to different room sizes and aging kids. With an amazing eye for design, Adrianne was also up for the challenge of redesigning all four of her kids' rooms with individual, unique styles and pieces. We joined her during the transition and converted her Maxtrix triple corner bunk bed into a twin over full bunk bed with trundle. Shop his room.
Hudson, her second son, was ready for his own room. As a six-year-old growing boy in a new home, the excitement of creating his own space was continuously overflowing. Hudson is a sports-loving, active boy full of energy and smiles. Adrianne designed his room with his personality and interests in mind.
Hudson and his older brother, Aden, previously shared a room at their last home. Their triple corner bunk bed room has been one of our most popular Room Reveals of all time. See more in their triple corner bunk bed room collection.
Adrianne loved the quality of their bunk bed, which held up to the boys' tests over time, and wanted to keep it for their next home. And, although the boys loved sharing their triple corner bunk room, it was time for them to go their separate ways. 
Adrianne knew she had the ability to reconfigure her Maxtrix triple bed, which was another reason why she chose the bunk for their previous home. Because all Maxtrix beds are built with components, they can be reused to make different designs. Learn more about the Maxtrix System.
Our Maxtrix Design Team stepped in to help with the reconfiguration by deciding which parts would be reused and which additional parts were needed to covert the triple corner bunk bed to a twin over full bunk bed with trundle.
Fast forward to their new home where Adrianne brought the designs to live by creating individual spaces for all of her kids. Hudson's room turned out to be exactly what everyone wanted.
Hear more from Adrianne about their experience converting the bed from a triple corner bunk bed to a twin over full bunk bed.
Adrianne Converts Her Son's Triple Bunk to Twin over Full
When searching for the right design for Hudson's room, we looked for a better fit in the new space while maximizing our options. It was important to both Hudson and I that we kept the 3 beds like the triple corner bunk provided, but he also wanted a larger bed like his brother (Aden has a queen) - so that's where the twin over full bunk bed came in.

It was actually incredibly easy to move the bed around the room! I think our bed took longer to assemble. It was also really easy to make a few additional changes to the setup after the fact when we realized we wanted to put the ladder on the other side of the bed after figuring out the rest of the furniture in his room.

It's always been a pleasure working with the Maxtrix team! Everyone went above and beyond to make sure Hudson's bed was installed the day we moved in, which really helped us that first night! All 3 boys slept in his room and had a blast. Definitely eased the transition for all of them.
The quality is something I have always looked to Maxtrix for and it really showed this time with the breakdown of the old bed and adaption to the new setup.
We will definitely reconfigure the bed again! I can see us adapting it again for Cason's (youngest son) use once Hudson outgrows it.
The ability to change the look of the Maxtrix bed is the best part! It's perfect for your first child simply because you can then adapt to each one after. You truly get more than what you paid for and quality is so outstanding, you know it will last through each child.
Making the decision to purchase a Maxtrix bed truly is an investment. This is not a one time deal like most furniture these days! Not only are you getting a solid piece, but you have the option to change and adapt it as necessary throughout the years. It really is something that grows with your family!
Benefits of Twin over Full with Ladder on End
Hudson chose a ladder on bed end option, and the twin over full bunk bed called the Slope is a Maxtrix best seller. 
As a medium high bunk bed, even homes with 8' ceilings have enough room above the top bunk for kids to stretch out. 
There's also ample space between the lower bunk and elevated bed. This is a great height option for growing kids that want room to move around and play.

Hudson's new room didn't have enough square footage for the triple corner bunk, but the family still wanted the ability to sleep three. An optional pullout trundle bed was the answer. Even Hudson can easily access it and pull it out from underneath the bottom full bed when he has a sleepover. 
Whether the chosen bed design has a ladder on end or in the front of the bunk, all Maxtrix ladders have grooves on each step for safe climbing. The ladder on end option helps to save space and gives the bunk a modern aesthetic. Shop all Bunk Beds with Ladders on End.

Extra bedside storage like magazine racks give kids access to their favorite books... perfect for bedtime reading!
Toy storage is perfect for toddler and young kid rooms and the open cubby unit is probably the best option for easy cleanup. 
Hudson was actually able to keep this toy storage from his previous shared room with Aden. Top quality stands the test of time!
This room is a huge success. If you like what you see, you can shop the full collection now.
Need help designing your own look? Contact our design team for assistance. Remember your bed options are basically endless with Maxtrix and the look can change over time.
$359.00
$80.00
Showing 6 of 3 products. See all the products in Hudson's Room collection.