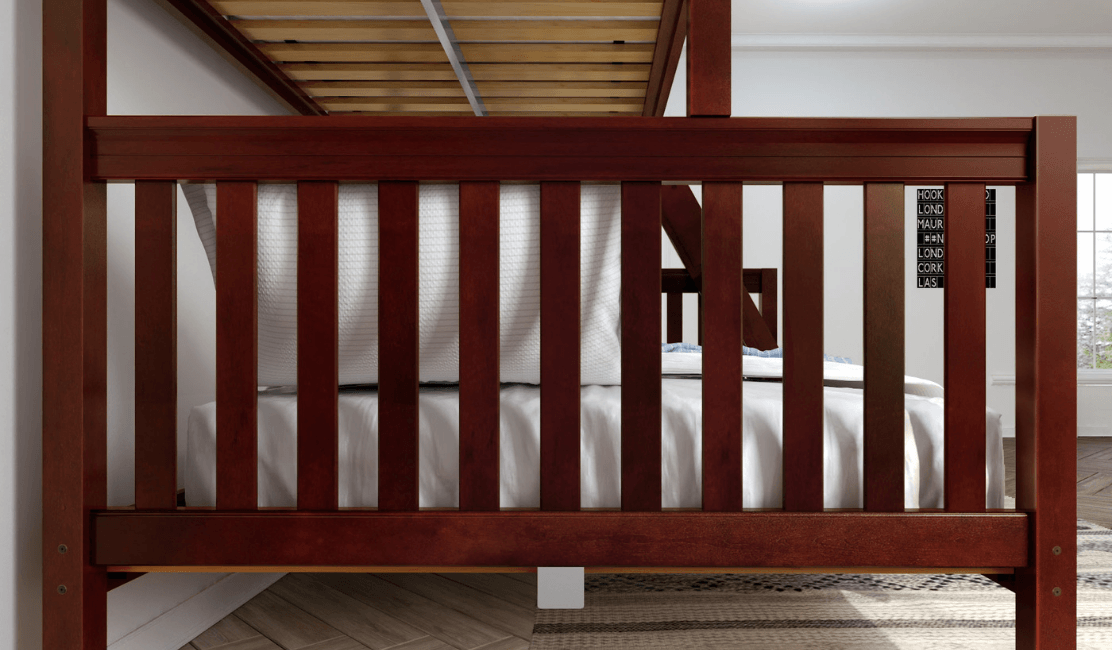 What makes an extra sturdy bunk bed or loft bed?
There are many models out there that are made from inferior material or construction. So let's talk material first and find out which materials are best for sturdy bunk beds. Then, consider other quality factors that make the overall construction even sturdier and safer like slats and support bars, staircase entries, guardrail heights, and overall bed size and comfort. Know how to shop for the most sturdy bunk bed for adults and kids alike. See all recommended Adult Bunk Beds.
What are strong bunk beds made of?
Solid wood is an excellent material to construct sturdy beds. Quality Hardwoods for bunk beds like Birch, Maple or Aspen that are properly dried and treated before manufacturing are particularly well suited for making rock solid, sturdy wood Bunk Beds or a heavy duty loft bed. 
What type of design makes a sturdy bunk bed?
Engineering is important – is the design and construction optimized for sturdiness? Many times you grab a corner of a loft or bunk bed and shake it a bit just to feel the whole construction wobble. There are some key ingredients to building a sturdy bunk or Loft bed, and it starts with the design. Using metal on metal hardware, oversized wood components and designing beds for style AND sturdiness are some of the key reasons why some bunk beds are just rock solid while others move with every touch.
How are Sturdy Bunk Beds & Sturdy Loft Beds made?
Maxtrix Bunk Beds are made from solid hardwood and are built to withstand 800 lbs per sleeping surface. With over 17 years on the market these bunks and lofts have definitely stood the test of time! Our proprietary "Rock Lock" mechanism makes any connection (like 2 bunk beds stacked on top of each other or leg extension on a loft bed) extra solid and "wobble proof". The Rock Lock hardware system safely compresses the leg extensions onto the bed legs via solid steel bolts, and includes set screws that wedge into the bolt opening. The result is a rock solid connection.
This feature is all the more important when you consider the foundation of the Maxtrix system – your bed is designed to be reconfigured over time. With quality hardware, you can rest assured your bed will remain solid and stable each time you take it apart and put it back together again. Whether you're rebuilding a bed after moving to a new home, or you are making the most of our system and converting to a new design, your bed will be just as safe the second, or third time around.
Made from solid hardwood, Maxtrix Bunk Beds and Loft Beds are available in a variety of sizes, including twin size, full size, twin over full, twin XL, full XL, and even queen size. So if you are looking for extra sturdy solid wood kids, tween and teen beds, Maxtrix is the choice for you.
Where can I find a Heavy Duty Loft Bed?
Looking for a Sturdy Loft Bed? Maxtrix has a wide selection of Lofts, starting with the very popular low loft (great for younger kids and extra sturdy and safe), all the way to the queen sized high loft with extra metal support bar – perfect for college students and adults. Depending on the height, our loft beds are equipped with a combination of long cross members, which run the length of the bed at the back, and short cross members, which fit between the legs at the head and foot of the bed, to add sturdiness and ensure stability. We even have Uber High Loft Beds now - our tallest loft yet - with extra safety features.
Regular Maxtrix bunk beds come with a full slat roll (14 wood slats) included. Our "extra-large" collection (that includes sized from twin XL through Queen) come with an extra solid metal underbed support bar, adding even more weight bearing capacity. These beds feature an XL slat roll with 15 wood slats. And, because Maxtrix is a system, there are many options for adding desks, storage, or to create more custom bed configurations like triple heavy duty bunk beds, a queen sturdy Loft bed – and so much more. 
Strong Bunk Beds that Pass Comfort & Practicality Tests
There are a few other quality features to look out for when searching for the best high quality Bunk Beds or Loft Beds. One important aspect to consider is whether it is comfortable to get into? And remember – that's not just for whoever is sleeping in the bed, but – maybe more importantly – who will be making the bed/changing the bedding. That's why Maxtrix Bunk Beds and Loft Beds come with a variety of entry options like ladders and staircases.
Adding a staircase is usually the most popular option as it adds a solid bannister on one side, making the overall construction even sturdier. Maxtrix staircases come with drawers built into each step, so they double as a dresser and provide lots of additional storage in a room. Features like soft close drawers make for a high-quality solution that will last for years to come.
Raised beds like lofts & bunks also feature 16"guardrails, which is the highest in the industry! Designed with the same quality construction and materials, these tall, sturdy guardrails provide a super important barrier that keeps your child safely within the bed. While they aren't supposed to, and we certainly don't encourage it, as parents we know kids will be kids and there may be some rambunctious play or roughhousing. Safe guardrails that are securely fastened to the beside rail help protect them up high.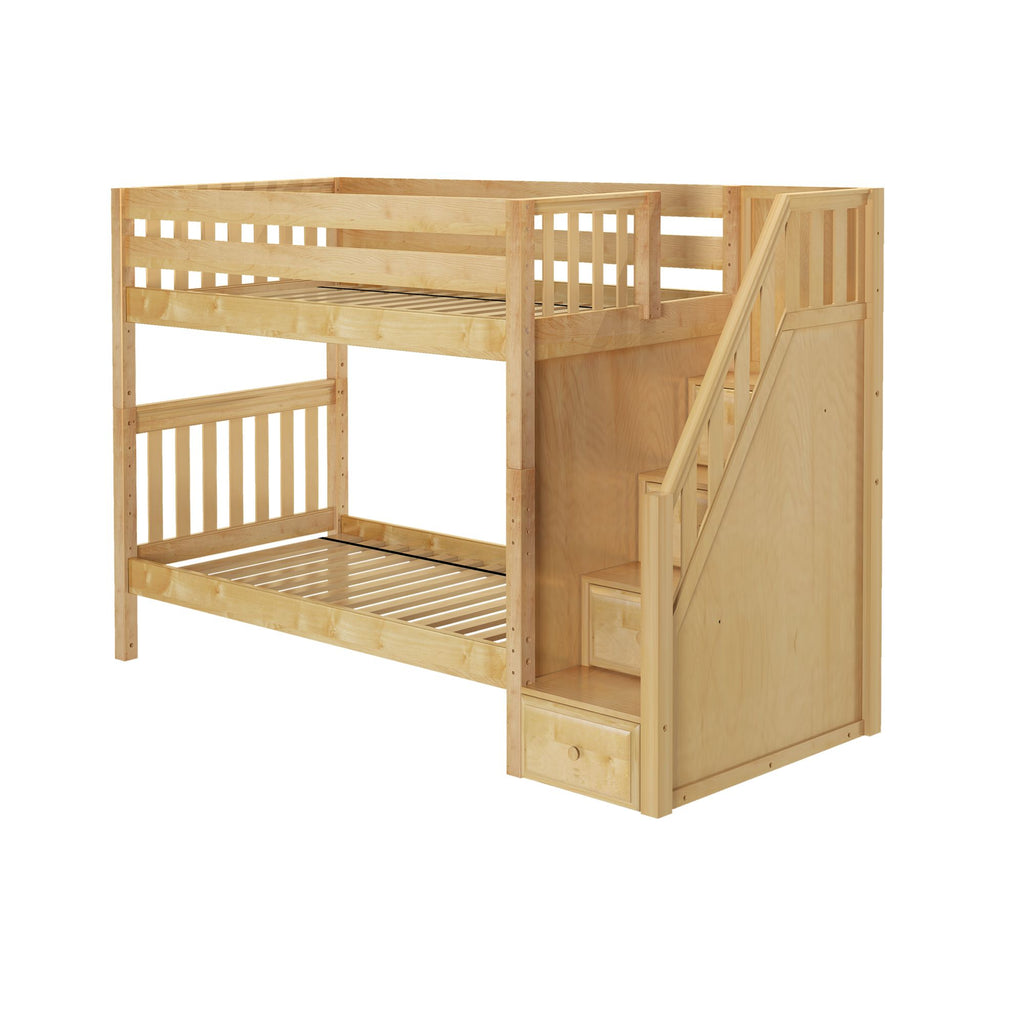 What are the most Sturdy Bunk Beds for Adults? 
But, what if you are looking for extra sturdy bunk beds for adults – like trying to equip a hunting lodge where 6 adults would share a small space? Want to maximize sleeping surfaces in an Airbnb? Need to sleep many adults in smaller spaces? If you are looking for rock solid bunk beds or loft beds that are over-sized or have the right weight bearing capacity, Maxtrix is a great option. In the "Queen & XL collection" which is perfect for adults, we offer everything up to triple queen bunk beds and more. Our standard size beds (twin and full) have a weight limit of 800 pounds (double the required safety standard!) and our XL and queen size beds hold up to 2,000 pounds thanks to an additional metal safety rod under each bed.  
Heavy Duty Bunk Beds & Heavy Duty Loft Bed Design Help
A sturdy bed is a safe bed – so it should come as no surprise that our designs are all built with safety as the number one priority. Maxtrix products often not only meet minimum safety standards, but our heavy duty loft bed and bunk beds actually beat them! We are proud to say that our beds also conform to stringent European safety testing, which is typically has higher, more stringent requirements than their U.S. counterparts. You can sleep easy when you tuck your child into a solid wood Maxtrix bed at night! Contact our design team for help finding heavy duty bunk beds for your needs.