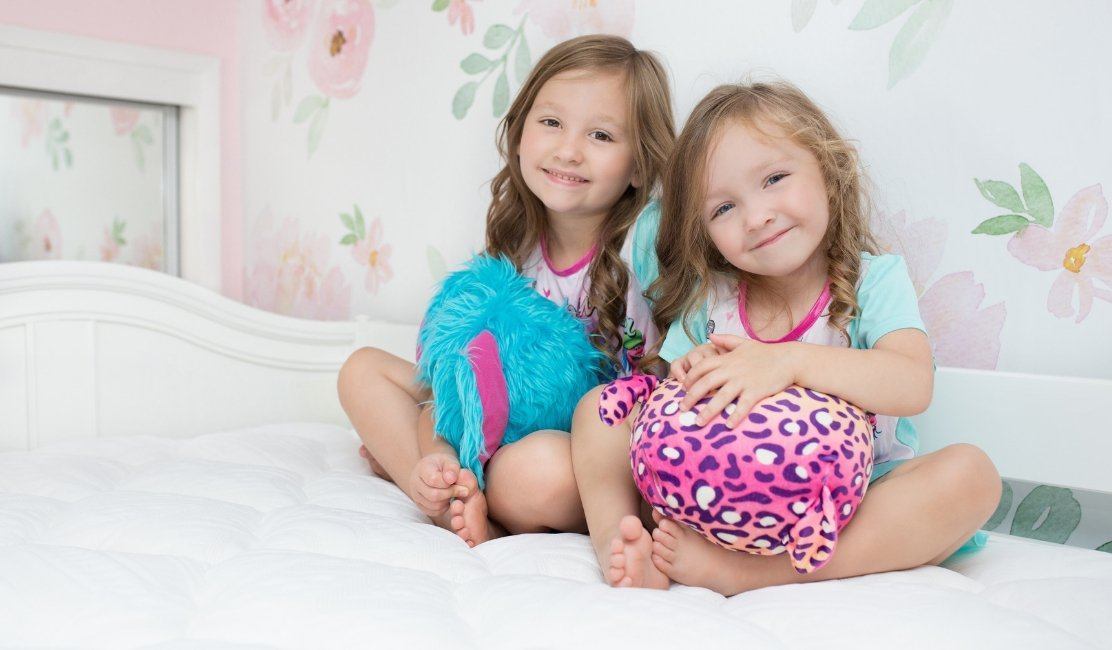 That moment when your kids are ready for their first "big girl" or "big boy" bed is priceless. This is the age when personalities and styles start to develop along with favorite colors and themes. Meet Ashley Lyn and her two precious girls, Ava & Aura. With her third on the way, Ashley was eager to finish the girls' shared bedroom. 
Ava & Aura envisioned a room full of pink decor and fairies, and Mom added complimentary design features and helped their dreams come to life. Take a look at this #MyMaxtrix Room Reveal with Ashley Lyn. 
With curved details on their minds, Ashley chose the Maxtrix "
HotShot
" low bunk bed with ladder as the girls' first shared bed. But first, take a look at the girls original blue room, and hear more about the room makeover from Ashley:  
 I chose a Maxtrix bed because of the beautiful curved design along with the high quality product that Maxtrix produces. The HotShot is beautifully designed and is the perfect fit for both of my daughters.
shop the HotShot
The HotShot was delivered in multiple packages which made organization and set up so much easier. All of the parts needed were provided and packaged to make your job simple!


The entire Maxtrix experience, from start to finish, went exactly as I had hoped. The bunk beds are sturdy and my daughters absolutely love them. Maxtrix reached out to me and let me know that they were there for me through the easy instillation process should I have any questions. 
Maxtrix cares about their customers, going out of their way to ensure that they are there if you have any questions and to make sure you love what you ordered. 
Maxtrix bunk beds are a great investment. They are built to last, designed to look beautiful and classy, are easy to assemble and can be reconfigured if you want a fresh look in the future!
We may in the future reconfigure the beds, but for now the girls are loving everything about them so we will stick to the current set up for now. Being able to have that reconfiguring option is such a great feature.
Maxtrix Low Bunk Bed Option
Here are a few key features of the HotShot Low Bunk Bed, which worked perfectly in this girls shared bedroom. 
As a low bunk bed, there is plenty of head space between the top bunk and the ceiling. This is ideal for rooms with low ceilings, and the girls had 8' to work with. Ashley's daughter still has plenty of room to sit up comfortably without hitting her head.
Here's a size guide for Maxtrix Low Bunk Beds:
The HotShot - as with all Maxtrix bunk beds - is made from solid wood and will stand the test of time. The ladder has safety grooves so small feet climb up safely to the top bunk. 
Finally, as the designer, you choose which bed end style you want for your kid's room. Ashley and her daughters really loved the feminine look that the curved panel provided. Openings between the top and bottom bunks give more emphasis to the curved details. 
The end result was a charming pink and white girl's room. It just doesn't get prettier than this.
Shop this Look
Love this pretty girls white room featuring the HotShot low bunk bed? Shop it easily here.
shop the HotShot
Or, contact our design team to create a look for your space. 
 All photos by Ashley Lyn Photography