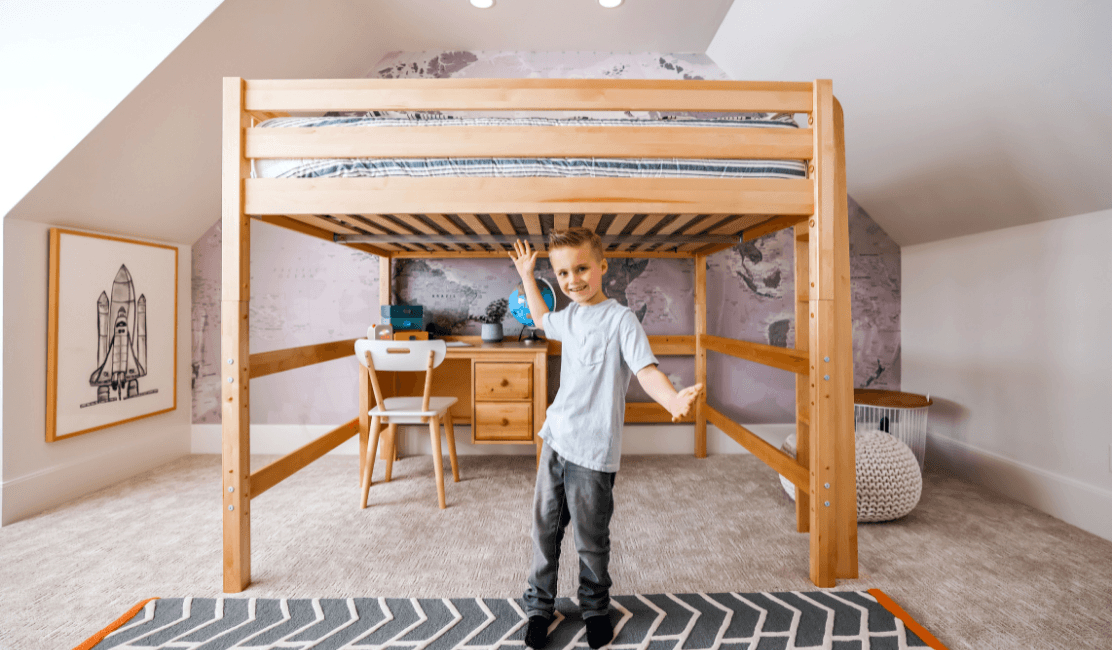 New custom homes need new custom bed solutions! Not every space and kid's room is shaped the same. When you have the opportunity to build custom, your options are almost endless with square footage, ceiling heights, window and closet placements and doors to hallways and bathrooms. Sometimes it can be challenging to find the perfect bed to fit the space AND meet functional needs. 
When we first met Ellie Mecham, she and her sweet family were deep into new home construction. We were excited to hear about their interests in our Queen size beds as they are unique and long-lasting for any age. Narrowing down further, they landed on a best selling Queen loft bed with ladder on end solution with so much space underneath for her son, Jackson, to make his own. It's nice when the kids can participate in the design process so their needs are met while also showing off their fun personalities. 
Ellie and Jackson - now 8-years-old - landed on the Hefty - a "high" loft bed that fit vertically super well with their 9' ceilings.
Jackson chose a two drawer student desk as a free standing study option underneath. With the deep storage drawers, all of his study supplies will be stored neatly in one place. 
The coordinating student desk shares the same natural finish for a clean aesthetic. 
While they do not have plans to reconfigure his loft bed today, they always have the opportunity to do so in the future with the Maxtrix System. For example, Jackson's loft bed can convert to a Queen size bunk bed by adding a second bed. His desk can easily move to the side - or even to a different room. That's the beauty of the way Maxtrix configurable beds work. 
Hear more from Ellie about their experiences selecting, assembling and now enjoying their Maxtrix Queen size loft bed. 
Ellie Chooses Queen XL Study Loft Bed
Jackson knew exactly what he wanted in his bedroom! A loft bed with a desk. When I was looking around I had a hard time finding a queen loft bed! That's when I saw Maxtrix. I loved all of the options I had as soon as I discovered the site.
I don't like to replace furniture! So, I knew I wanted a queen for my son to grow into. Later on, if it needed to not be a loft bed anymore, it would be such a pretty piece as a regular Queen bed, too.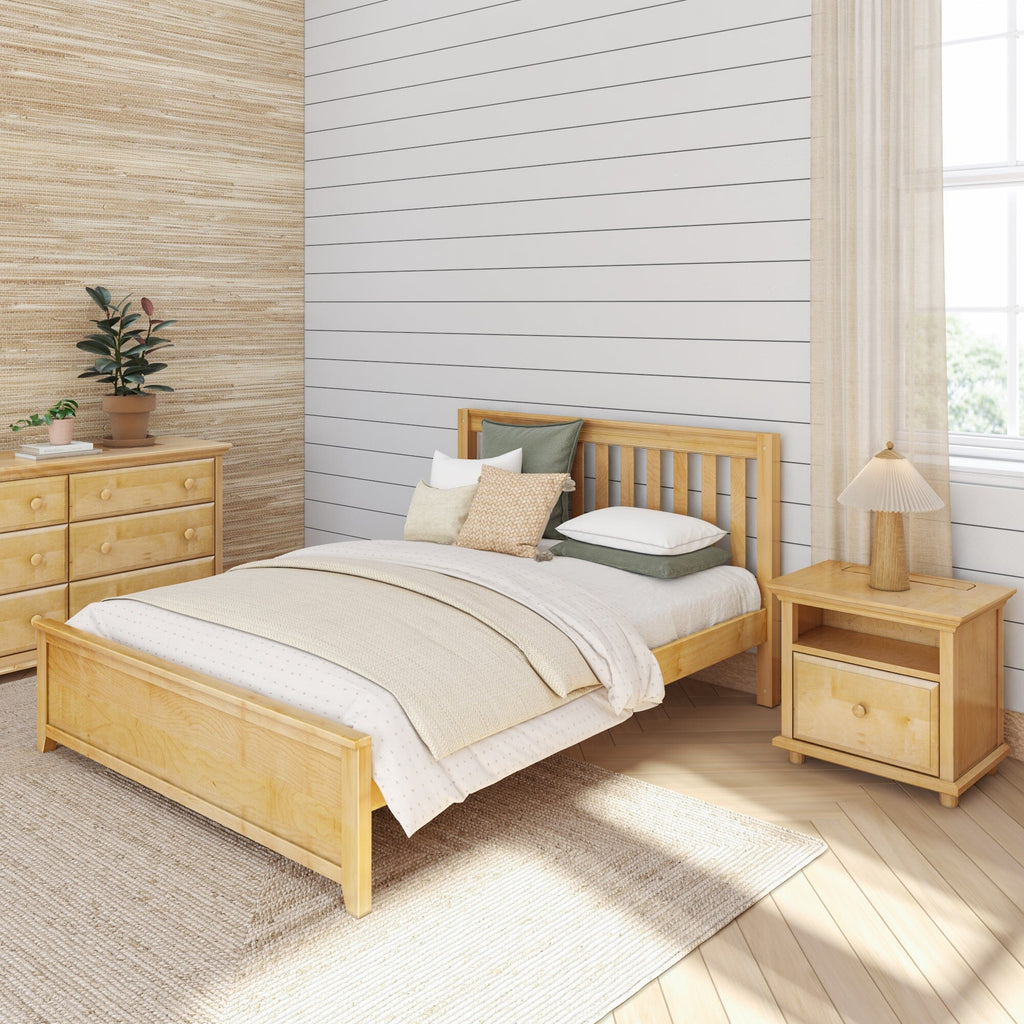 The products were better than expected! So sturdy! When I had a hiccup with address changes, the company was quick to help me fix my mistake. Between my husband and I, we were able to do everything we needed with assembly.


For anyone looking at 

Maxtrix, y

our kids will love it! I had 3 boys hanging out on it today, and they all just loved it!  


Supersize with Queen Lofts and Bunks 
Now all of our Best Selling loft beds are available in XL and Queen sizes - that's extra space to stretch out - just what growing tweens and teens need later on! Just as Ellie wanted to plan for tomorrow and not replace Jackson's bed, XL and Queen sizes work for years to come. See the full collection of Queen Bunks and Queen Lofts.
Shop Ellie's Collection 
Jackson's room is now available to shop in one curated collection. Alongside the items seen in his room, we've added a few complimentary pieces as well. Keep in mind, also, that this same Queen bed can also be purchased with a long desk underneath; still a study loft but with built-in, extra surface space. 
For help customizing the right loft bed or bunk bed for your child's room, contact our design team. They'll help you create the perfect configuration for today AND tomorrow.