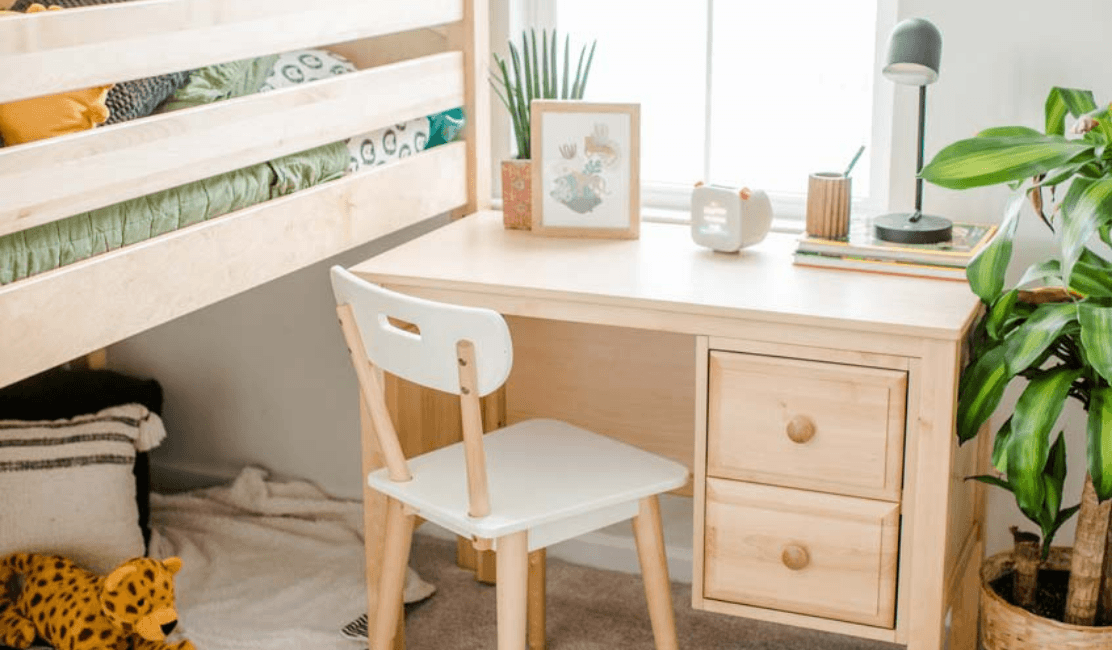 Do you like matching youth bedroom sets? Would you rather furnish your kid's room once with everything they may need from now until their teenage years? Neutral furniture sets are timeless and make coordinating super easy! That's why we have matching youth beds, dressers, desks, nightstands, toy storage and more. Creating a dream kid's bedroom has never been so much fun for both the parents and children. So, go ahead and have fun exploring all of your options that coordinate beautifully without any color mismatching!
Each piece of our furniture sets are available in three color finishes - natural birch, chestnut or white. Get inspired with an example of each finish:


1- Queen Bunk Beds
2- Under-bed Dresser
3- Magazine Rack
4- 3-Drawer Nightstand
5- 5-Shelf Bookcase



1- HighRise High Loft Bed
2- Corner Desk
3- Chair
4- 5-Shelf Bookcase
5- 3-Drawer Dresser


1- Low Bookcase
2- Magazine Rack
3- Great low loft with staircase
4- School Chair
5- Study Desk
6- 3 1/2 Drawer Dresser
7- 3 Shelf Bookcase
Build Your Perfect Kid's Room or Youth Bed
Ready to start building your perfect kid's room with coordinating furniture pieces? Start with your focal point item - the bed. Maxtrix beds can be just as comfy and beautiful as a stand-along. High headboards and low footboards easily create a more traditional look. Just add some case goods and accessories to create a stylish bedroom.
The same applies to our bunk beds. Sleep two or more in a traditional twin-over-twin, twin-over-full, l-shaped bunk, triple stacked bunk, corner bunk or more (we have sooooo many options!). Just add a dresser and/or nightstand, and you're set! Need to sleep an occasional third for sleepovers? Try an under-bed trundle that matches the bed perfectly. Here's a look at one our best selling twin-over-full bunks - the Slope.




Short on space? Low ceilings? You can combine your entire furniture set into one amazing loft configuration. Just slide your storage and study pieces underneath the bed - whether you choose a low loft, mid loft, or high. Later on, you can slide these pieces back out as stand alone furniture. We're showing you an example of a high loft here with multiple pieces of furniture under the two elevated beds - meet the Enormous.


Once you've chosen your bed - traditional single, bunk bed or loft bed - now it's time to choose your coordinating furniture. Our desks and chairs are available in many sizes with different drawer options. Our new best selling 2-drawer student desk with modern chair is worth taking a look at:


Attach your desk to your loft as shown here in our best selling JibJab high loft with full length desk:


Need more storage than study? Try any of our dressers or nightstand with really deep drawers. Did you know we make some of the widest and deepest drawers in the industry? Talk about space to hid all of those kid's items! Or, go for a bookcase to neatly store reading materials. Our favorite look is combing all of these items into one configuration as seen here with the Low Rider:


Don't forget the toys! Stack storage units on top of each other to crate a roomy and practical storage tower that keeps toys out of sight. Or, slide it under your low loft slide bed!


Design Your Kids Furniture Set Now
Need help choosing the right pieces for your youth bedroom set? Our design team can help you choose the right bed for the room size and your child's age. We want you to have fun celebrating the fact that these furniture sets will stand the test of time.