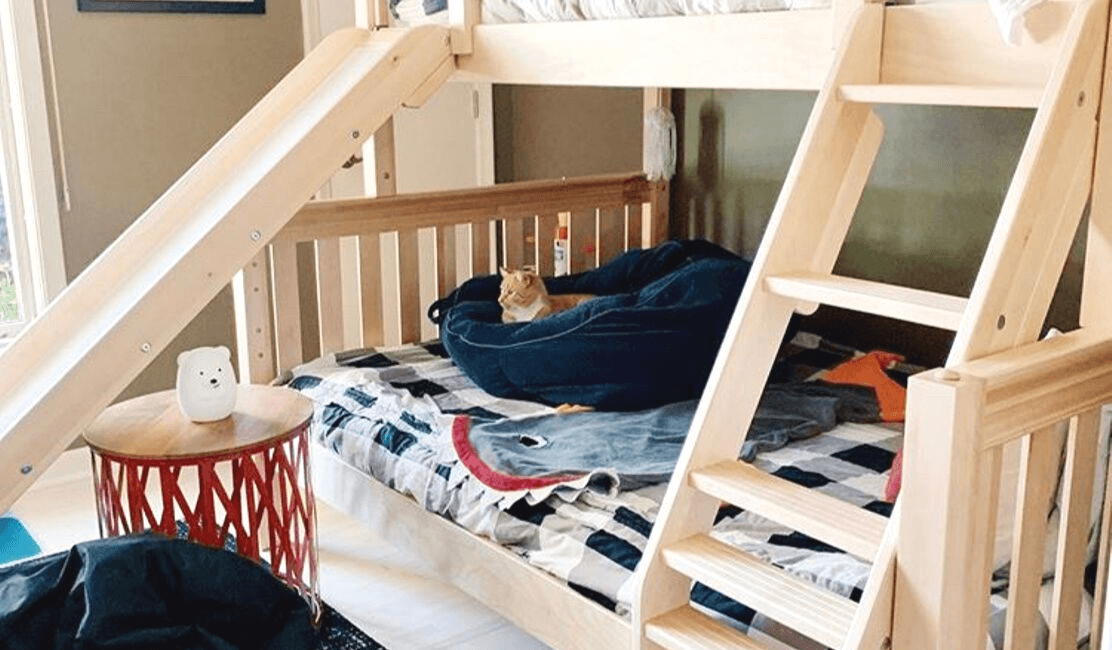 When we first saw this super cute boy's room on Instagram, we instantly fell in love. The Slick twin over full bunk bed with slide is one of our all-time best sellers. But, seeing it in a real #MyMaxtrix room styled so brilliantly with a Puppy & Dinosaur theme, made us smile! Babys on Broadway is one of our amazing Retailers and Mom & Designer, Leia Simon, who works there did a great job styling her son's room. Hear more from Leia & see more of her son's Room Reveal with Twin over Full Bunk Beds with Slide.
We carry Maxtrix beds in our store, and we love them because there are so many configurations! So, when it was time to move my son to a bigger bed, Maxtrix was a great choice because I was familiar with the product and because there were so many different options.
My son is a very active little five year-old who also happens to be on the autism spectrum. We were looking for a bed that would be fun (slide!) and could also be like a cave (when he sleeps), but we also didn't won't it to overtake his smaller room. This bed is fun for him - and functional for us - because it adds sleeping space to our home. When he wakes up in the middle of the night, he can play and tire himself out.
I love the way the Star Wars wallpaper and the black floor tiles look with the light wood colors of the bed. The bed has a chunky, more traditional look, so the textures from the wallpaper and the rug break that up. I didn't want to go too heavy in a little boy or grown up room, so I would say his room has a fun balance of both, with a bit of contemporary.
For those searching, Maxtrix beds work great for any room design or size. The configurations allow for bunks or loft beds along with additional furniture to fit any room. Plus, the beds are available in many sizes and heights, and the available colors like the natural maple work in any room theme and easily mix/matches with other furniture.
We love the design of this bed! Everything is perfect, and it is excellent quality. We plan to reconfigure his bed in the future. Most likely we will eventually use just the full-size bed on the bottom and remove the top bunk. 
We at Baby's on Broadway would love to help you with your room design, so if you live in the Little Falls, MN area, make sure you check us out! 
Recreate this Look with a Twin over Full Bunk Bed with Slide
Thanks for sharing, Leia! The Slick is available in three finishes & bed end styles, and it's one of dozens of bunk beds with slides available through Maxtrix. With the option to reconfigure the look later, your bed today is an investment for years to come. Take a look at more slide bed options & have fun exploring your options!