The demand for our most popular stacked triple bunk bed is steadily growing! This setup of triple beds is key for so many families with more than one child - or kids who LOVE sleepovers! You can comfortably sleep three siblings and guests with the Holy Triple Bunk Bed! Take a look at one of our bestselling Maxtrix triple bunk beds.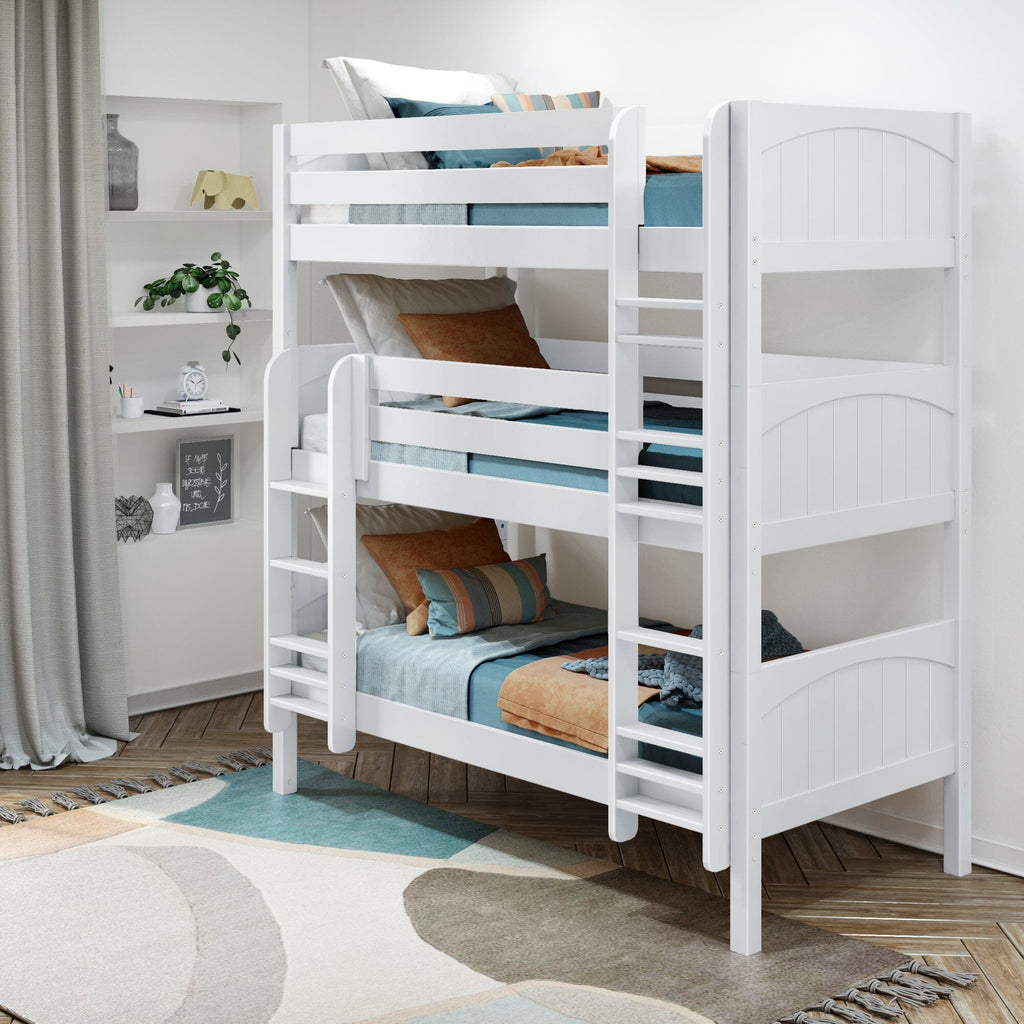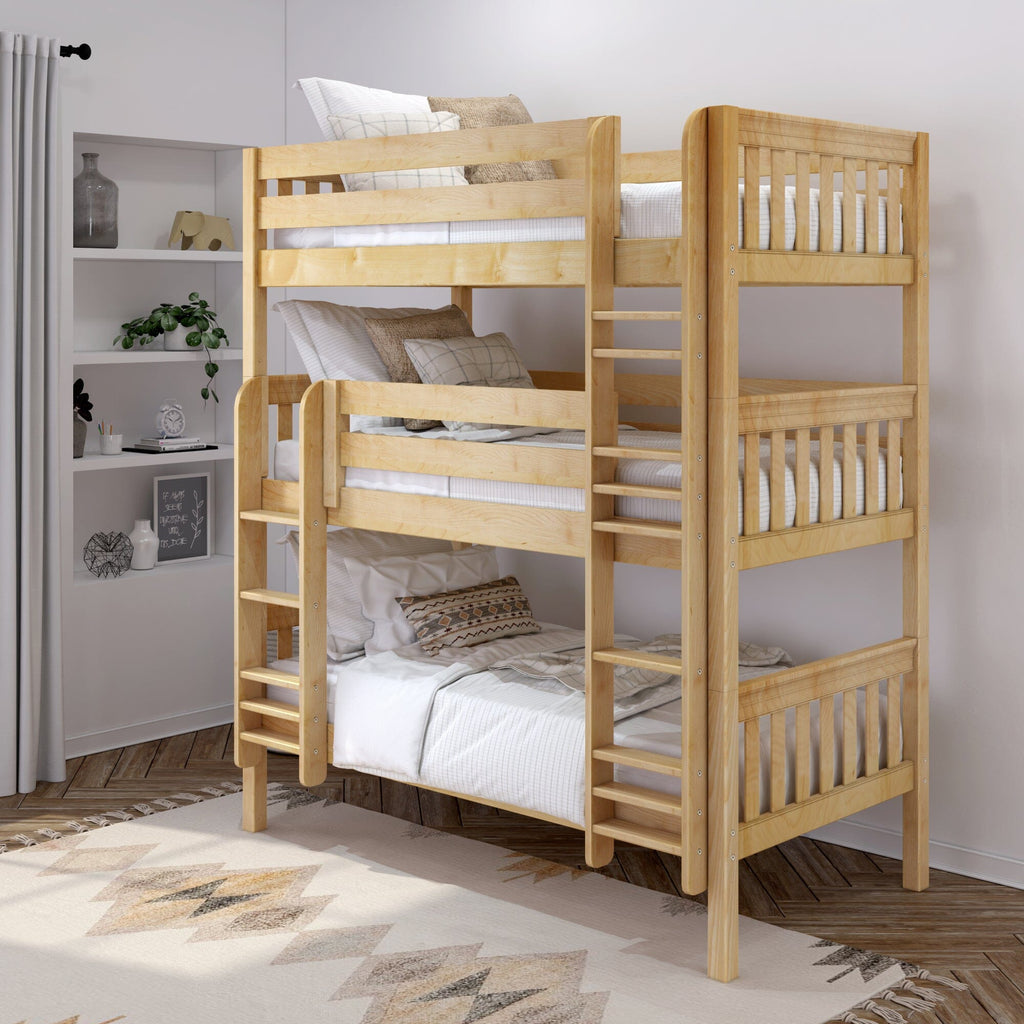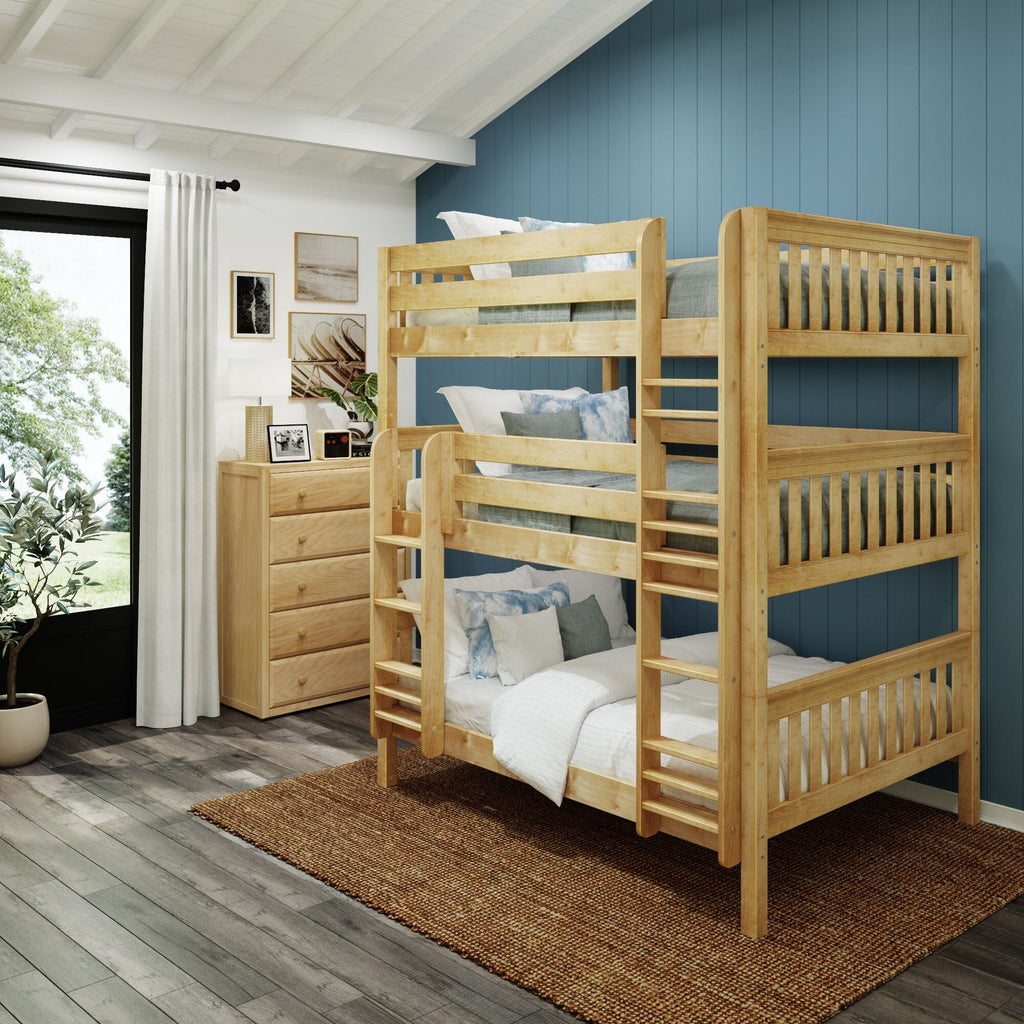 Triple Bunk Bed Height & Head Space
The Holy Triple Bunk Bed may be tall, but isn't very wide at 80", which means it can fit in even narrow rooms or spaces. Here is how it shows well in one of our most recent #MyMaxtrix rooms, featuring a triple bunk bed with slide. Because all of our beds are unique, contact our design team to configure a cool triple bunk bed for your space.
Need to sleep many? Try putting two or more beside each other for the ultimate sleeping quarters. This is exactly what Mega Kids of Naples did with our white triple bunk beds:
This bed looks larger than life, but it stands about 7.5' tall and has lots of head room between bunks. Whether you are sleeping on the bottom or middle bunk, kids will be able to sit up comfortably in this 3-tier bunk bed. Plus, our side safety guardrails ensure they sleep safely in an entrapment-free zone!

Top bunk sleepers on our three level bunk bed also have plenty of headroom, but we do recommend a ceiling height of 9-10' for this bed so check your room measurements to make sure the Holy triple twin bunk bed is the right fit for your space. And, if you only have 8' ceilings, we have other three person bunk beds in a corner configuration that will likely work better! Consult our Fit & Measurement Guide for quick referencing or contact our Design Team for individual support.
Solid Wood Triple Bunk Bed Construction
Quality is always a factor for shoppers looking at triple decker bunk beds, and it makes sense with three individuals sleeping on top of each other! All Maxtrix triple bunk beds are mainly made from premium grade, sustainably harvested solid hardwoods like Maple, Birch and Aspen.

Built with our patented Rock Lock Leg Bolt system, the 3 stack bunk beds are able to hold continuous pressure between the leg extensions and the basic bed leg. This unique development locks all beds into a "rock solid" state. It also is the cornerstone of our Maxtrix System, which allows bed components to be reused and reconfigured to different bed designs at later times:
Kids and teenagers also climb up safely with ladders that are built to hold the weight of both kids and parents. Safety grooves on the steps help to prevent slippage and the extra depth at 4" and 1" thick provide extra space for feet. Let's not forget the wooden slats on our three tier bunk beds that can withstand more than 800lbs of weight pressure! That's more than two times US Safety Regulations! This is what makes the Holy - and all of our bunk beds - so extra safe and durable.
Shop Stacked Triple Bunk Beds
Love the Holy triple bunk bed as much as these guys? Shop our best selling triple bunk bed, and keep in mind that you can customize this look by adding a slide, selecting a different color finish (white, natural or chestnut) and bed end styles (panels, slats or curved). Our design team is around to help create the perfect stacked triple bunk bed for your kid's room, so don't hesitate to give us a shout!