best bunk beds
Bunk Bed with Slide and Stairs: Trending Twin over Full Design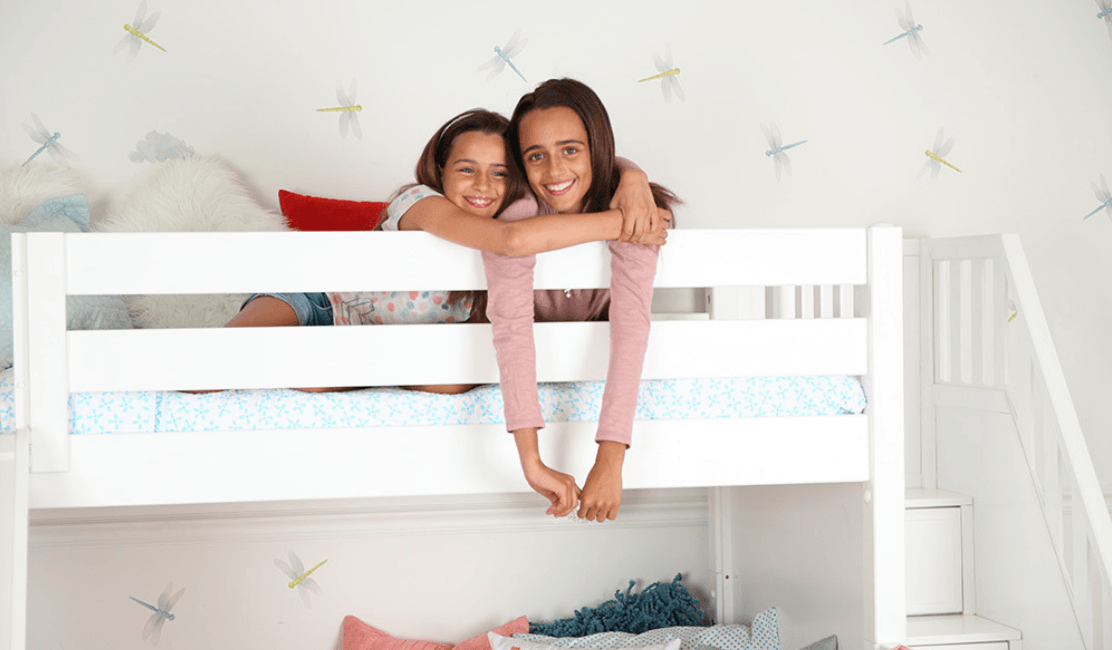 There are many reasons to love a solid wood bunk bed, but especially one with storage and play. The Fox Trot is our best selling kids twin over full bunk beds with stairs and slide for a reason. It's practical, durable, and safe... plus, you can remove the slide later or reconfigure it once your child is older. That's a space saving, fun solution everyone loves. Shop the bunk bed with slide collection now or get inspired with some of our best bunk with slide room reveals. 
Safety & Quality Standards for Bunk Beds with Stairs and Slide
Why is the FoxTrot such a popular design? Well, for starters, what's not to love about an indoor playground provided by a slide, right? That's hours of fun on hot Summer afternoons and cold Winter mornings! And, who says you stop sliding in and out of bed in elementary school? For these two young ladies, the slide still adds a whimsical touch to their pre-teen design.
Fun aside, we're here to answer some real questions about the safety of slides in kid's bedrooms. While the thought of your child sliding out of bed in the morning sounds super fun, we also know that parents are concerned about nighttime bathroom breaks and visiting friends. The good news is that as a medium high bunk bed, the Fox Trot doesn't sit super high off the ground. In fact, it is only 66.25" tall. We recommend it for kids six years of age and older; although you know your child best. 
Safety and quality often go hand-and-hand. When shopping bunk beds with slides, the quality of the bunk bed itself is important because we all know that little ones will plan to test the limits of a play bed. Maxtrix beds are built with solid, knot-free premium hardwood construction and tested to hold 800 pounds (that's double the U.S. safety standard). With one elevated beds, it's important that the top bunk stay in place! We use patented Rock Lock leg bolts, which provide rock solid connections for the bed legs connecting the top bunk to the bottom bunk. As kids go across the top bunk, the Fox Trot will remain sturdy.
Stairs Provide Storage in Bunk Beds
Bunk beds often have many entrance options. How will your child climb to the top bunk? Most common are straight or angled ladders either off the front or bed end. While ladders are wonderful options - and usually less costly - staircases are often chosen for additional climbing safety as well as functionality. Bunk beds with stairs make it easy to climb up top and provide plenty of sturdy foot room for kids or adults to climb. With a full handrail guiding kids up the wide steps, there is less chance for your child to slip or fall. Parents love this safety feature! For older tweens and parents, making the top bunk just got a lot easier with a staircase top platform.
Plus, each step is a pullout deep storage drawer. By adding storage to a bunk bed with slide, you'll marry both function and fun. Keep your child's room tidy with the extra four drawers provided by each staircase step. Kids love to store blankets, pillows, stuffed animals, toys and even their PJ's in these steps close to their beds. Older tweens love them for books, reading lights and, yes, even electronics. If you need more storage, simply use the space under the bottom bunk for additional pullout storage drawers. They act as two dresser drawers and slide shut easily when unused. 
More Sleep Space with Twin over Full Bunk Beds
The FoxTrot is one of our many twin over full bunk beds for kids and tweens. It combines two different bed sizes, so you'll always have extra space on your bottom bunk for sleepovers and extra guests. The full size bed also easily accommodates a growing older child in a shared bedroom. With younger children, parents appreciate the extra space provided by the full bottom bunk for story time. And, let's not forget those occasional "scary" nights our kids need Mom or Dad to stay put until they fall asleep. For older kids and teens, the extra width gives more space for hanging out with friends.
Customize Your Bunk Bed with Slide & Stairs
All Maxtrix beds are a part of a furniture system, which means you have the flexibility to change the look of your child's bed over time. This is especially important for bunk beds with slides, as we all know one day your son or daughter will outgrow the playground look. You can simply remove the slide at a later date and continue to use your Maxtrix bed for years to come. The FoxTrot is also modular in that the two bunks separate into two separate, individual beds. This is a great option for homes with multiple kids. Often parents will keep younger siblings together and then separate them when they are older and want more privacy and space. Keep reusing the same bed components! 
When designing your FoxTrot, keep in mind that the stairs and the slide are reversible. Assemble them on the left or the right side of the bed to fit your kid's room dimensions. Make sure your slide does not block any entrances or exits for safety. 
If the FoxTrot bunk beds with slide and stairs sounds like the right fit for your home, you can easily shop it and select your perfect finish - white, chestnut or natural. Keep in mind that your options are endless with Maxtrix. We also have straight ladders, angled ladders and different bed heights and sizes. There are also a few different slide options! Contact our design team to get started creating your custom bunk bed look or hop over to the FoxTrot now!