Queen High Loft Bed with Stairs with Long Desk
YAY! This item qualifies for FREE shipping!
Queen High Loft Bed with Stairs with Long Desk
Description
Queen High Loft Bed with Stairs with Long Desk
Dimensions
| | |
| --- | --- |
| Assembled Dimensions | 104.75" L x 64" W x 70.75" H |
Customer Reviews
Customer Reviews
Write a Review
Ask a Question
11/03/2021
Teresa G.

United States
Queen High Loft bed
Love it! It saves so much space in a room! Thank you so much!!
08/02/2019
Serena M.

United States
Assembly frustrating, but worthwhile purchase
We searched for a very long time to find a bed that would fit our needs. We wanted to bunk a 2 yo and 4 yo. A ladder would not be safe enough, in our opinion. We also had already purchased a twin xl bed from a different manufacturer two years previous. Other loft beds we looked at were either too low, not providing enough space for the second bed or too high, encroaching on ceiling space and the comfort level for Mama provided the age of the kiddos. The mid loft was a nice compromise. The assembly was very frustrating, but totally worth it in the end. The unit shipped in smaller sections, but hardware was not specific to the section itself and we didn't see any notes to the effect in the directions. For example, we found the necessary hardware for the lift section in amongst the stairs. This didn't seem logical to myself (engineer) or my husband (physist), but in the end all of the hardware was found. This purchase has been wonderful. Both of our children are successful at navigating the stairs. The weight capacity allows for us to read with them in bed. The guard rails eased this Mama's concern for potential roll out. Overall, I highly recommend the mid loft with stairs.
Fun bed!
Bought two of the mid-loft bunk beds with stairs for my kids; the quality is excellent! Changing the bedding is a hassle, but we knew that when looking at purchasing a loft bed. We also bought a playhouse fabric that hangs down - the Velcro tape did not keep it secure, after a while it would fall down. We had to replace it, and so far it is still stuck. Assembly was fairly easy. The beds look great and add lots of space to the rooms for playing. The added storage in the steps is perfect for stuffed animals, blankets, spare clothes, etc. We also purchased a bookcase and keep it under the bed for a cosy reading nook. Love that this bed can grow with the kids; we won't need to purchase anything else.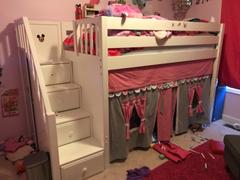 Definitely recommend this product
We are very happy with the quality of this product . Assembly was pretty easy, good directions were provided. It is very sturdy and looks very nice. My son absolutely loves it! Perfect for his teen room.
Queen High Loft Bed with Stairs with Long Desk
FREE shipping on purchases of $1,000+*