Full XL Medium Bunk Bed with Slide Platform
FREE shipping on purchases of $1,000+
Full XL Medium Bunk Bed with Slide Platform
Description
Full XL Medium Bunk Bed with Slide Platform
Dimensions
| | |
| --- | --- |
| Assembled Dimensions | 102.5" L x 72" W x 70.75" H |
Customer Reviews
Customer Reviews
Write a Review
Ask a Question
11/12/2021
Kathlyn C.

United States
Kids love their new play bed!
My boys have been asking for a bunk bed with a slide for about two years so I did a lot of research to find the perfect bed that is also high quality. Maxtrix stood out because of their high quality, all the different configuration options you have, and all the add ons! I wanted to make sure the bunk bed had a full size bed on the bottom bunk for sleepovers and when the boys want to sleep together because they're still at that age where they love cuddling together. And the slide was just a must have for them!
11/03/2021
Joanna H.

United States
Wood bottom of upper bunk is not sanded smooth
In general we are quite satisfied and the grandchildren are pleased. When lying in the lower bed however I noticed that the wood slats supporting the upper mattress were rough enough for me to worry about splinters. This should not be.
10/04/2021
David S.

United States
Bunk Beds - multi function awesomeness
My 5 yr old daughter let out one of the best squeals only a 5 yr old can when she was presented this awesome multi function bunk bed with a HUGE Slide!! I was informed it also has was a princess fort underneath and an escape slide haha. She was super happy and it has been difficult to get her to come out of her room now, always hearing laughing and giggles with her friends. The beds are extremely sturdy when my 220 lb frame is on them making beds and pulling toys off the top. We also bought the two drawers under lower bed whicjh are excellent with storing excess toys and extra blankets. My family is very happy with this purchase. It will last a very long time.
09/28/2021
Kerri

United States
A fun space
For a Mom looking to revamp her kid's room, Maxtrix products are DEFINITELY a treat! I am so proud of the twins' new beds, the look, the quality, and the uniqueness of the products! I was able to create a space that is functional and that the twins and their little sister are happy to spend time in and sleep in.
09/28/2021
Kerri

United States
High quality and unique
My twins are 5-years-old, and they have a 4-year-old sister. I wanted a set that would be fun for them (with the slide) but, most importantly, one that's safe for their height and age range. I chose Maxtrix because the beds were obviously next level unique (hello - a bunk bed with a slide is so much fun) and also because of the craftsmanship. I had searched for a while looking for quality furniture for my kids, but the all-wood and high-quality production that Maxtrix Kids stands by is really what interested me in the brand.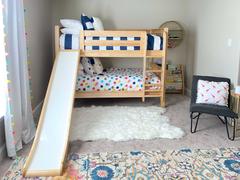 06/30/2021
Mark I.

United States
Solid Construction and Attractive Look
We ordered the twin low bunk bed with slide in white for our grandchildren, ages 4 and 6. We live in Washington State, so delivery from South Carolina took about 5 weeks, as promised. The bed arrived in 10 boxes and all were in good condition. Assembly took about 4 hours, and at times two adults were required with the heavier items. Assembly was straightforward, but at times the instructions were less than ideal. Fortunately I'm an engineer, so it was easy to improvise. The bed is as solid as a rock. The connection between the upper and lower bunk is very strong thanks to the clever assembly bolts. The instructions for those four bolts differs dramatically between the on-line video on the Matrix web site and the written instructions. The written instructions were the ones I used and they worked fine. Compared to cheap bunk beds, such as at Ikea, this bed is like the Rock of Gibraltar. I'm confident that a full-size adult can sleep in either bed safely. (But they should not try the slide!) The shape and finish on the beds is first rate. It is an attractive addition to our grandkids' room. They love it, and especially they love the slide. A warning about the slide: It is very fast and you need ample room beyond the slide for the touchdown and skid across the floor. And be careful assembling the slide. It is tricky and again the instructions are poor. The ladder could use better handholds. Our younger grandchild struggles a little to find a place to hold on as she climbs. The 6 year old has no issues. This bed is expensive compared to its peers. But based on our experience, it is worth it. No regrets!
06/13/2020
Christopher R.

United States
Quality good, instructions very confusing
My kids love the bed. And I like the quality of the materials. But for crying out loud, make one set of instructions for each model of bed you make. I was very confused trying to piece together the steps I was supposed to take by following the hodge podge way you piece together your instructions. I ended up making a lot of mistakes along the way that I would have to start tearing it down to redo something I did wrong 10 steps prior. Good product but terrible instruction set. Docking one star for that alone. Please improve your instructions, ideally by making one set specific to each model of bed you offer.
Kiddos love it! It is
Kiddos love it! It is super sturdy. I would buy it again!
Safe way to slide
The kids were dreaming of a bed with a slide and because we live in a cold climate we like the idea of an indoor play area. This bed ticked all the boxes for us. We love the slide construction with the monkey bars right above the slide for extra safety. The clearance on the bottom bunk is good too. Pleased with this.
Full XL Medium Bunk Bed with Slide Platform
FREE shipping on purchases of $1,000+*